A South Indian bride needs no introduction to guttapusalu designs in neckpieces. Guttapusalu neckpieces are a staple in every bride's jewellery collection. Guttapusalu designs find their origins in the Coromandel coast, known for its pearl fisheries. It is also why the name translates to 'a bank of beads' or 'group of beads'. The collection of small pearls hanging at the bottom of the neckpiece is characteristic of this design. Guttapusalu is a versatile design, and you will have no trouble finding neckpieces in any length you want. Here are some of the top Guttapusalu neckpieces that you can add to your wedding jewellery trousseau.
1. Guttapusala Lakshmi Necklace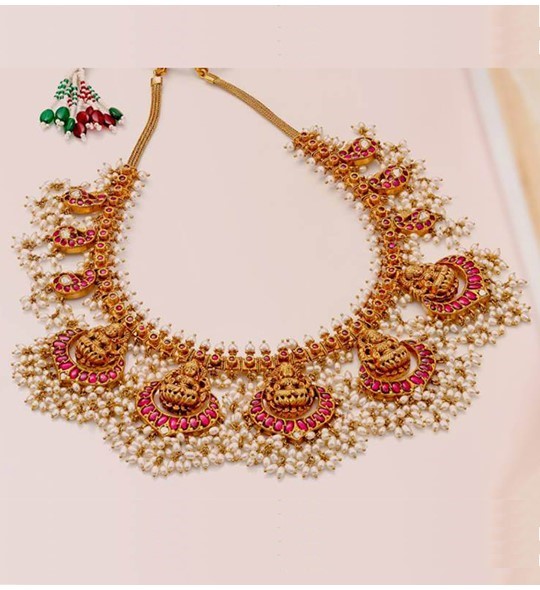 Want to make your wedding day more auspicious? Opt for this Guttapusalu Lakshmi Ruby yellow gold necklace. The rubies will perfectly complement the wedding saree. The exquisite workmanship of the Lakshmi design is sure to turn heads. The intricate detailing of the pearls and rubies further accentuate the beauty of this necklace.  
2. Guttapusalu Necklace Set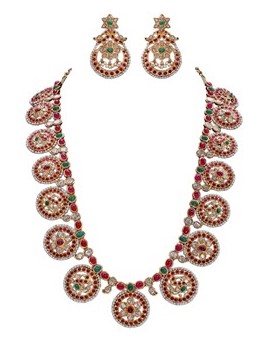 Planning to make a grand statement at your wedding? This guttapusalu design in the form of a long necklace is just what you need. Studded with rubies, emeralds and diamonds, this Guttapusalu necklace set is a show stopper. It has an alternating flower and bird design that further adds to its grace.
3. Gold Multistone Necklace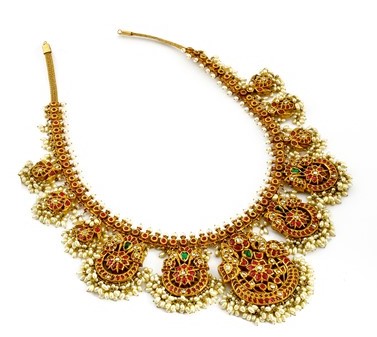 If you are looking for an antique style guttapusalu designs, then look no further! This multi-stone necklace fits the bill perfectly. The necklace strikes a balance between gold and stone ratio. Since there are multi-coloured stones in this necklace, you can pair it with a saree of any colour.
4. Bridal Multicolour Pearl Polki Necklace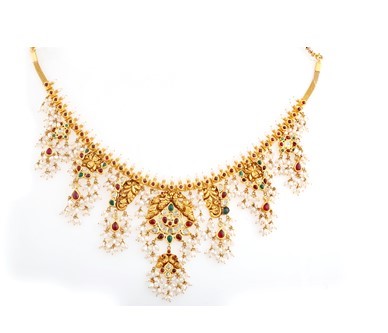 Need a guttapusalu design that is traditional yet simple? Consider this multicolour pearl polki necklace. It has intricate peacock and lotus designs that aren't too heavy. If you are planning on wearing multiple neckpieces for your wedding and need something simple in the mix, then your search ends here.
5. Flower Design Pearls Drop Necklace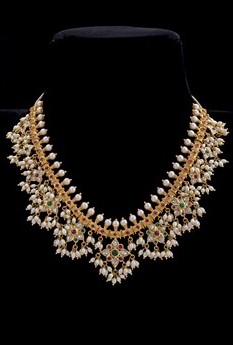 This flower design pearls drop gold necklace stay true to the meaning of 'pusalu'. The gorgeous pearls are the highlight in this necklace. The gold and stonework are playing as the second fiddle to the pearls as they truly steal the show. The necklace pairs well with sarees as well as with lehengas. 
6. Uncut Pearls Gold Necklace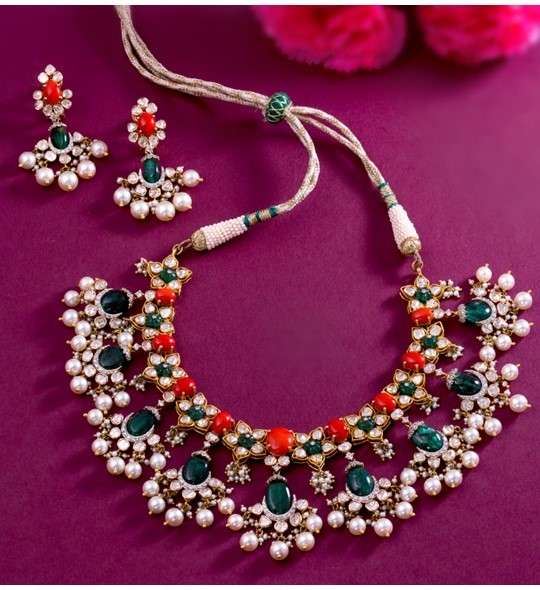 Looking for the guttapusalu design that is unique and contemporary? Try this coral emeralds uncut pearls gold necklace. The emeralds and corals add a new dimension to the traditional guttapusalu design. The necklace pairs well with a lehenga or an embroidered saree. You can wear it for your reception or engagement as a statement jewellery piece. 
Call / WhatsApp / Shop over Video Call : +91-8499011111
👉 WhatsApp Us: https://wa.link/pwk8y0
🌐 Website: https://www.krishnajewellers.com