Are you looking for fresh jewellery designs to go with your bridesmiads look? Well, go ahead and add that extra charm to your attire with these gold jewellery designs made to perfection. Given below are a list of necklaces, gold earrings with jhumka design and bangles that could enhance the bridesmaid look.
1. Yellow Gold Kundan Jhumka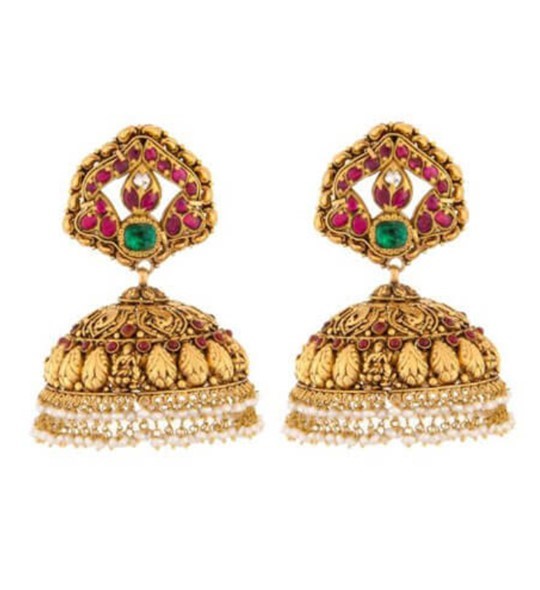 No matter what the traditional attire, gold earrings jhumka designs like this would be perfect for your bridesmaids. These ruby kundan jhumkas are made in yellow gold and embellished with emeralds, pearls, and rubies. Add this ideal jewellery to your ethnic outfit to look like a stunner.
2. Kundan Gold Jhumka Earrings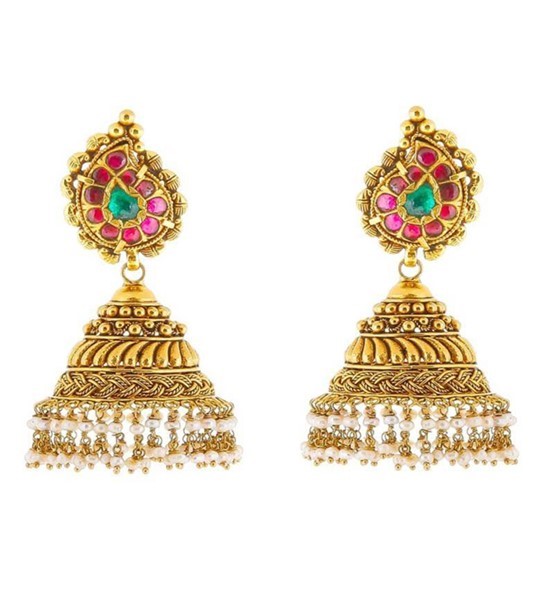 Looking out for the perfect bridesmaid earrings for your friend's wedding? Well, these gold earring jhumka designs are stunning. These kundan gold jhumka style earrings are inspired by paisley motifs and crafted in emeralds, rubies, and gold.
3. Kundan Jhumka Earrings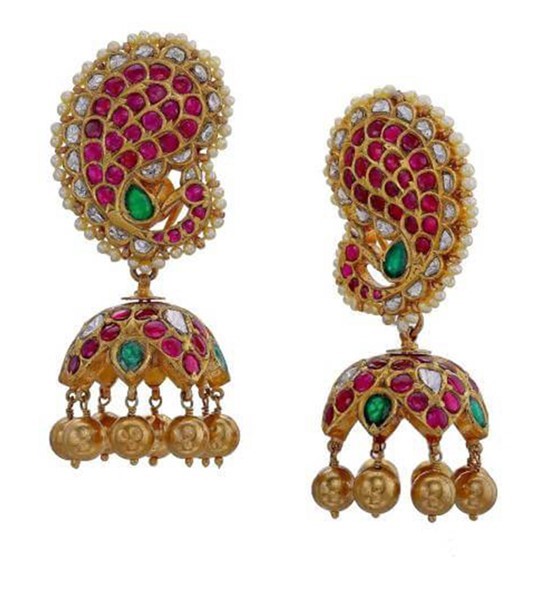 Go ahead and make this gold earring jhumka design a part of your bridesmaid's attire! These kundan earrings are handcrafted in pearls, emeralds, and rubies to give you that glamorous and elegant look. Made in yellow gold, the muti-coloured polki stones would match up with any traditional wear.

4. Navrathan Gold Necklace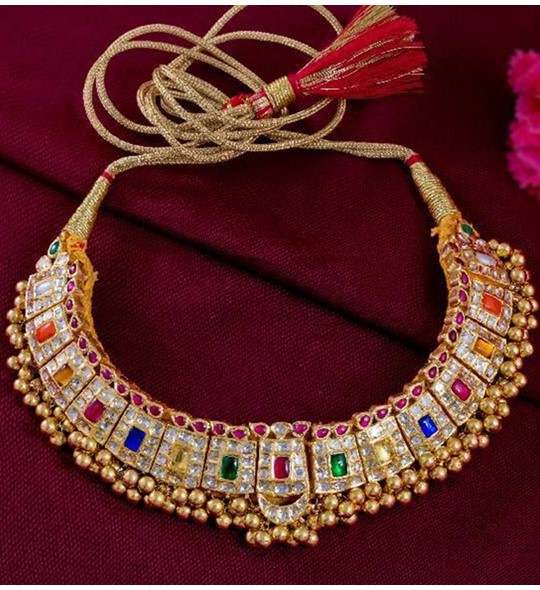 Adorn your neckline with this stunning navrathan kundan gold necklace. It is decorated with colourful gemstones and polki diamonds. Pairing this with a matching gold earrings jhumka design and bangles will take your look to the next level.
5. Kempu Pearl Necklace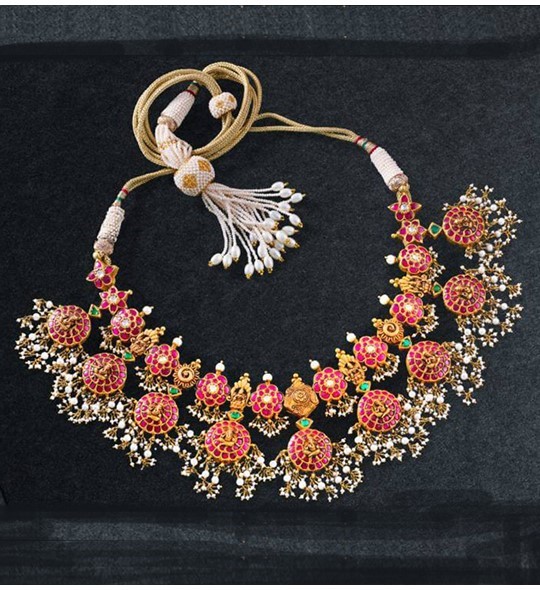 Style up your outfit with a neckpiece that would draw attention the minute you step into the room. Take a look at this Kempu kundan pearl necklace that is carved in gold and is embedded with emeralds, rubies and freshwater pearls. You can add on bangles and gold earrings jhumka designs to make your entire look chic.
6. Pearl Drop Bracelet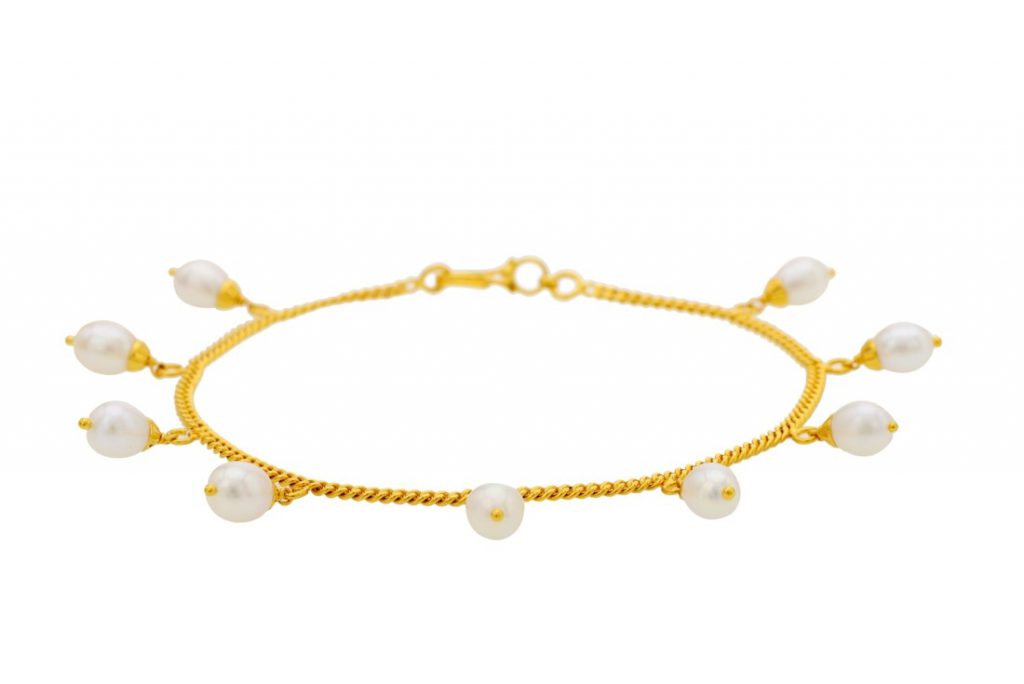 Bracelets can add so much beauty to even a simple outfit. So why not make this pearl drop bracelet a part of your attire? This pretty bracelet has little round drops of pearl hanging all around the gold chain. You can also lookup beautiful gold earrings jhumka designs to match with this bracelet.
7. Traditional Heart Pearl Bangles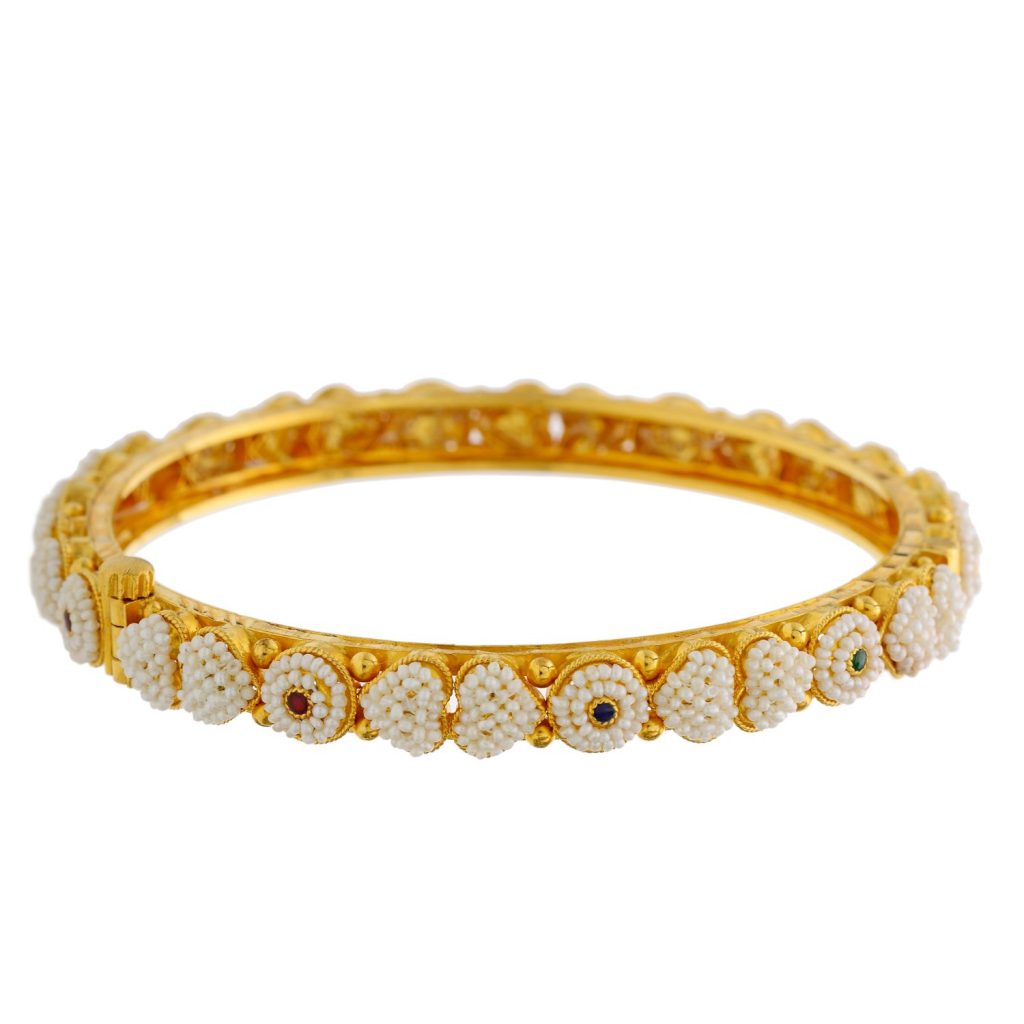 Looking out for traditional bangles this season? This classic pearl bangle is all you need! Little white hearts made with pearls make up the design of this mesmerising piece of jewellery. Pairing these with a gold earrings jhumka design and a pearl necklace would take your look to another level.
For More Jewellery Designs Call (or) Whats App@ +91-7093324141
https://www.krishnajewellers.com
Vist Site For More Jewellery Collection at www.krishnajewellers.com (or) visit our store Krishna Jewellers Pearls & Gems at Jubilee Hills, Hyderabad and for more details Contact Us @ +91-7093324141.