There's no denying that a beautiful gold long chain can add a sparkle to every South Indian bride's getup. As a girl stands on the verge of starting a new life with her soul mate, she deserves to look her very best on her wedding day. An intricately designed long chain in gold can go a long way in enhancing her charm and beauty. For anyone curious about the latest long chain designs, a few versatile choices are given below:
1. Nakshi Yellow Gold Haram Necklace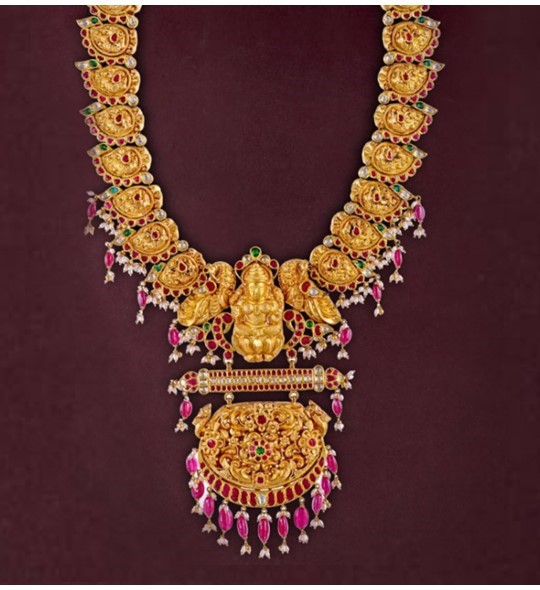 An exquisite piece of jewellery, this stunning nakshi yellow gold haram necklace features one of the latest long chain designs. It is embellished with a medley of vibrant gemstones, like emeralds, rubies, and pearls. The flawlessly crafted design of this piece can easily accentuate the wedding look of any bride. 
2. Yellow Gold Nakshi Haar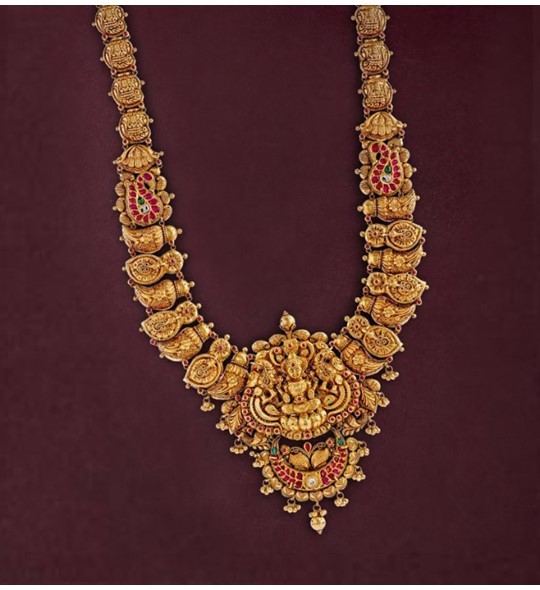 Classic never goes out of fashion, and the design of this skilfully handcrafted yellow gold nakshi haar necklace is a case in point. This long necklace in yellow gold is set with a spectacular combination of rubies, emeralds, and polkis that highlight the kundan and nakshi style exhibited in the chain design. 
3. Long Chain Necklace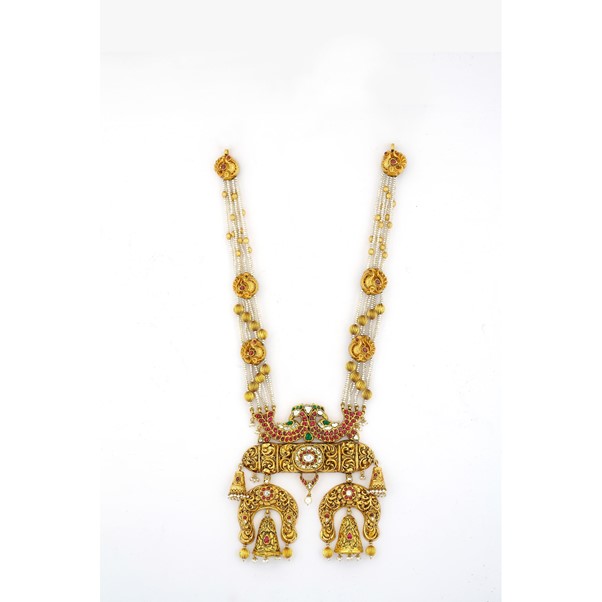 If you prefer an intriguing mix of gold and pearls for your wedding jewellery, the antique necklace is sure to win your heart. The beautiful blend of gold balls and gold designs stringed with small pearls makes for one of the most eye-catching latest long chain designs. A gorgeous peacock pendant acts as the crowning glory of this piece. 
4. Gold Antique Long Necklace Chain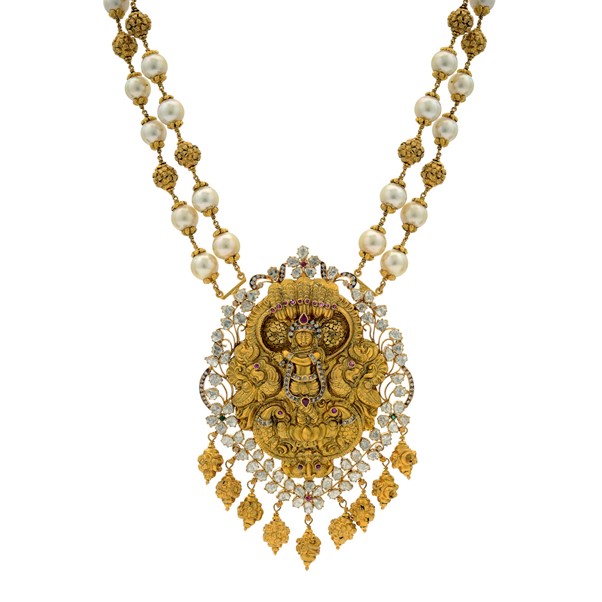 When it comes to the latest long chain designs, you cannot overlook this graceful gold antique long chain necklace. Adorned with an impeccably crafted Thandava Krishna pendant, this two string knotted chain has south sea pearls interspersed with antique gold balls for a dazzling finish.
5. Gold Lakshmi Pendant Necklace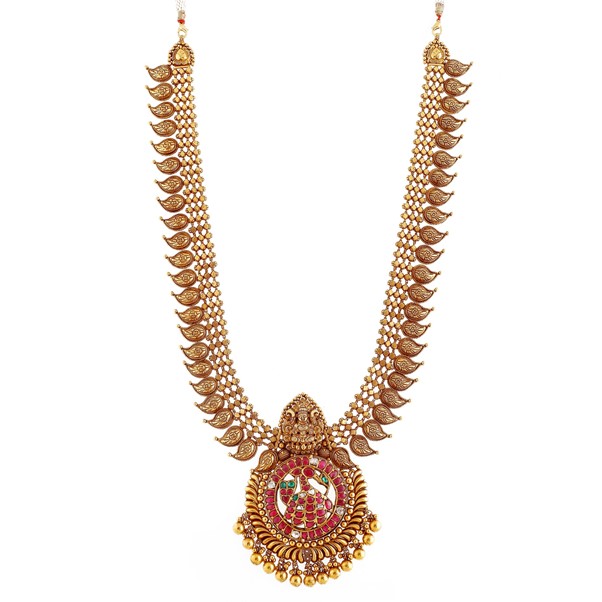 Elegance and sophistication blend in this gold with multi-stone Lakshmi pendant necklace. This tastefully created piece showcasing one of the most attractive latest long chain designs is sure to take your wedding look to the next level. Just team it with a pair of chandelier earrings, and you are set to steal the show effortlessly.
6. Peacock Gold Necklace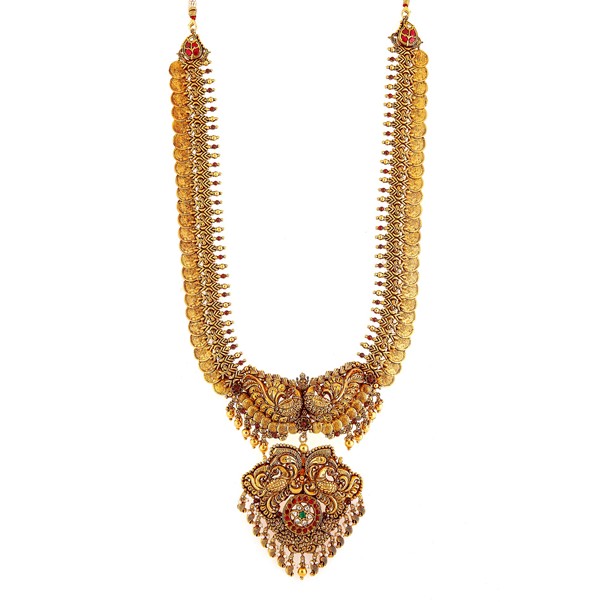 \True to its name, the peacock gold necklace has a mesmerizing peacock-inspired pendant attached to one of the latest long chain designs. While the ruby-emerald chakra inside the pendant calls for immediate attention, the spectacular chain design is equally spellbinding. Here is one piece that will augment your bridal look by several notches.
For More Jewellery Designs Call (or) Whats App@ +91-7093324141
https://www.krishnajewellers.com
Vist Site For More Jewellery Collection at www.krishnajewellers.com (or) visit our store Krishna Jewellers Pearls & Gems at Jubilee Hills, Hyderabad and for more details Contact Us @ +91-7093324141.