Bring Out Your Elegance With These Traditional Temple Jewellery Designs
What is a must-have item in a South Indian bride's jewellery collection? A piece of temple jewellery!
Temple jewellery is steeped in tradition and considered auspicious. Therefore, it invariably makes its way into every bridal trousseau. It is also considered an heirloom and many brides inherit these pieces.
True to its name, temple jewellery was made for the deities from donations of gold. Over time, devotees started replicating these auspicious designs. They were originally handcrafted from gold and drew inspiration from the deities and various elements of the temple architecture.
Temple jewellery involves a lot of intricate detailing as it tries to replicate the exquisite temple carvings of South India. The intricacy of the design also means that only well-trained and extremely talented craftsmen can make these pieces of temple jewellery.
Temple jewellery has gotten a modern makeover in recent times with the introduction of precious stones such as diamonds, rubies and emeralds. Here are a few evergreen pieces of temple jewellery you must consider for your jewellery collection.
Ruby Studded Gold Jhumka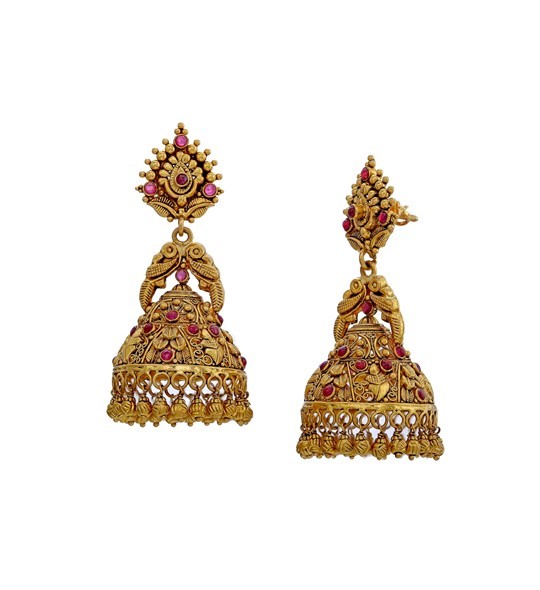 This intricately designed ruby studded gold jhumka is an exquisite piece of temple jewellery. The peacocks, flowers and leaf designs are very similar to the carvings on many temples. The small hangings add to the charm of these earrings. You can wear them with a simple kanjeevaram saree for a wedding look.
2. Gold Peacock Nakshi Haram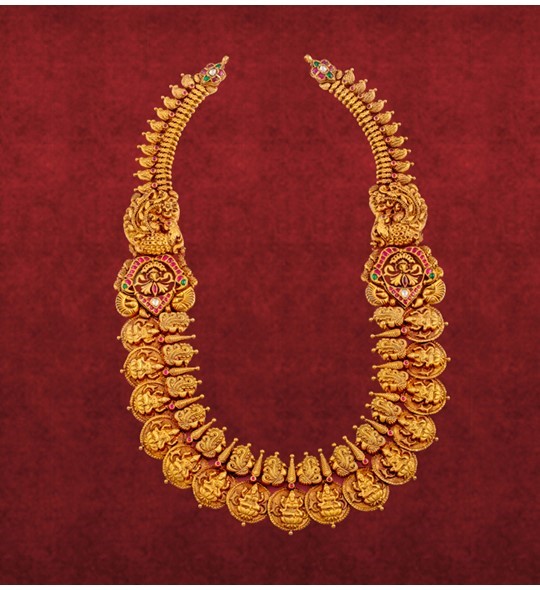 A statement neckpiece is all it takes to make you the centre of attention at any event. This gold peacock Nakshi haram is a classic example of a statement necklace. The intricate detailing on this handcrafted necklace brings life to the Lakshmi design in the coins, peacocks and the Ganesh motif. You can pair this beauty with a red silk saree and earrings, bangles and vaddanam in temple jewellery designs to complete the look.
3. Nakshi Workmanship Laxmi Goddess Vaddanam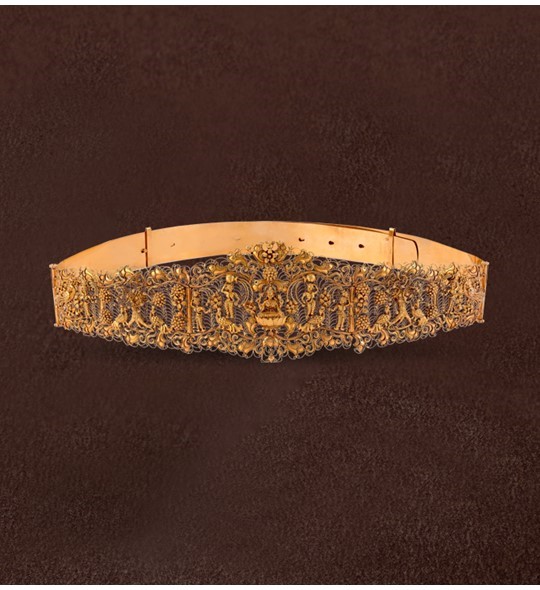 Every bride needs a vaddanam, and this Nakshi workmanship Laxmi goddess vaddanam is sure to steal your heart. The vaddanam features Goddess Laxmi at the centre with garden motifs on either side. This showstopper will complement every silk saree in your closet. You can even wear it with a half-saree.
4. Nakshi Yellow Gold Antique Bangles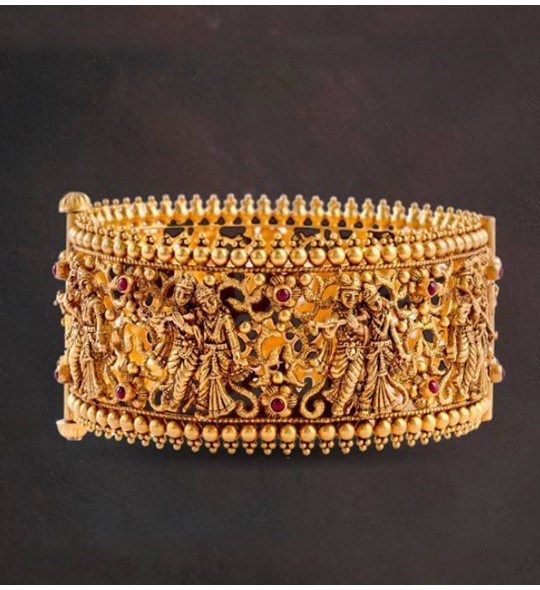 Sometimes, a bangle is the only piece of jewellery you need, especially if it is this pair of Nakshi yellow gold antique bangles with Radha Krishna design. The exquisite detailing on the Radha Krishna motifs makes them look life-like. The best part about this temple jewellery is that it complements sarees, suits, and lehengas alike.
5. Goddess Lakshmi Elephant Necklace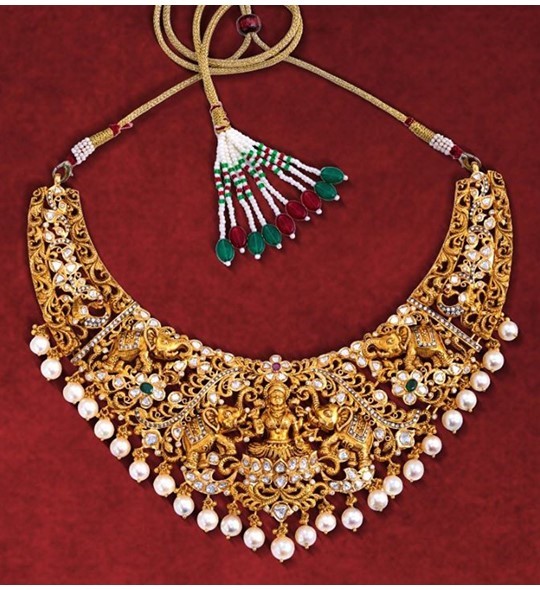 Looking for a piece of temple jewellery with a touch of contemporary design? This 22k gold Goddess Lakshmi elephant necklace is the perfect example of the transformation of temple jewellery in recent times. The addition of uncut diamonds, rubies, emeralds and South Sea pearls ensure that this temple jewellery necklace becomes a family heirloom. You can wear this necklace with a Banarasi silk saree and bangles with uncut diamonds to win everyone's admiration at the next wedding you attend.
For More Jewellery Designs Call (or) Whats [email protected] +91-7093324141
https://www.krishnajewellers.com
Vist Site For More Jewellery Collection at www.krishnajewellers.com (or) visit our store Krishna Jewellers Pearls & Gems at Jubilee Hills, Hyderabad and for more details Contact Us @ +91-7093324141.