India is a classic country that prides itself on its centuries worth of traditions passed down through generations. These traditions thrive to this day in the form of temple jewellery gold and colourful silk sarees. Even in these modern times, women, both young and old, are drawn by some ancient force to these beautiful legacies. You might wonder how you can pair traditional temple jewellery gold with ethnic and western apparel.
The answer is surprisingly simple. Every piece of temple jewellery gold is etched and moulded to tell a story. Thus, making each piece as unique as the woman wearing it. Jewellers have learned to modernize their collection while keeping the traditional look alive. This type of temple jewellery still retains its traditional value while maintaining a modern appeal. So, flaunt your festive wardrobe with a blend of modern and ethnic by spicing things up with this stunning collection of temple jewellery gold.
1. Gold Kakamoti Pearl Necklace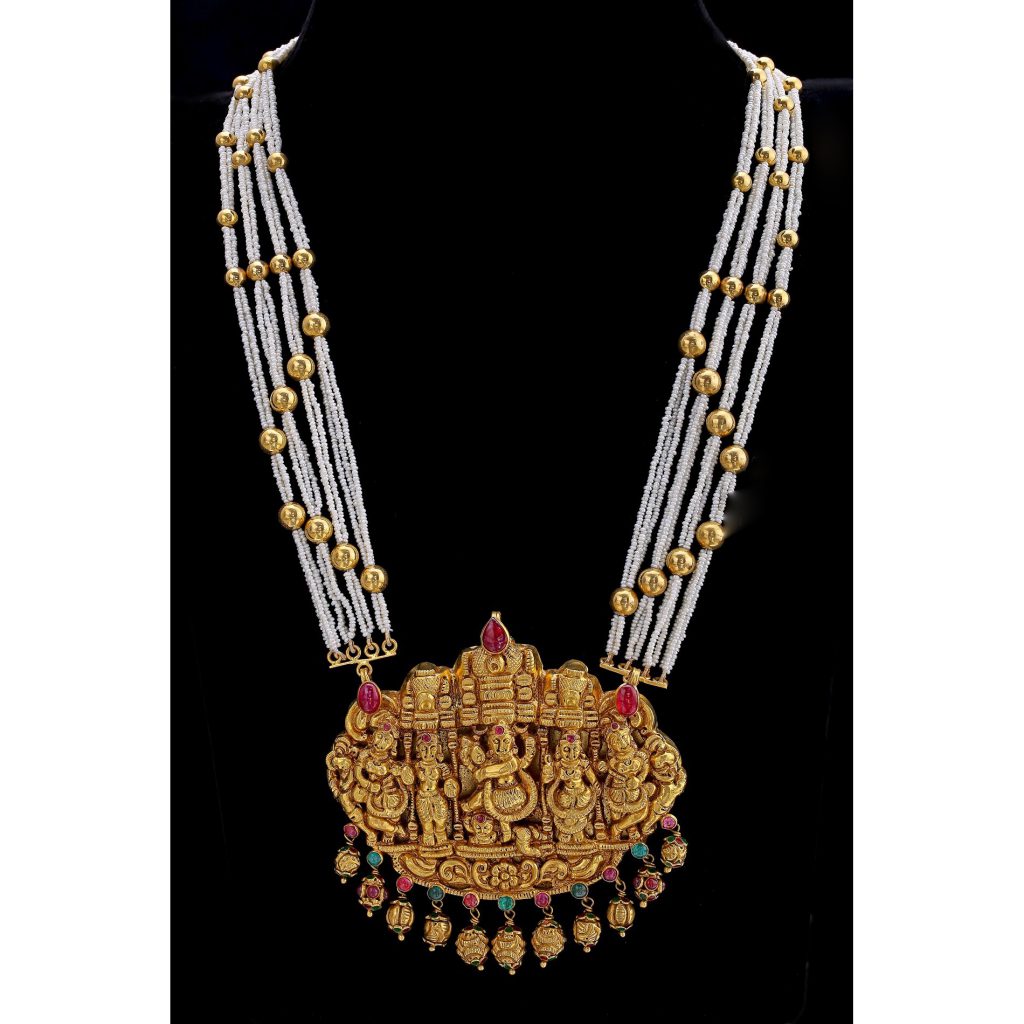 Several south Indian women style their festive regalia with complementing temple jewellery gold. Necklaces top the list, for it not only festoons your beautiful face but also adds splendour to your outfit. So, with this Gold Kakamoti Pearl Necklace, bejewelled with ruby, emerald, and round white pearls, bring out the perfect in you, while completing the chic fashion of your traditional attire.
2. Gold Pendant Goddess Lakshmi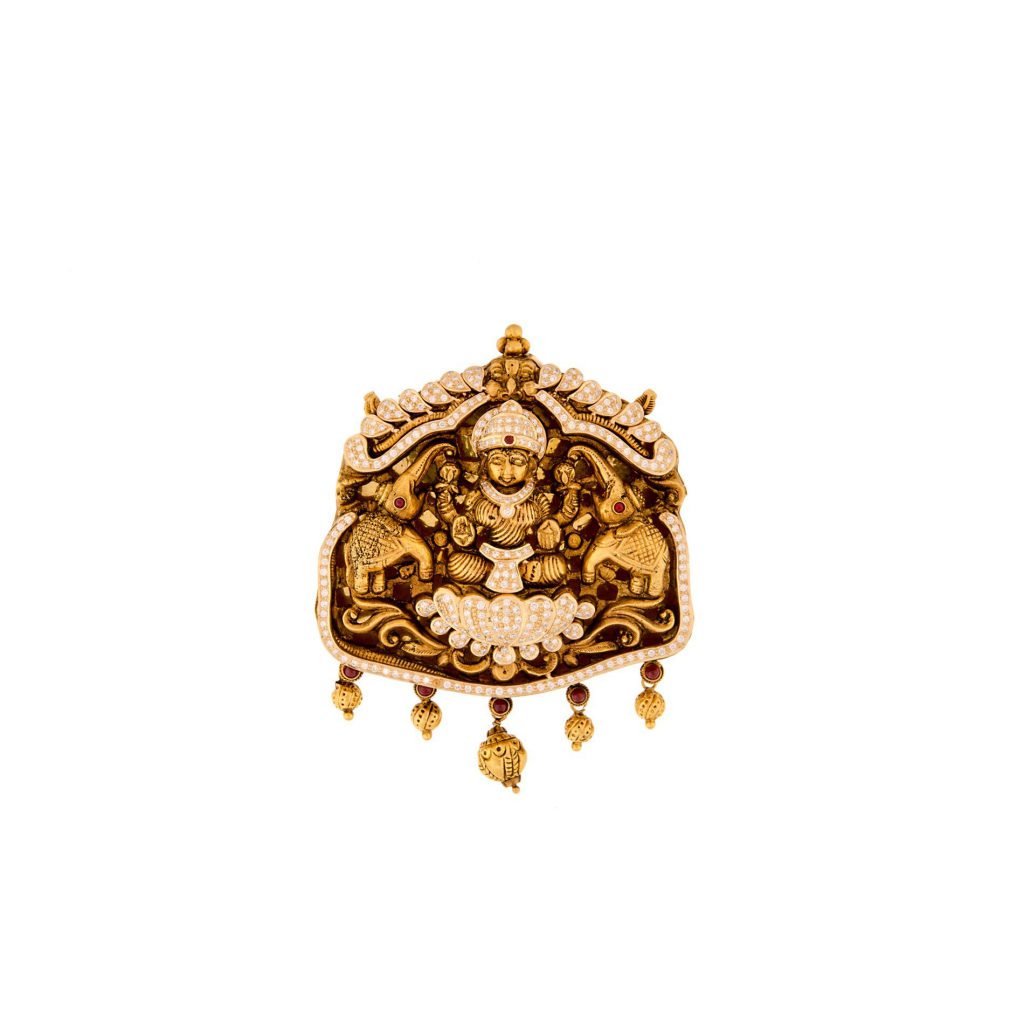 The magnificence of this temple jewellery gold necklace is undeniable. This gold diamond pendant of Goddess Lakshmi is made from plain gold, with ruby gemstones and diamonds decorating the pendant. This is truly your go-to for embellishing your festival attire with the aura of grandiosity.
3. Antique Gold Choker Necklace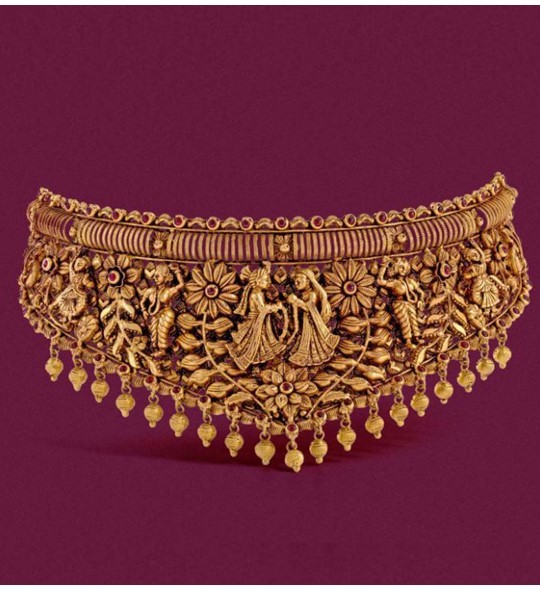 Choker necklaces are in vogue these days. That is one compelling reason to have a collection of this temple jewellery Gold antique choker necklace in your possession. Encrusted with delicate ruby stones, this choker necklace is indeed your rescuer when you are dressed in simple cholis and sarees.
4. Nakshi Gold Antique Bangle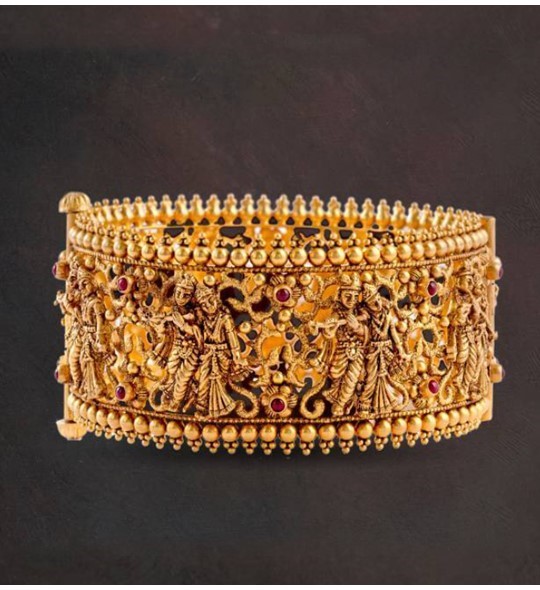 Your heavily decorated lehenga would be incomplete without this temple jewellery gold bangle. This Nakshi Gold Antique Bangle, crafted from the finest of plain gold metals, studded with precious ruby gems, would be the perfect complement for all your ethnic apparels.
5. Lakshmi Gold Bangle Kada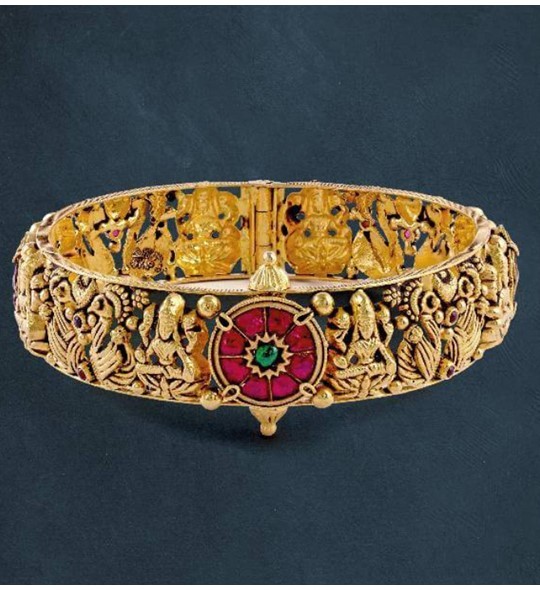 A Gold Kada or bracelet, one of the most celebrated forms of temple jewellery gold, is the perfect way to shine in your ethnic wear. You can wear it alongside the sarees you drape, or even with the lehenga cholis. Made with the finest of gold, and Polki multi stones, the Lakshmi Gold Bangle Kada can easily get you compliments from your family and friends.
For exclsuive Gold Temple Jewellery,
📲 Call / WhatsApp / Shop over Video Call : +91-8499011111
👉 WhatsApp Us: https://wa.link/pwk8y0
🌐 Website: https://www.krishnajewellers.com