There's no occasion as memorable for a South Indian girl as the moments when she can reveal her grandeur and beauty through the jewellery she wears. South Indian Jewellery symbolizes allure and noble sentiments. That's why it is imperative to choose appropriate South Indian jewellery for yourself. And, what can best reflect the gleam and royalty than traditional Kasulaperu designs? Kasulaperu or Kasumala is believed to be belonging to the Goddess Lakshmi and is trusted to bring prosperity and auspiciousness in one's life.
Here are some of the bewitching and traditional necklaces designs with the blessings of the Goddess Lakshmi for all who love South Indian jewellery.
1. Kasulaperu Yellow Gold Long Haar Necklace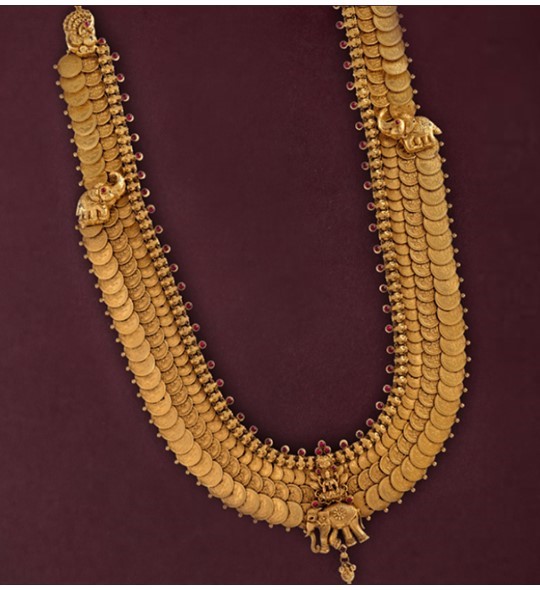 It is one of the traditional Kasulaperu designs, i.e., finely created by crafting Kasulaperu Lakshmi gold coins, as well as rubies. This Kasulaperu yellow gold necklace is a symbol of prosperity, and small elephants embedded among the gold coins. This long haar necklace can prove to be a showstopper item for you on your wedding day.
2. Gold with Pendant Necklace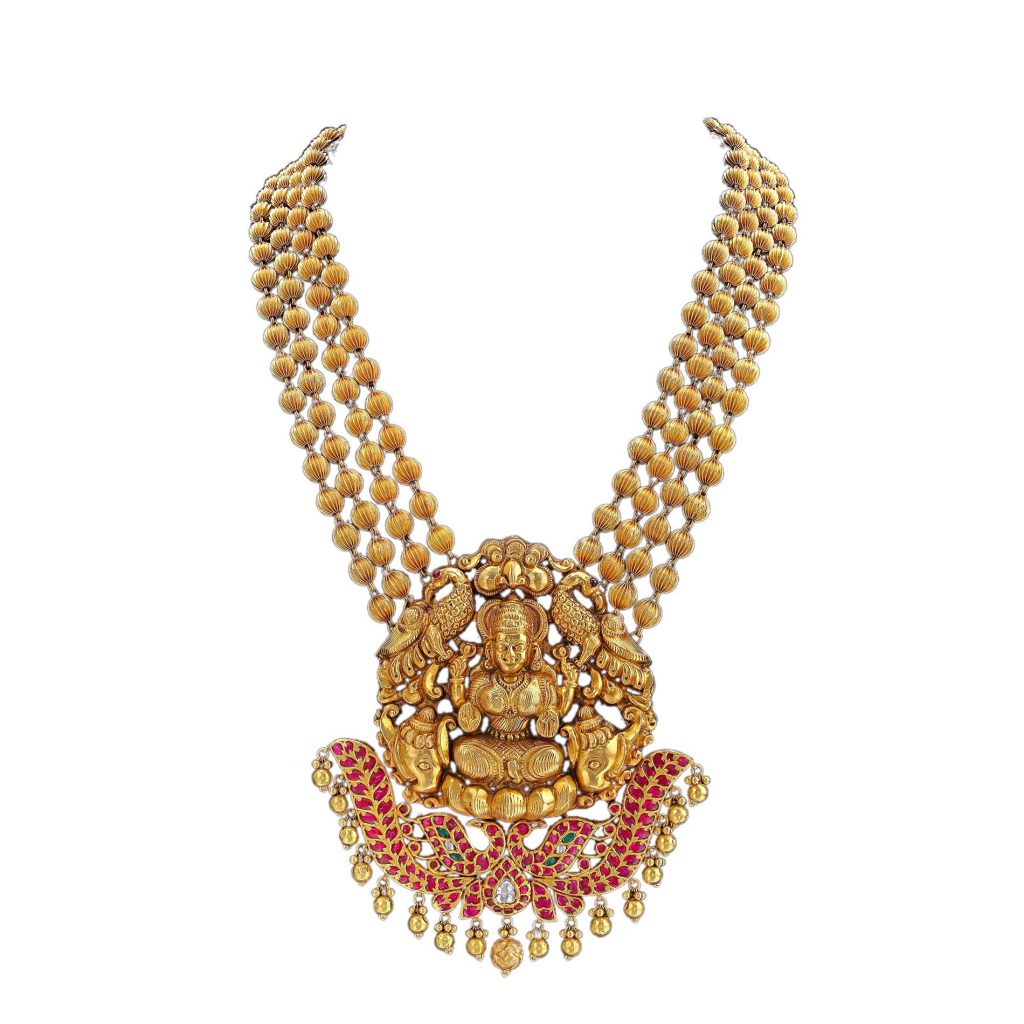 This gold & gemstone Lakshmi Devi pendant necklace can never go out of style due to the everlasting auspiciousness and charm it represents. The
four rows studded with gold balls and a Lakshmi Devi pendant crafted in the centre make this necklace look like one of the traditional Kasulaperu designs. Also, there are peacock designs around the pendant, all studded with ruby stones, allowing it to locate bloom to the wearer's appearance. 
3. Multicolour Stone Haram Necklace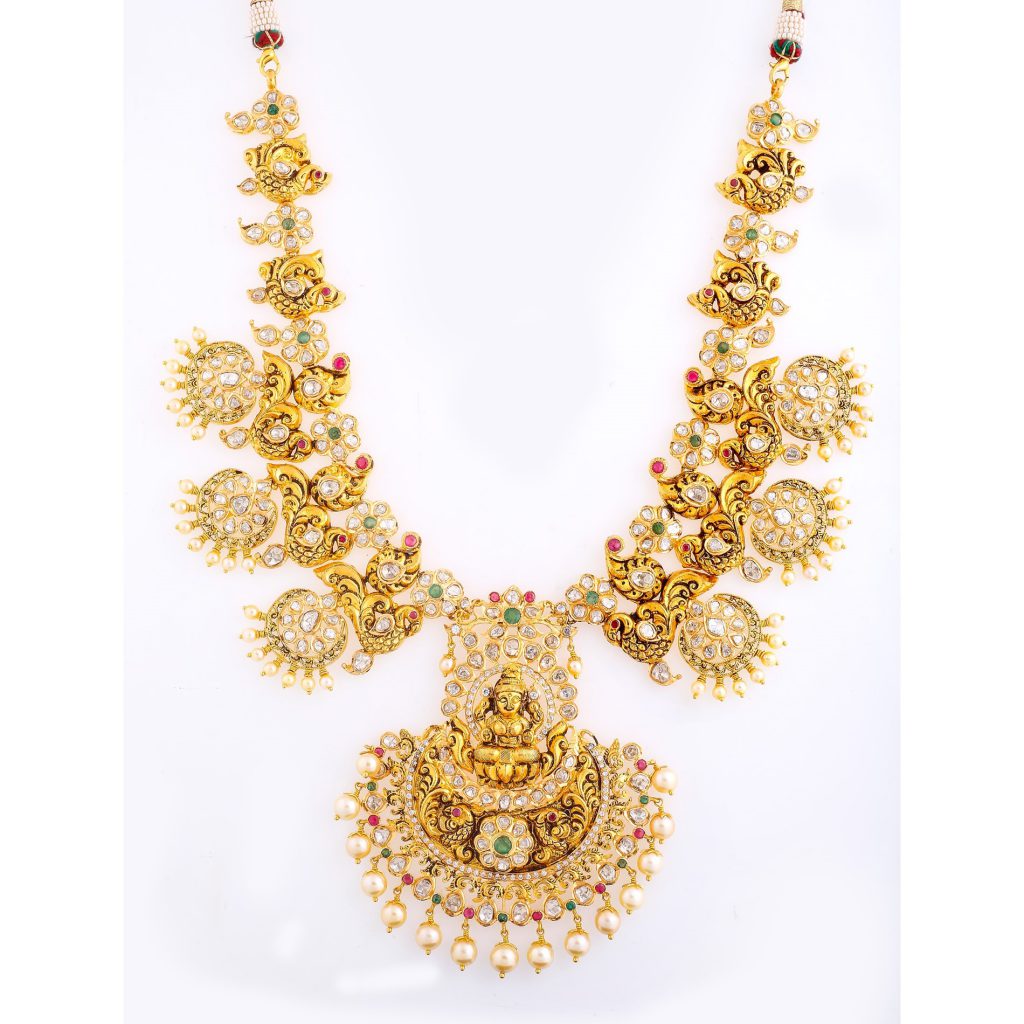 If you are willing to find a necklace, i.e., synonymous with prosperity and beauty, then this pearl polki haram necklace can do the miracle. This necklace features Goddess Lakshmi pendant having peacocks running on both the sides, adorned with polki diamonds, rubies, south sea pearls, and emeralds. If you're searching for something between traditional Kasulaperu designs and contemporary designs, then this necklace may prove to be an apt choice.
4. Yellow Gold Nakshi Haar Necklace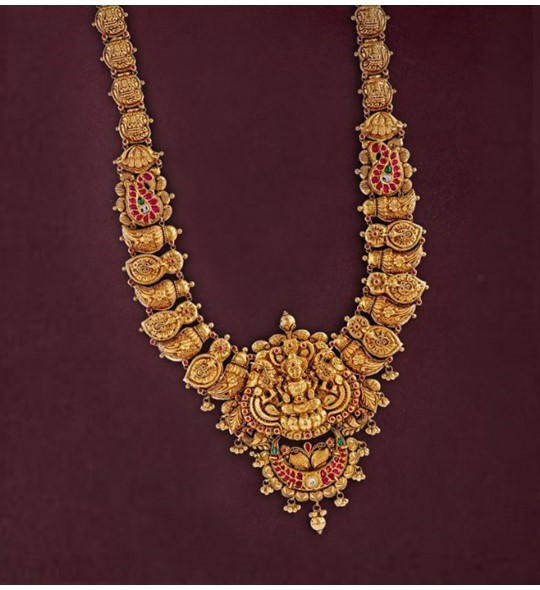 This gold nakshi haar necklace on your wedding day can leave everyone around you stunned due to the allure it proposes. The speciality about this necklace is that it is skillfully created using yellow gold crafted with polkis, rubies, and emeralds studded in Kundan and nakshi style. That's the reason why it can be put under the designs that are slightly similar to traditional Kasulaperu designs. 
5. Gold Lakshmi Pendant Necklace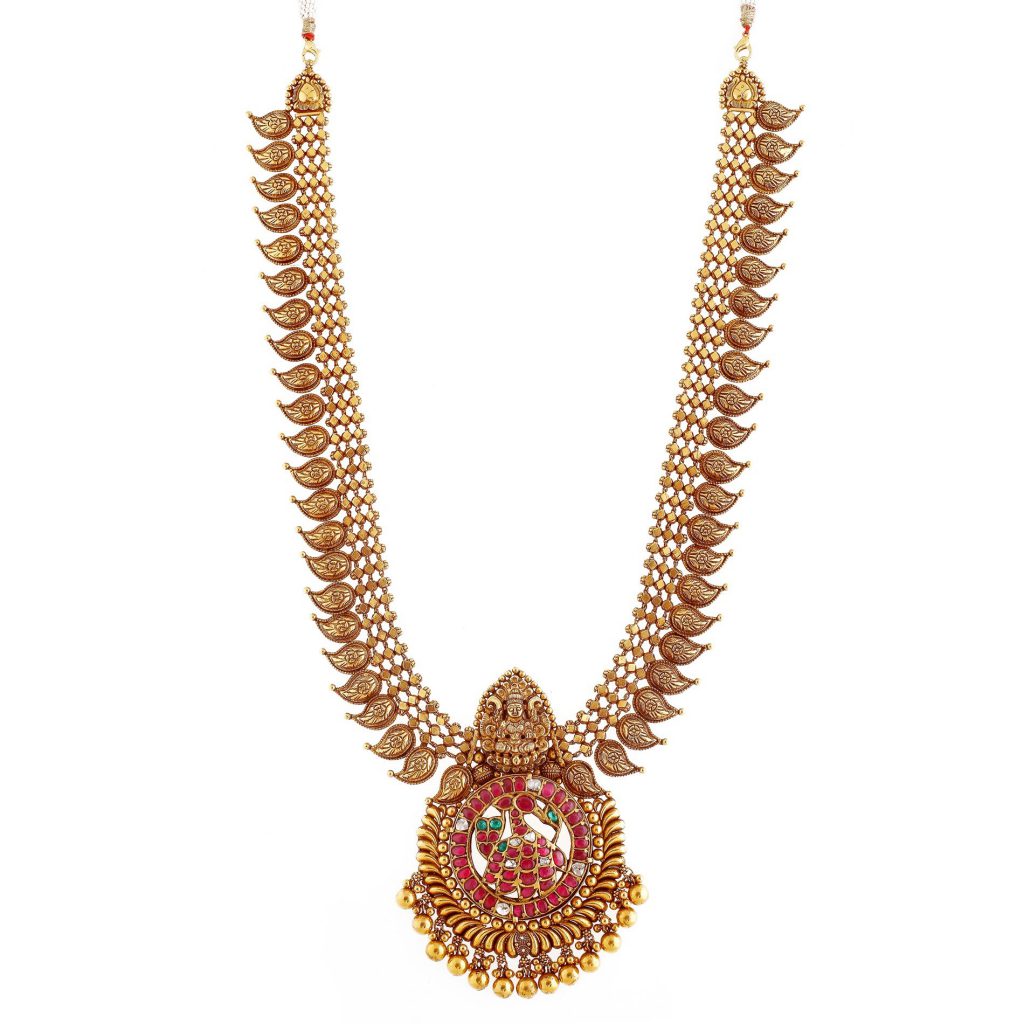 This gold & multi-stone necklace not only looks beautiful but also acts as a libation to the Goddess Lakshmi from your side. If you are searching for alternative necklaces for traditional Kasulaperu designs, then this necklace will work the best for you. 
For More Jewellery Designs Call (or) Whats App@ +91-7093324141
https://www.krishnajewellers.com
Vist Site For More Jewellery Collection at www.krishnajewellers.com (or) visit our store Krishna Jewellers Pearls & Gems at Jubilee Hills, Hyderabad and for more details Contact Us @ +91-7093324141.