Muhurtham jewellery is a design range that combines traditional craftsmanship with contemporary sensibilities. The collection features minimum metal use, zero-waste manufacturing practices and is handcrafted in India. Muhurtham is a traditional Indian gemstone worn to celebrate auspicious occasions and festivals in India. Muhurtham celebrations are a part of a spiritual path with good intentions, prayers, and actions towards others in the family.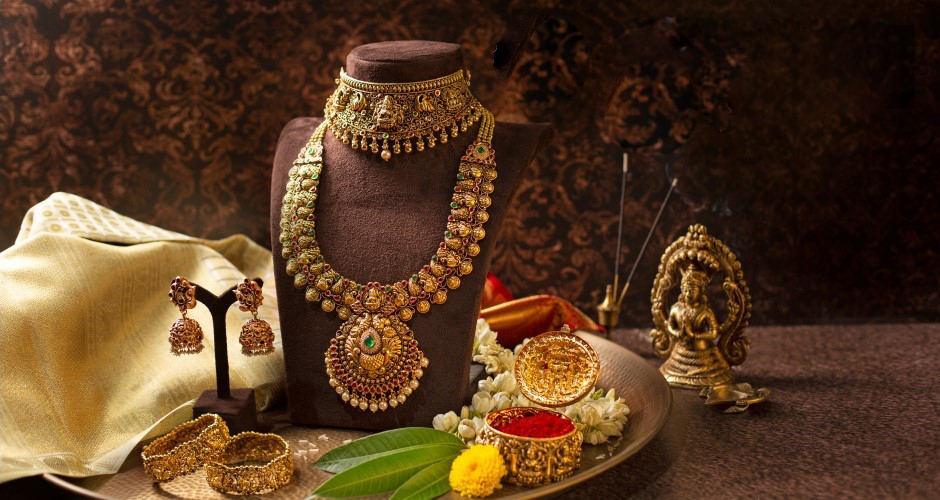 The word 'Muhurtham' is derived from the Sanskrit words "Muhurta," which means an hour, and "yantra," a device or machine. It is a time-measuring instrument. Primarily used in astrology and astronomy, it consists of 27 parts; each part has a name associated with it, indicating the character of one's luck. The modern-day Muhurtham jewellery is similar to the old south Indian bracelets worn. This article introduces you to some options to choose from for picking Muhurtham jewellery.
GOLDEN BANGLES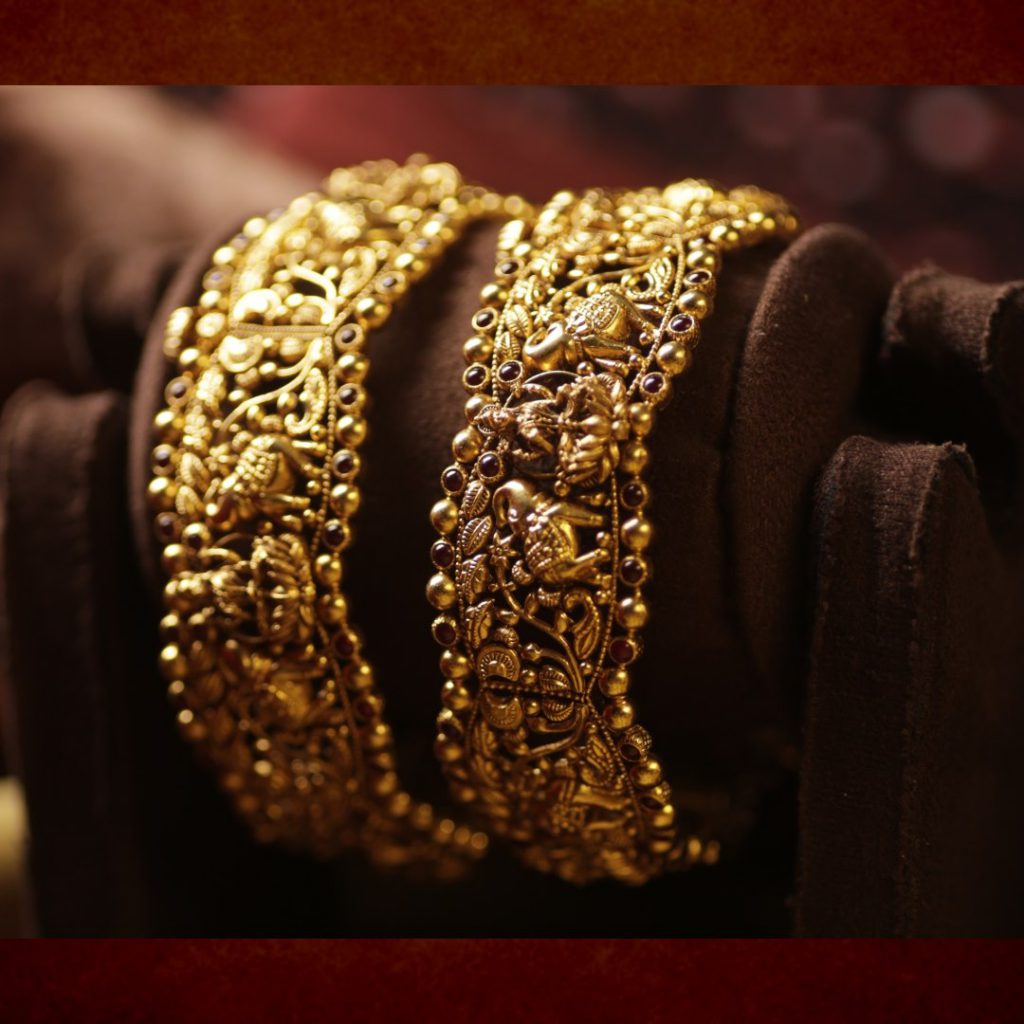 In ancient times, gold bangles are the first things worn by women who entered parenthood. It has been considered auspicious in Hindu culture since olden times, and the present generation also considers it a mark of status and is sought by women who are eager for the added sparkle.
GOLDEN EARRINGS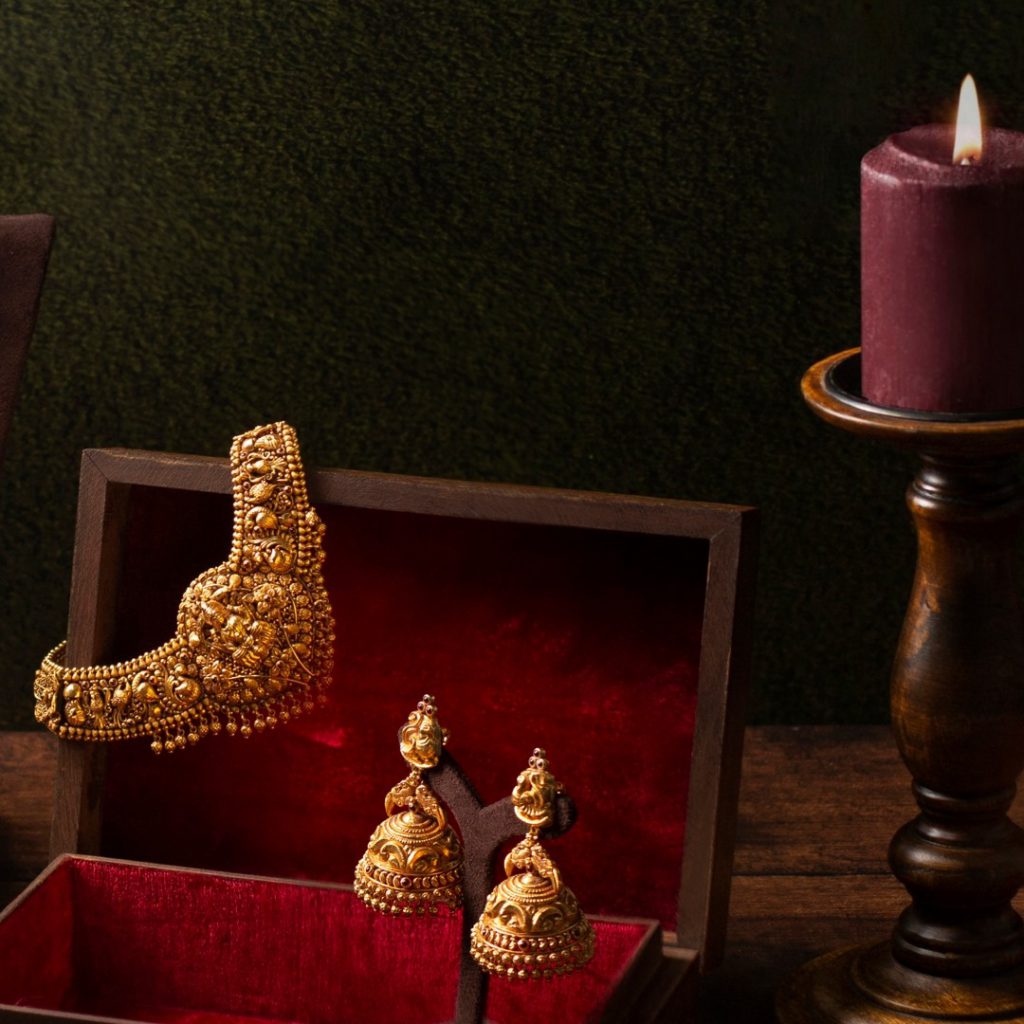 Muhurtham jewellery showcases a vast array of traditional gold earrings and mangalsutra designs. Gold is a promising material for this type of creation. Its radiance enhances the brides' natural beauty and ensures the bridegroom that his wife will be forever adorned in alluring splendor.
GOLDEN BRACELETS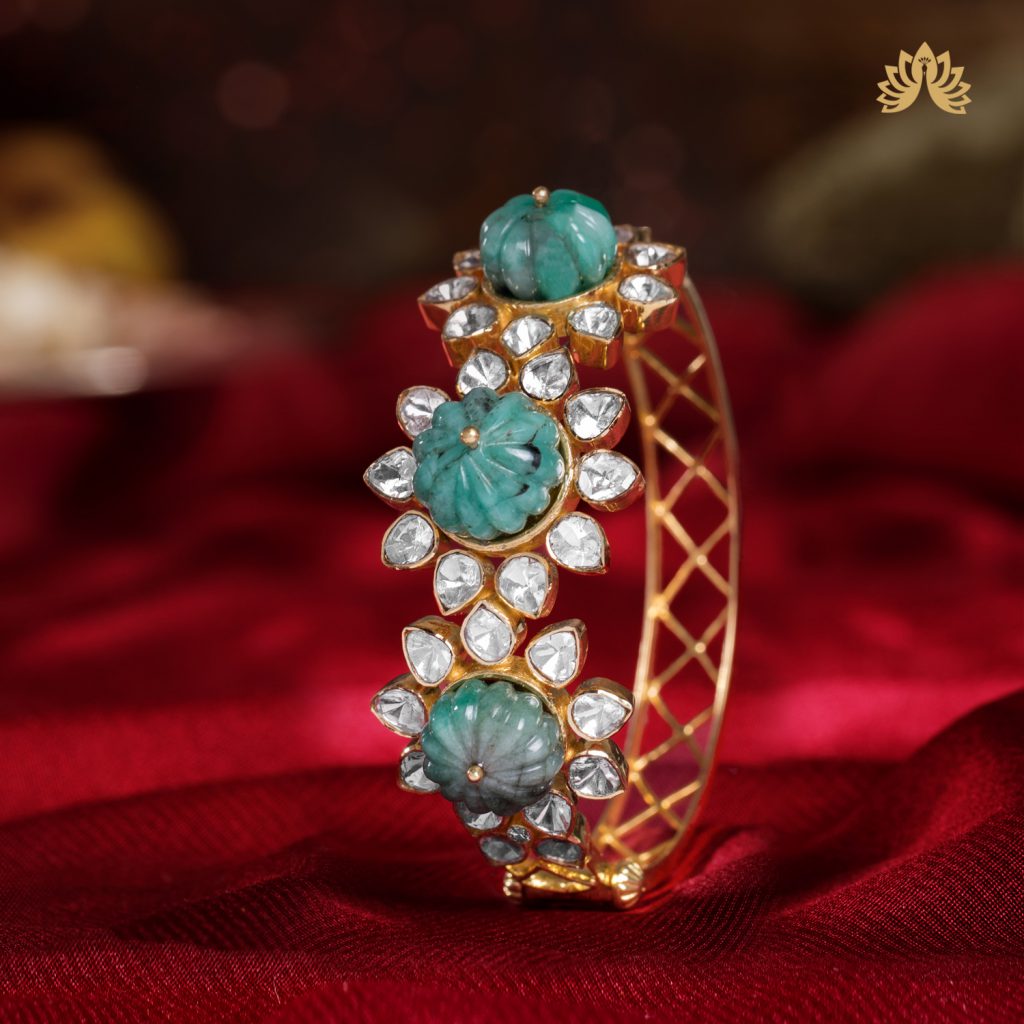 Bracelets made of gold are adornments that are worn on the wrist, but they are actually meant to be worn around it. This is a part of Indian tradition which has been followed for centuries. Unique Muhurtham gold bracelet designs include Lotus designs, interwoven chains, and bead-like patterns. Other than that, the bracelets are either plain or studded with gemstones like pearls and rubies. The most popular gold bracelet design in India is the one with intricate designs of flowers, beaded work, and even diamonds!
CONCLUSION
Muhurtham jewellery is a rare and precious with old cultural values and ancient traditions. These fine jewelleries are handcrafted from pure gold or silver with great attention to every detail. With its classy design, Muhurtham jewellery is liked by both men and women.
Muhurtham is made up of best quality gems that are mined and polished in the lap of Mother Nature. The natural shine and glow of those gems speak more words than any metal or jewellery set can. Get a precious piece of nature with Muhurtham jewels because it's not just the luster that you're buying but also a work of art, a tradition, and culture.
Krishna Jewellers Pearls & Gems have been experts in Muhurtham jewellery for 37 years. They have spent the last three decades creating memories and pleasing customers. Despite being a top player in the jewel industry, they remain humble in their core values of trust and providing quality customer service. Their in-house designers will properly quote the clients, as they have expertise in handling Indian and foreign customers. Clients may send them an email through [email protected].
Follow & Subscribe Muhurtham Jewellery Trends
► Like & Follow Facebook – https://bit.ly/3tUIb7y
► Follow Instagram – https://bit.ly/3tVPWKh
► Follow Youtube – https://bit.ly/3wiZ7Gl
► Shop online : https://www.krishnapearls.com/  ► Visit Website: http://www.krishnajewellers.com
For More Bridal Jewellery Designs Call (or) Whats App@ +91-6303718441 Visit our store Krishna Jewellers Pearls & Gems at Jubilee Hills,Hyderabad and for more details Contact Us @ +91-6303718441.