You might be at the altar reciting your marital vows, or you could be the bridesmaid, or you might be an attendee of a glamorous ceremony; either way, your pick of ruby necklace designs would brandish your societal status and distinguish you with a majestic aura.
Red carpet walkers have demonstrated that the right choice of ruby necklace designs holds power to ornate you in celestial beauty. The beautiful blend of the variety of colours of these ruby necklace designs, be it dark red or soft pink, work well for any apparel and complexion. So, irrespective of whether you are in a western outfit or an ethnic attire, you have plenty of ruby necklace designs choices.
Here are some of the best ruby necklace designs and collections that are breathtaking. 
1. Ruby Polki Diamonds Pearls Necklace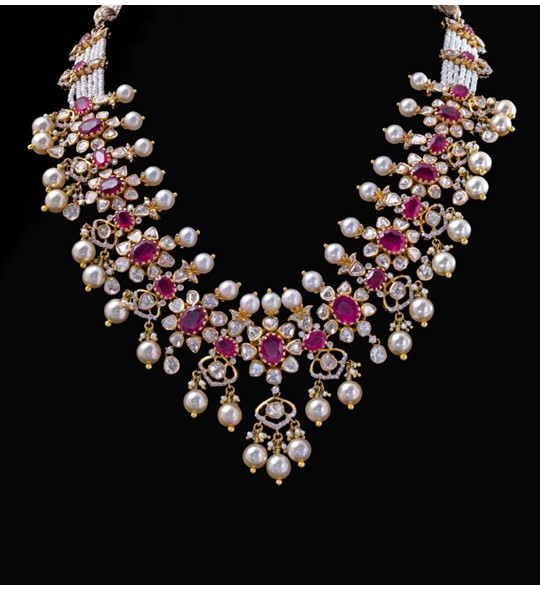 You can style your wedding apparel with this royal ruby necklace design. Handcrafted in gold and uncut diamond, bejewelled with rubies and south sea pearls, the Ruby Polki Diamond Necklace is all you need to adorn your designer sarees, cholis, and lehengas. This is indeed your go-to jewellery for all kinds of traditional wear!
2. Ruby Polki Choker Necklace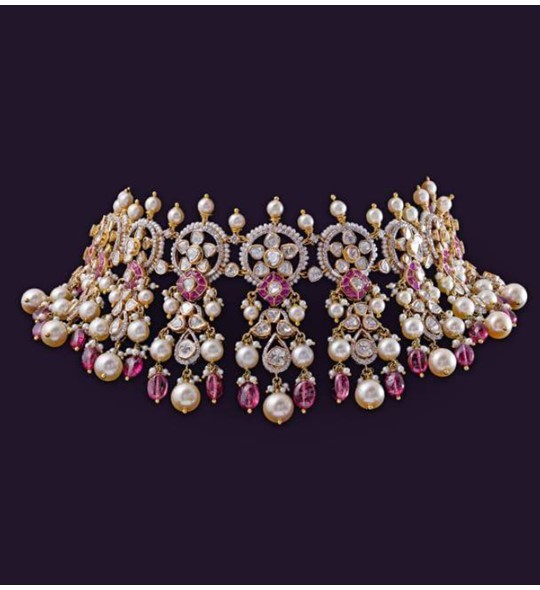 This Ruby Polki Choker Necklace is in vogue these days among celebrities. With pure gold and uncut diamonds, studded with ruby, Polki, and South Sea pearls, this choker necklace would make you look gracious and gorgeous. Make many heads turn, as you deck yourself in the richness of the choker necklace. 
3. Ruby Emerald Chandbali Choker Necklace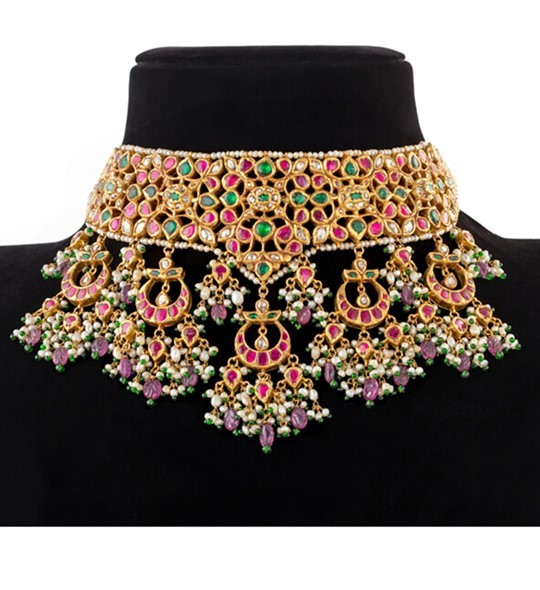 The Ruby Emerald Chandbali Choker Necklace is beautifully designed in a floral theme, with uncut diamonds and rose-cut Polkis, to adorn your ethnic attires. This is a piece of must-have jewellery that especially goes well with simple and elegant lehenga cholis. 
4. Guttapusala Lakshmi Ruby Necklace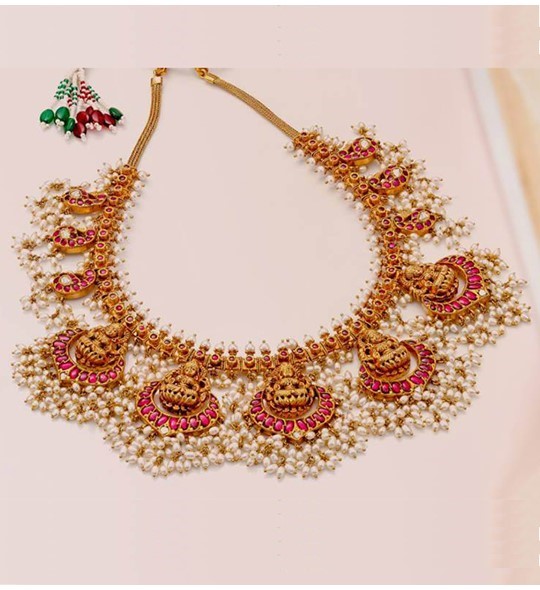 If you are getting married in the Konkani style, then Guttapusala Lakshmi ruby necklace design must have a place in your trousseau. Similarly, if you're attending any glittery event, adorn yourself in this decadent ruby necklace design. With Polki and Basara pearl, this ruby gold necklace is your magic wand to flaunt your beauty. 
5. Ruby Pearls Kundan Necklace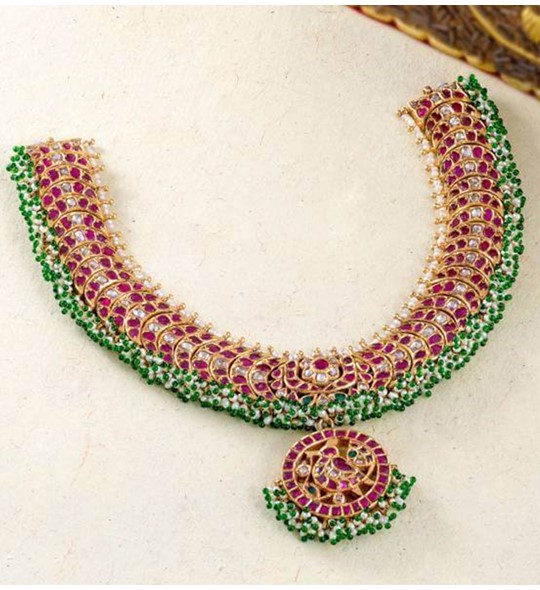 If you need an elegant piece of a jewellery marvel, this Ruby Pearls Kundan Necklace is all you need. These Kundan ruby necklace designs are made of pure, refined gold, with Polki, Multi-stone, and flat diamonds. What's in it for you? An ethereal look for all your auspicious occasions.      
For More Jewellery Designs Call (or) Whats App@ +91-7093324141
https://www.krishnajewellers.com
Vist Site For More Jewellery Collection at www.krishnajewellers.com (or) visit our store Krishna Jewellers Pearls & Gems at Jubilee Hills, Hyderabad and for more details Contact Us @ +91-7093324141.