Hyderabad jewellery is one of the most popular and royal forms of jewellery that women adorn for functions and grand celebrations in India. Right from the authentic temple jewellery to pearl jewellery, women choose it to sport a regal and gorgeous look.
Known as the jewel of Nizam, it is one of the most exquisite jewels of the country. Comprising of gold, silver, diamonds, and pearls, Hyderabad jewellery is made up of excellent enamel work that brings out the shine beautifully. This form of jewellery comes in a variety of designs and styles like chokers, necklaces, earrings, and more. Read on to take a look at these latest Hyderabad jewellery designs for women.
Gemstone Choker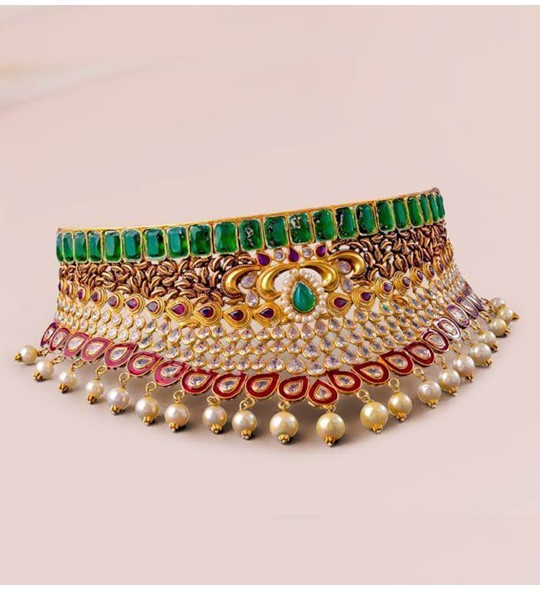 This type of Hyderabad Jewellery is an antique design that is quite popular. It is embellished with pearls, stones, gems, and uncut diamonds. The necklace has a choker style design with stunning gemstones that are the main attraction of the piece. You can choose the gemstones in red, maroon and green to suit your outfit.
2. Gold Pearl Drop Earrings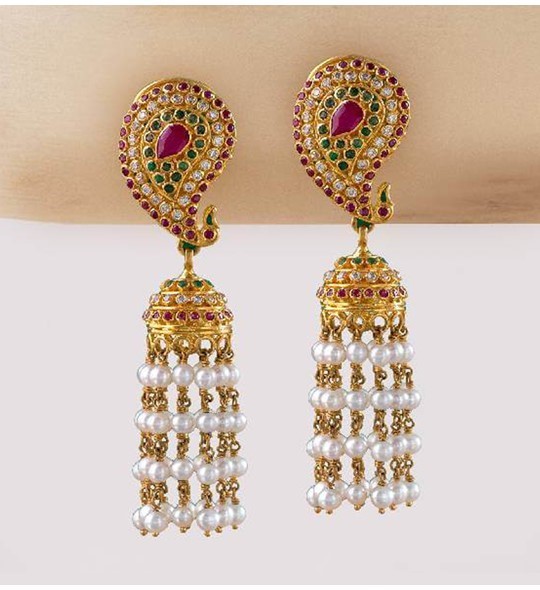 Pearls are an essential part of Hyderabad jewellery and are used with other precious stones. This is a pair of beautiful yellow gold jhumka that is crafted in rubies, emeralds, diamonds and pearls. The earrings come with a string of elegant white pearls that drop down to the right length. This exquisite piece of Hyderabad jewellery is traditional in every way, and they can be paired with sarees, lehengas and even a salwar suit for any occasion. The tiny stones in colours of pink, white and green also add on to the fabulous design of the earrings.
3. Exquisite Chandbali Earrings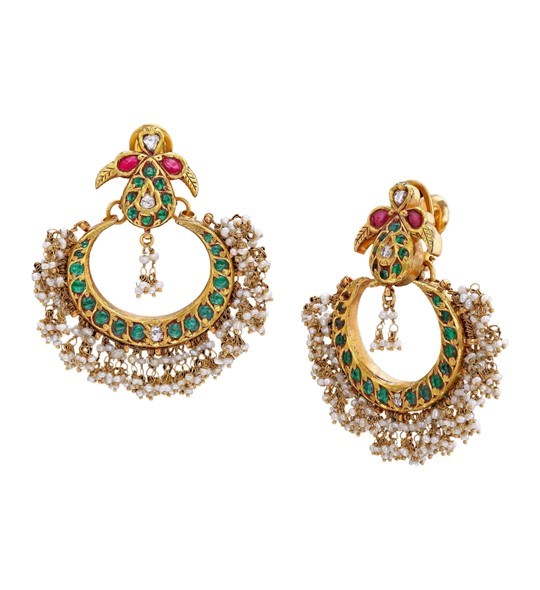 The Chandbali earrings are quite popular when it comes to Hyderabad jewellery. These type of earrings are intricately designed with gems, and uncut diamonds shaped in a crescent moon and styled with stunning Hyderabadi pearls. This twin peacock chandbali styled earrings are crafted in Kundan artistry using a mix of uncut emeralds, rubies, polki and pearls. Earrings like these are perfect to wear for a traditional function or festival.
4. Emerald Necklace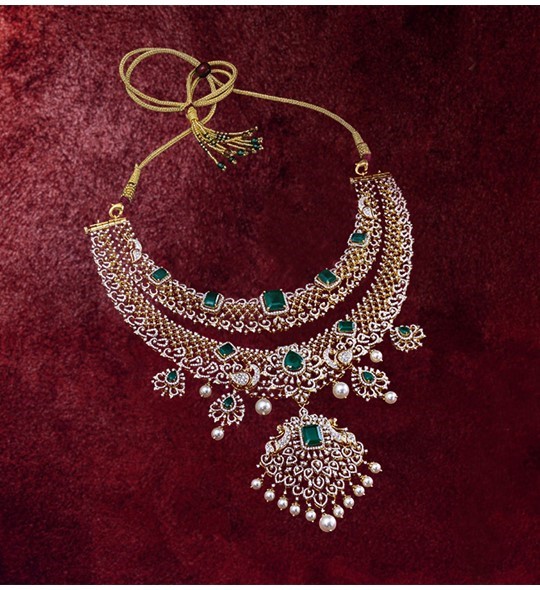 This is another exquisite necklace when it comes to Hyderabad Jewellery. Made of emeralds and rubies, the neckpiece also comes with Hyderabadi pearls and uncut diamonds that give it an imperial look.
5. Kundan Necklace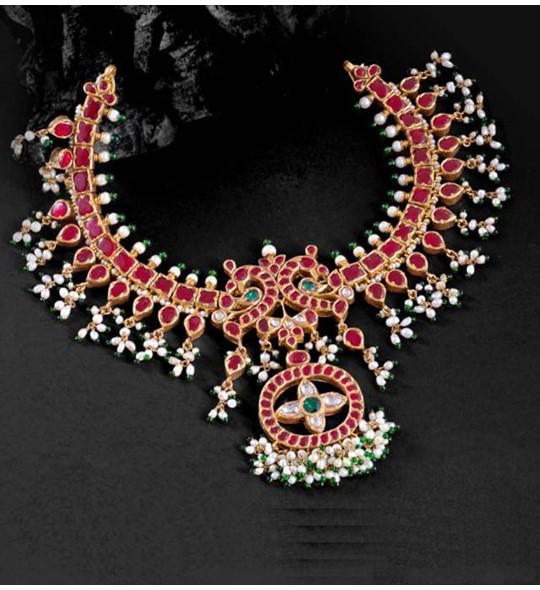 This necklace is a very royal piece that consists of ruby, emeralds, polki diamonds and pearls, making it a must-buy for any grand celebration. The pearls and stones along with the gold match up perfectly for a variety of outfits.
With so many fabulous pieces and the extensive use of gold, pearls, diamonds, and gemstones, Hyderabad jewellery is undoubtedly the most sought-after jewellery among Indian women even today.
For More Jewellery Designs Call (or) Whats [email protected] +91-7093324141
https://www.krishnajewellers.com
Vist Site For More Jewellery Collection at www.krishnajewellers.com (or) visit our store Krishna Jewellers Pearls & Gems at Jubilee Hills, Hyderabad and for more details Contact Us @ +91-7093324141.