Luxurious Guttapusalu Designs That Are Perfect For Elegant Women
Guttapusalu designs are becoming quite popular, and this type of elaborate jewellery is most preferred for a wedding or a special occasion. Guttapusalu is simply a bunch of pearls put together beautifully to form a stunning piece. In Telugu, Pusalu refers to beads and pearls, and gutta means a bunch.
Let us take a look at 7 exquisite Guttapusalu designs that you could select for any type of occasion or event.
1. Gold Guttapusalu Pearl Polki Necklace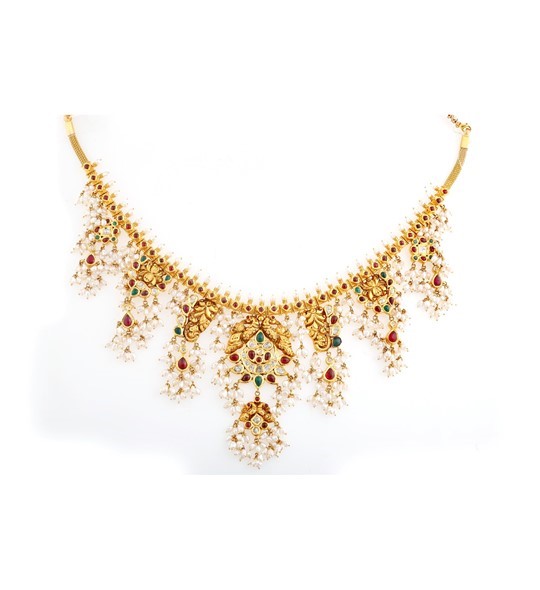 This is an elegant Guttapusalu pearl Polki necklace put together in a unique way. The neckpiece is a multicolour stone with a pearl design that comes with a peacock motif in the centre. A beautifully detailed necklace, you could pair it up with a saree for a wedding or a traditional event.
2. Gold Haram Necklace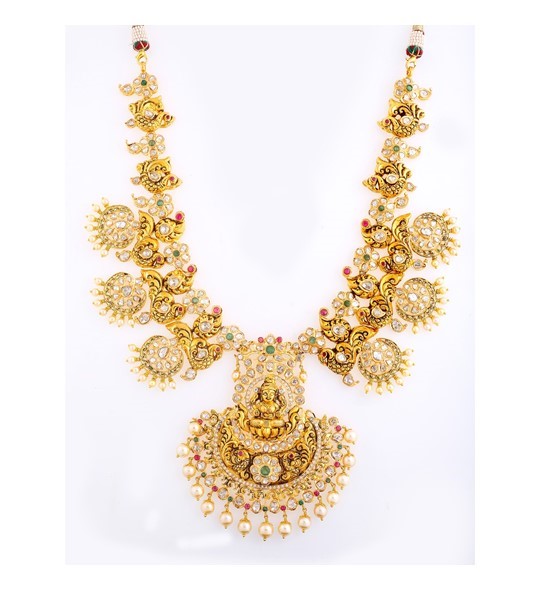 This is another gorgeous Guttapusaluharam necklace in 22-carat gold. It features a lovely Goddess Lakshmi pendant with a peacock design running on either side of the necklace. The neckpiece is made with rubies, emeralds, south sea pearls, and polki diamonds, giving it the perfect traditional look.
3. Elegant Guttapusalu Necklace Set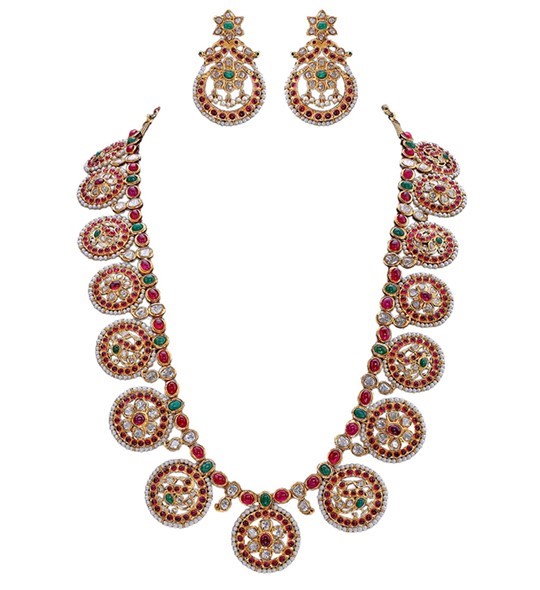 If you're looking out for a traditional necklace set, then check out this Guttapusalunecklace set that comes with rubies, emeralds, and Kundan. It's a 22-carat design that has a matching pair of earrings to go with it. This is a great design to evoke some charm and grace in your sarees.
4. Antique Gold Kundan Guttapusalu Necklace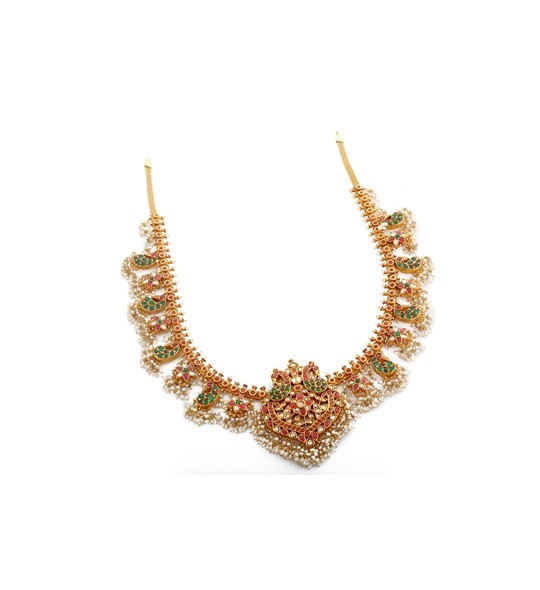 This fabulous antique gold Kundan Guttapusalu necklace is all things traditional. This necklace is assorted with rubies, emeralds, and Polkis with beautiful hanging pearls all over. The intricate design is perfect to team with a traditional saree for any occasion.
5. Ruby Polki Pearl Kundan Necklace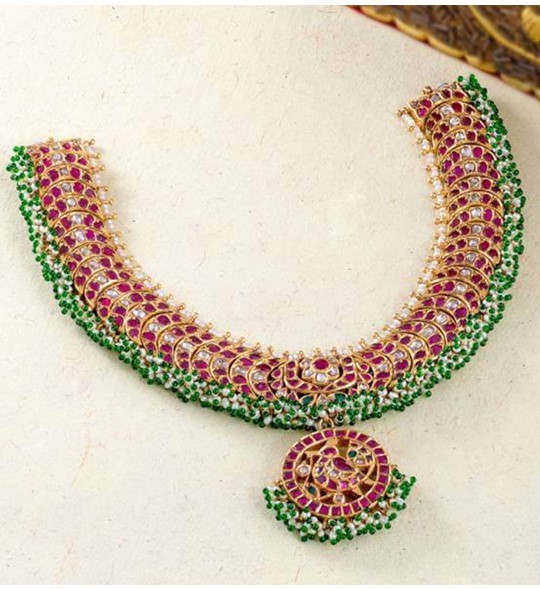 Guttapusalu designs come in a variety of beautiful colours and designs. This necklace is crafted in yellow gold, rubies, flat diamonds, and kaka motis, making it a simple and elegant piece to flaunt. With this statement piece, you can assemble the perfect traditional look for your special events.
6. Guttapusala Lakshmi Ruby Yellow Gold Necklace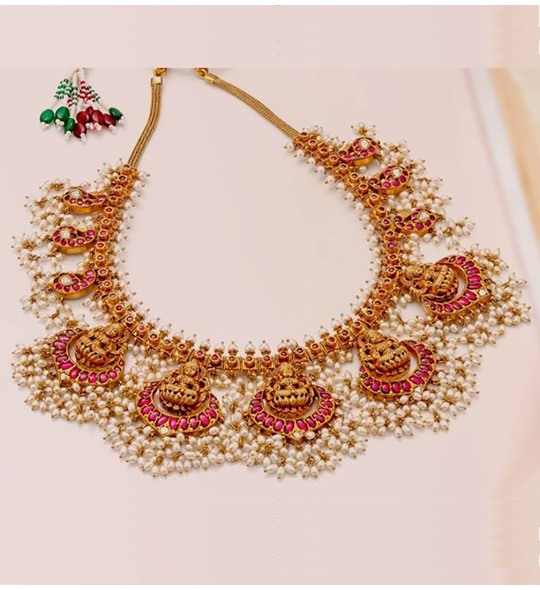 This Guttapusalu necklace is a charming neckpiece that features ethnic motifs, rubies, and south sea pearls. The pearls, along with the pink stones, blend beautifully to create a unique design that captures the essence of Indian tradition.
7. Gorgeous Kempu Kundan Necklace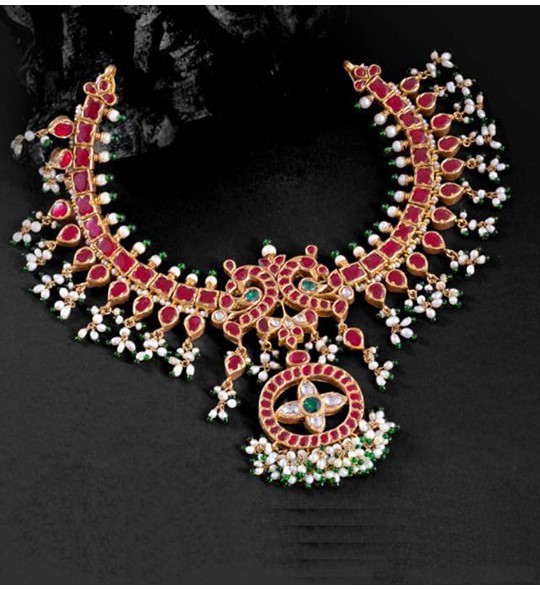 This Kempu Kundan Necklace is another great design when it comes to Guttapusalu jewellery. Embellished in Polki diamonds, rubies, pearls, and emeralds, a necklace like this is an ideal choice for bringing a royal charm to your attire. 
Call / WhatsApp / Shop over Video Call : +91-8499011111
🌐 Website: https://www.krishnajewellers.com