Perfect Vaddanam Designs for the Princess in You!
Who doesn't dream of dressing like a princess on their wedding day? An exquisite Kanjivaram saree or Benarasi lehenga, breathtakingly beautiful neckpieces, stunning earrings, intricately designed bangles and an elegant vaddanam design – these are the desires of every bride.
Vaddanam is a waistband that is also known as Oddiyanam or Kamar bandh. A vaddanam cinches the waist to give you a gorgeous figure. It is a must-have in every bride's kitty and despite common perception, a vaddanam design is a very versatile piece of jewellery.
Vaddanam designs range from simple to intricate and modern to antique. Here are some exquisite vaddanam designs and pairing suggestions that will make your princess dreams come true.
Peacock Vaddanam Design with Southsea Pearl
What can be more majestic than diamonds and emeralds? The peacock Vaddanam design with Southsea pearls exudes royalty. The flawless square emeralds in the vaddanam are set amidst a sea of diamonds. The dangling pearls further add to the Vaddanam's charm.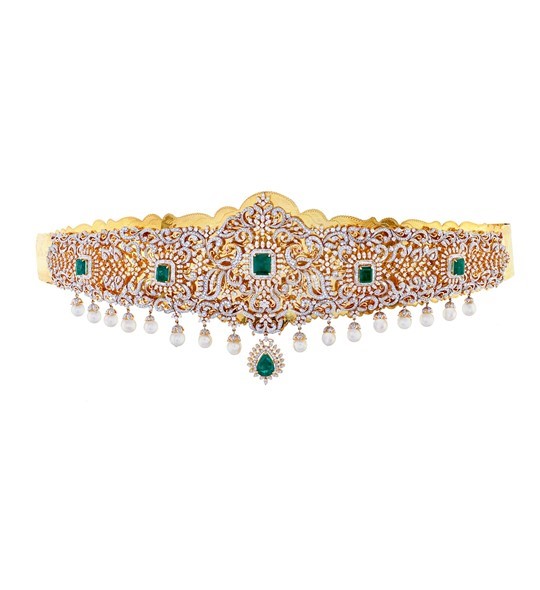 Diamond vaddanam design goes well with diamond neckpieces and bangles. Wear an emerald green Kanjivaram or Benarasi saree for your big day and match it with this beautiful jewellery piece.
Lakshmi Themed Yellow Gold Vaddanam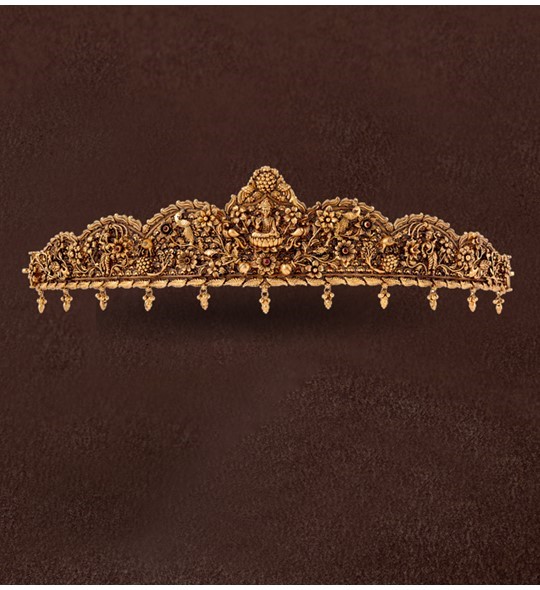 Are you someone who revels in the details? Then this intricate Lakshmi themed yellow gold Vaddanam design is perfect for you. The handcrafted piece features Goddess Lakshmi surrounded by peacocks and flowers. It is a unique Vaddanam design that will steal your heart at first sight.
With such detailed Nakshi work, this Vaddanam can stand on its own. Pair it with simple neckpieces and bangles and a ruby red saree or lehenga that go well with this Vaddanam design.
Gold and Diamond Vaddanam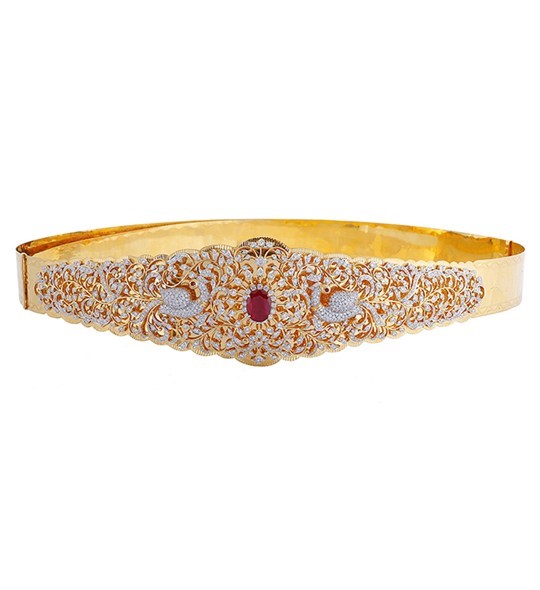 Peacocks are an evergreen jewellery motif. The gold and diamond Vaddanam with peacock work features two peacocks on either side of a flawless, bright ruby. The peacocks themselves are made with diamonds and set in gold.
You can pair it with neckpieces and bangles that have diamonds and ruby. A ruby red Kanjivaram or Benarasi saree will complement this Vaddanam perfectly. For a more distinguished look, get a saree that uses silver zari instead of gold.
Yellow Gold Vaddanam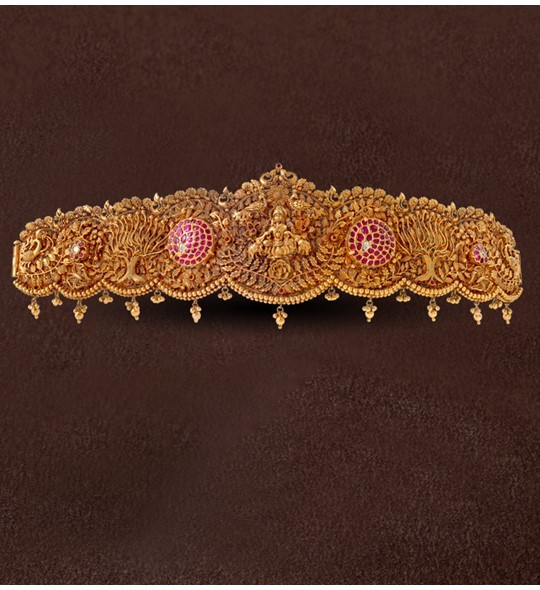 There is a certain allure to temple jewellery, especially in the bridal trousseau. Try this Lakshmi yellow gold Vaddanam that features Goddess Lakshmi in the centre. The Vaddanam depicts the Goddess in a garden surrounded by peacocks, trees and flowers. The tiny ghunguroos dangling from the belt add a touch of elegance to the Vaddanam design.
This intricate Nakshi work Vaddanam design will pair well with other pieces of temple jewellery. You can even flaunt this Vaddanam for your Haldi and Mehendi ceremony.
Ashtalakshmi Nakshi Vaddanam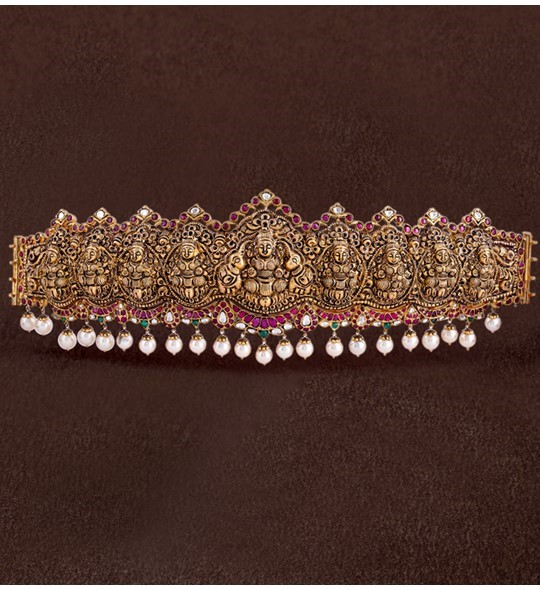 Goddess Lakshmi in the Ashtalakshmi form holds a place of special significance in the Indian culture. The Ashtalakshmi Nakshi Vaddanam features eight identical Lakshmis. The Vaddanam design also incorporates, rubies, diamonds and emeralds to amp up the regality of the piece.
It is a unique piece that features both Nakshi and Kundan work. Neckpieces and bangles with antique work are perfect companions for this Vaddanam.