Are you looking for ethnic jewellery designs to add to your jewellery collection this year? If yes, then you have landed on the right place!
Temple jewellery is gold embedded jewellery which is in the form of different gods and goddesses. The temple jewellery designs are originated from Thanjavur, in South India and can easily be worn with any understated outfit.
Let's have a look at the list of top temple jewellery designs that you need to add in your jewellery collection in 2020 and beyond!
1. Gold With Diamond Lakshmi Pendant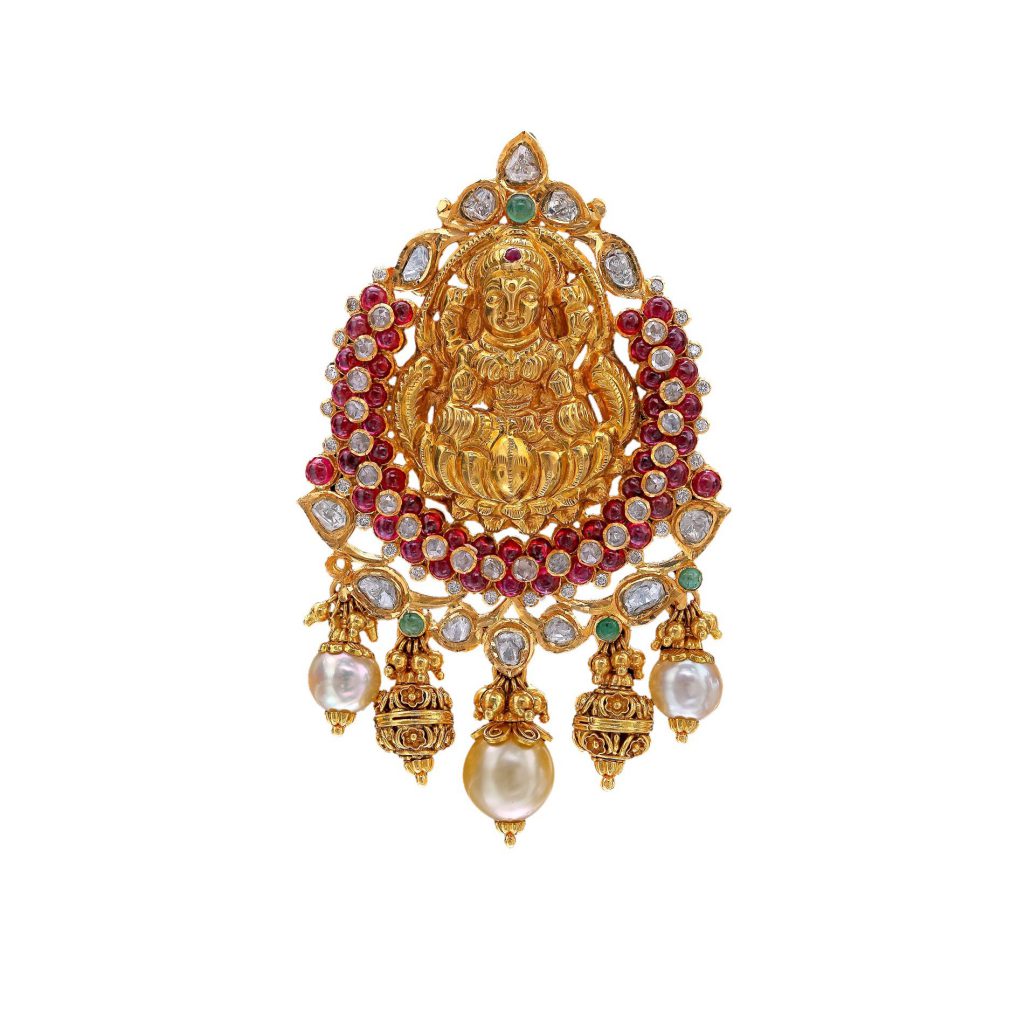 The first one on the list is Lakshmi pendant which is made by 22-Ct Gold and studded diamonds. The Polki and Ruby beads make it look extraordinary. For your every traditional look, the Lakshmi pendant is one of the most exceptional temple jewellery designs that come in mind.
2. Gold Kakamoti Pearl String Necklace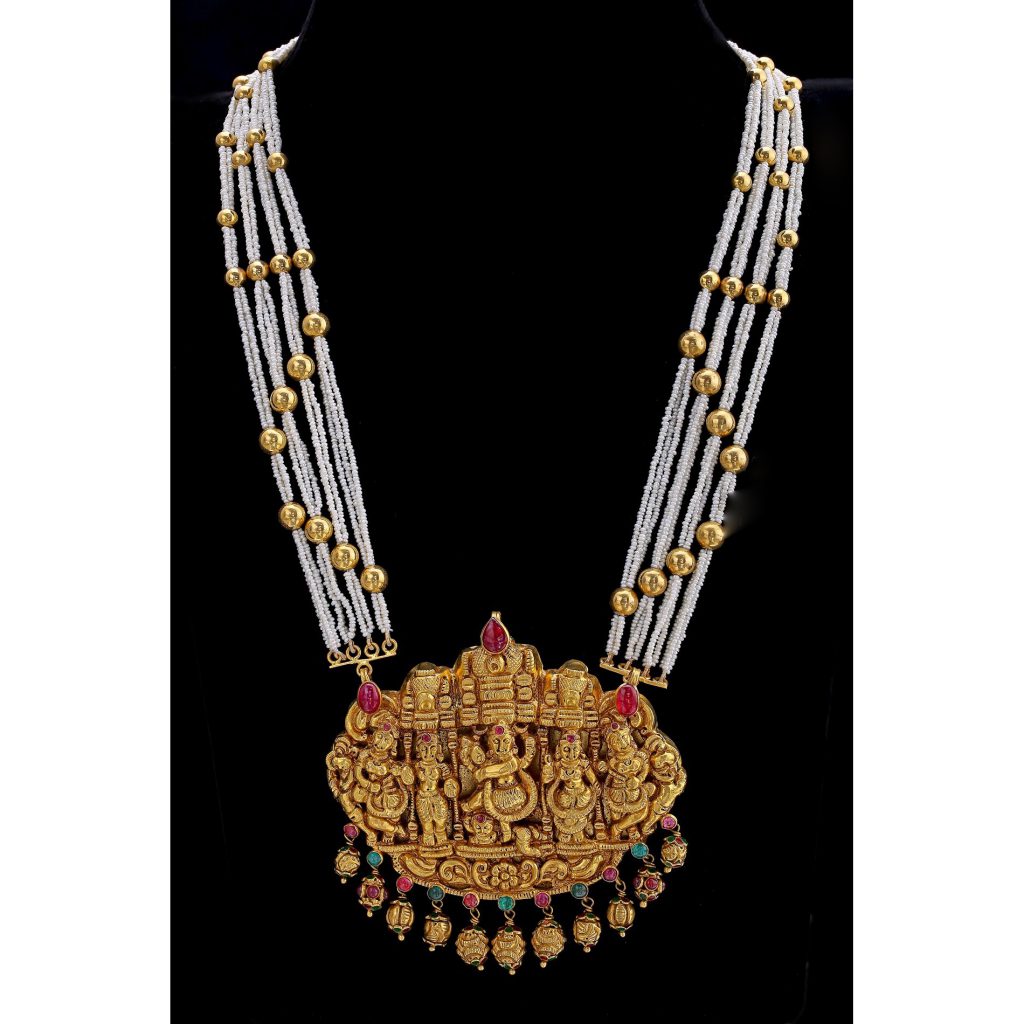 The Multi string kakamoti pearls necklace is covered with multi stones, Ruby and a Lord pendant in the middle. It's an eye-catching design, and attractive colour combination makes it one of the attractive temple jewellery design to wear.
3. Ruby Stone Necklace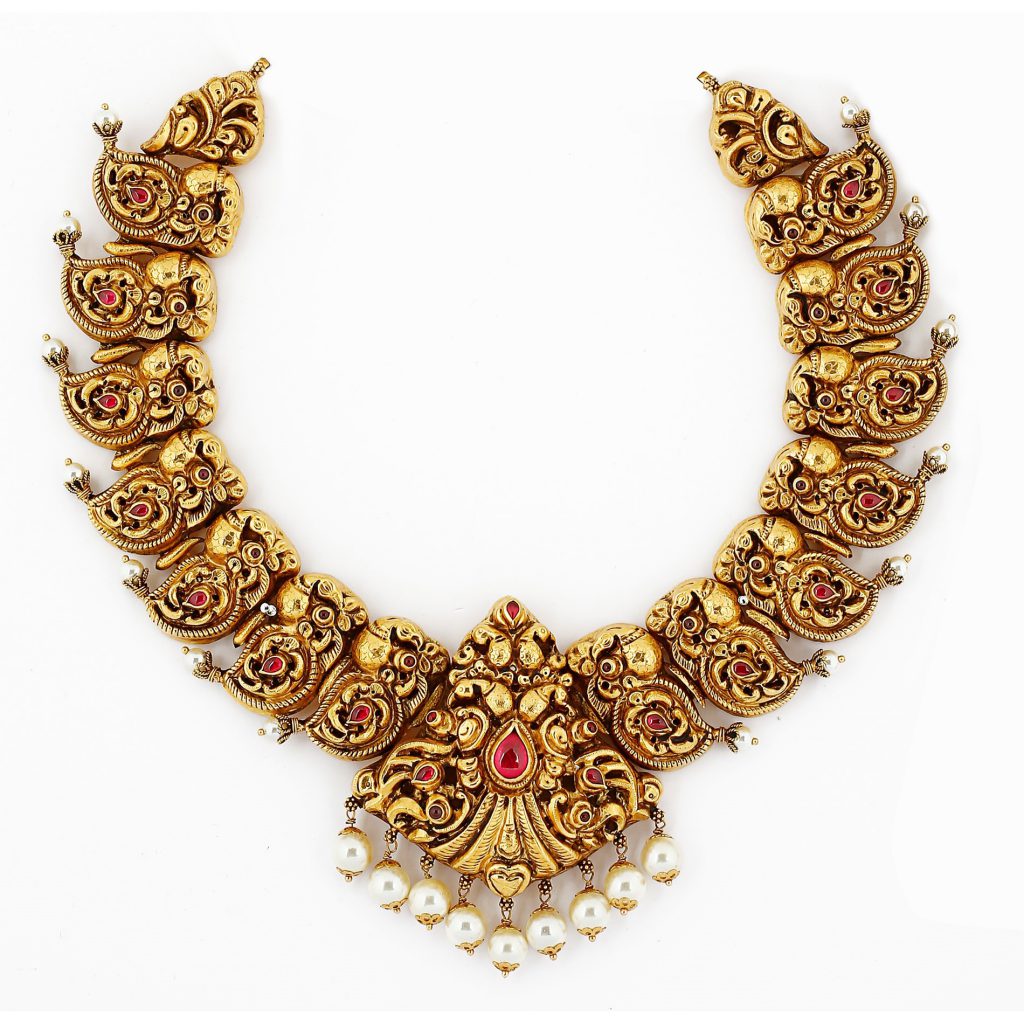 The Ruby Stone necklace has a round structure and is made of Ruby stones, and Pearl drops. They are beautifully crafted with red stones, and hence they stand out in the crowd. The attractive looks and ethnic style make them one of the must-have temple jewellery designs.
4. Twin Peacock Gold Necklace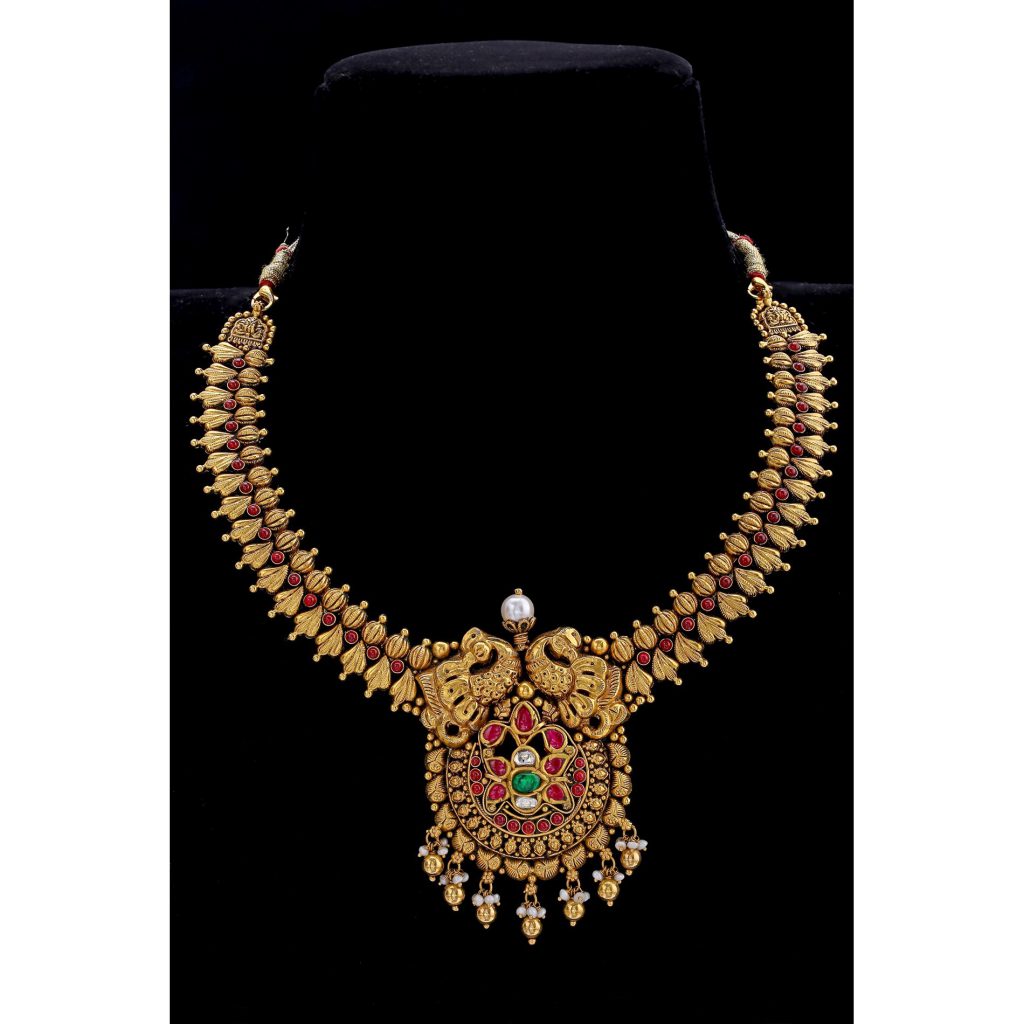 Another one on the list is the handmade 22-Ct Gold necklace with twin peacock pendant. This beautiful temple jewellery design is studded with polki diamond, rubies, and emeralds with freshwater pearl drops.
5. Gold With Diamond Lakshmi Kada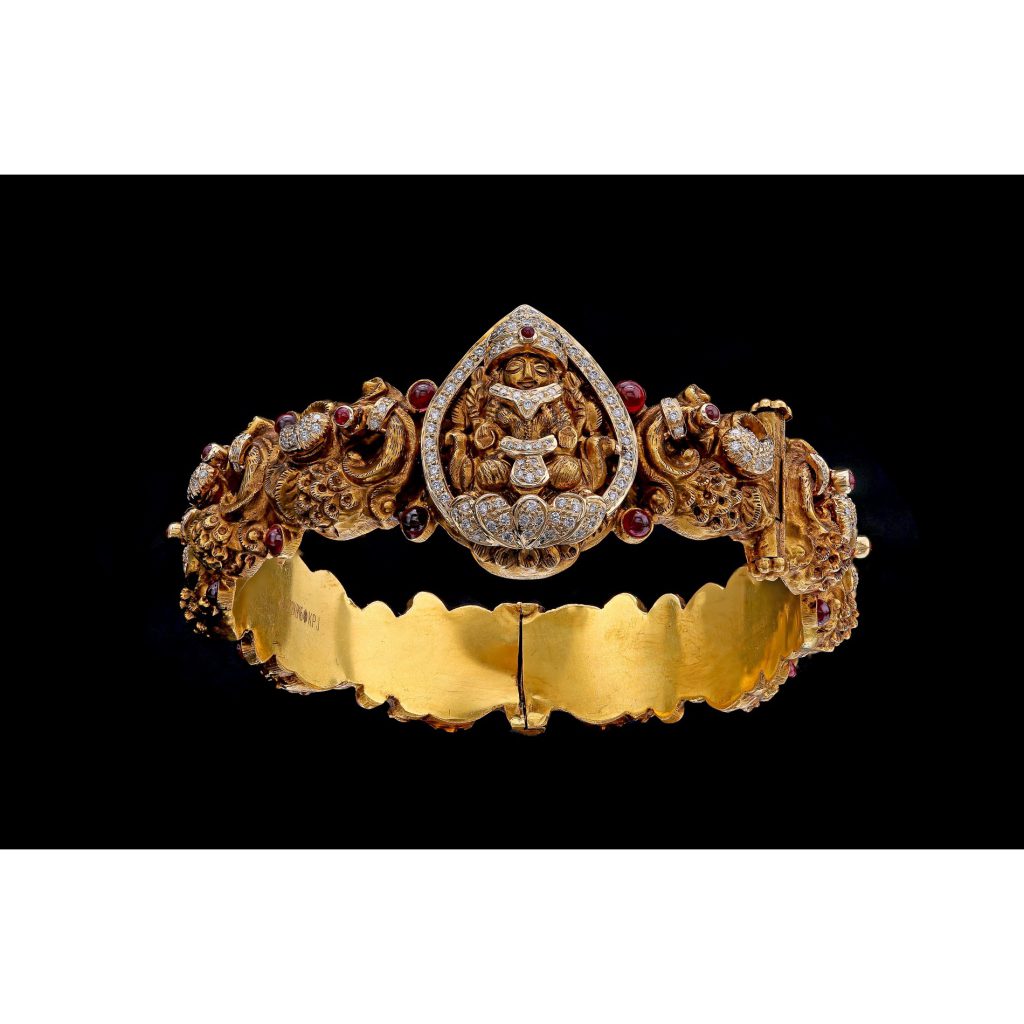 The Gold with diamond Lakshmi Bracelet is covered with Gold and Astonishing Diamond Pieces. It's a 22 carat Gold piece made with ruby that adds charm in your traditional look.
6. Gold Antique Finish Necklace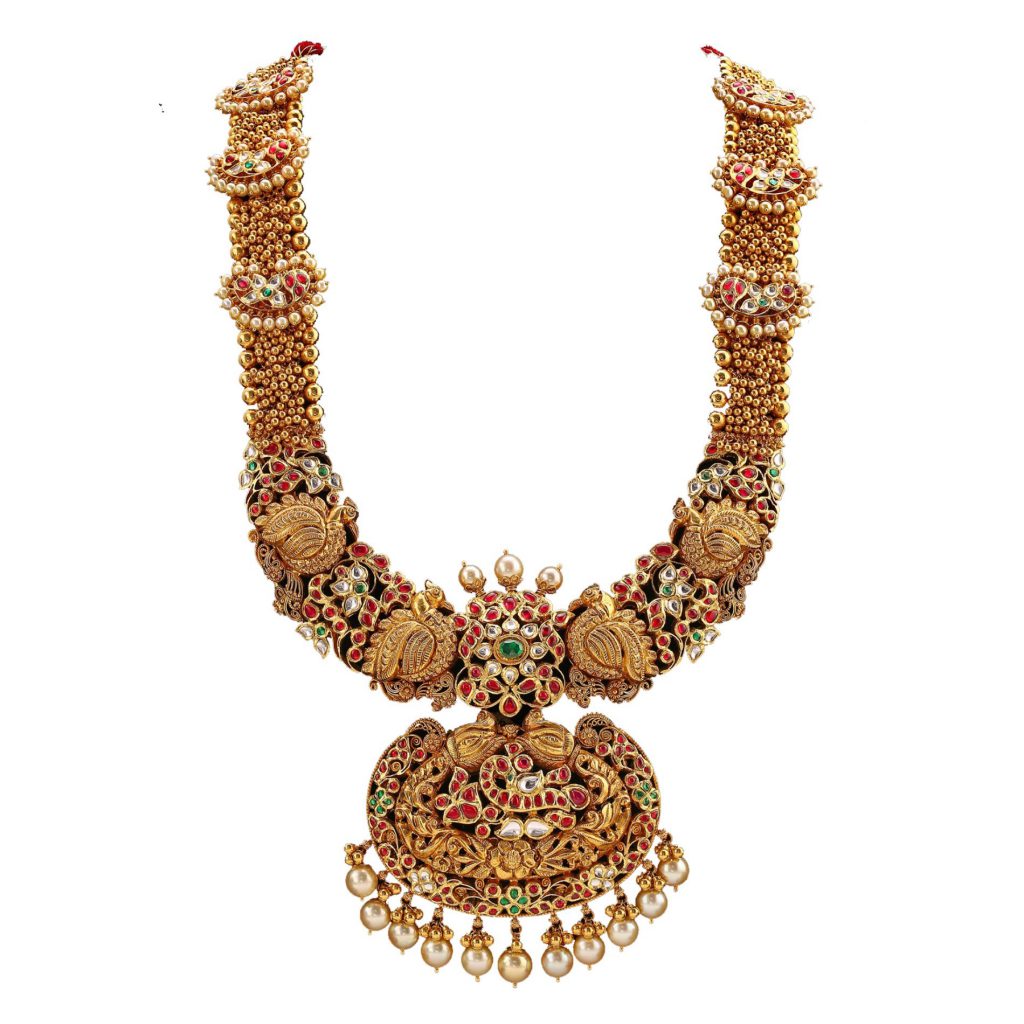 The Antique Finish necklace is a 22-carat gold temple jewellery design piece with an additional beauty of South sea pearl drops. This design is one of the handmade beauty that will add value to your jewellery collection. 
7. Antique Gold With Diamond Pendant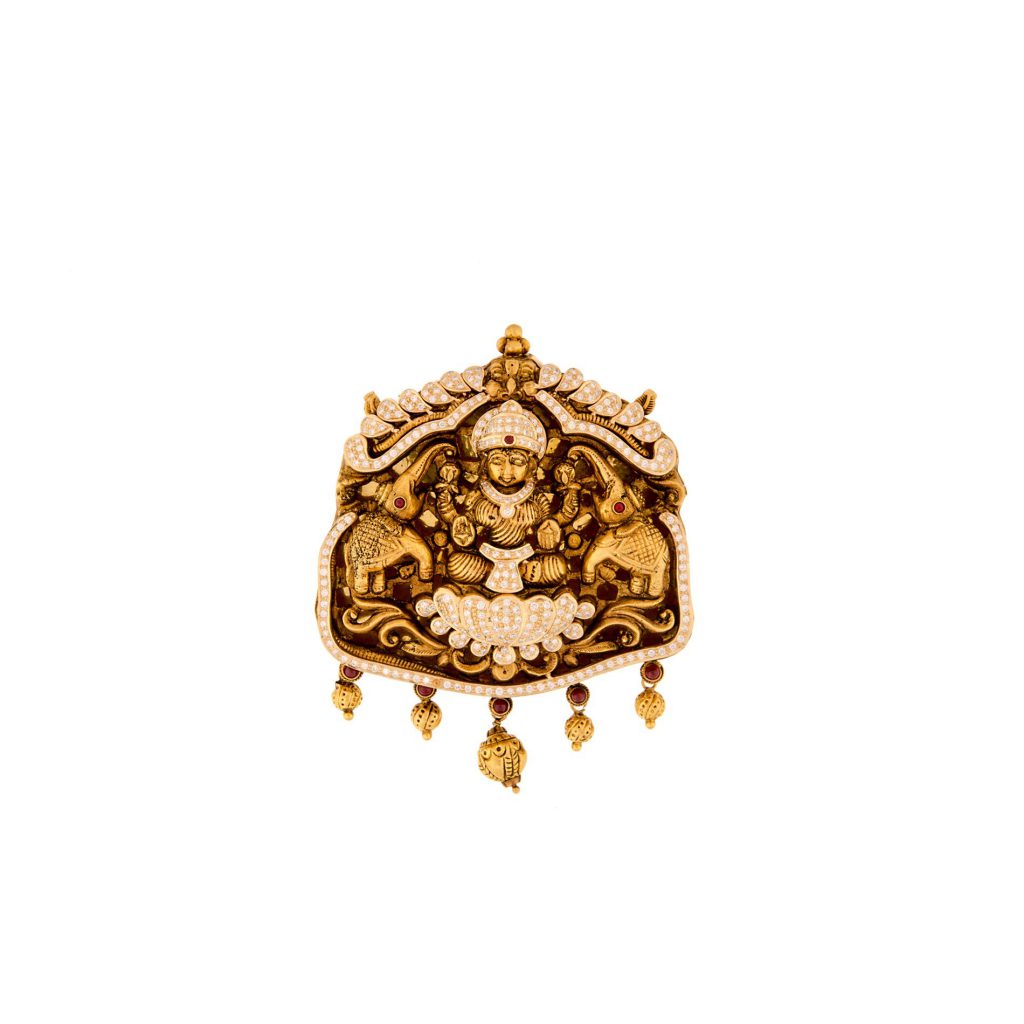 The Antique finish Gold pendant is featuring the Goddess Lakshmi who is sitting on diamond laced lotus at its centre. This temple jewellery design has an elephant on either side outlined by round shaped diamonds with gold ball drops that makes it look more ethnic.
For More Jewellery Designs Call (or) Whats App@ +91-7093324141
For More Jewellery Collection at www.krishnajewellers.com (or) visit our store Krishna Jewellers Pearls & Gems at Jubilee Hills, Hyderabad and for more details Contact Us @ +91-7093324141.