On her wedding day, every woman desires to doll up in an eye-catchy way. Hence, beautifying yourself with gorgeous rani haar design will do justice to your looks. Either you can pair this jewellery with smaller neckpiece like a choker or wear traditional rani haar individually. This royal necklace with intricate design will surely win the limelight! You will discover an assortment of unique and beautiful rani haar necklaces.
Here is the list of best rani haar design that you can't resist to purchase.
1. Feel Royal with Pearl Rani Haar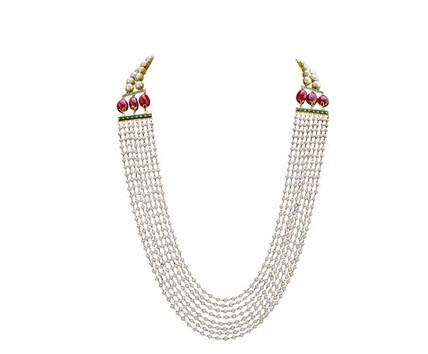 This long necklace is beaded with multiple fine-pearl, gold strings, and big rubies. It is a highly favoured rani haar design for women looking for delicate yet royal style jewellery. A full neckpiece can outshine your entire bridal dress, so you can instead go with this exquisite rani haar necklace.
2. Antiquated Rani Haar Design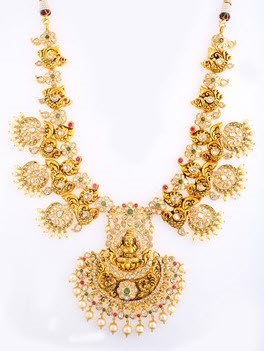 It is a 22 Kt gold Rani Haar with a beautiful Polki design in heavy gold inspired by rich Indian heritage. This necklace will make your guests go gaga over its intricate design with Goddess Lakshmi pendant and peacocks camouflaging on both its sides. The use of Polki diamonds, south sea pearls, rubies, and emeralds add perfection to your traditional wedding neckpiece. This rani haar design will pair up ideally with a Kanjivaram saree.
3. A Minimalist Pendant Necklace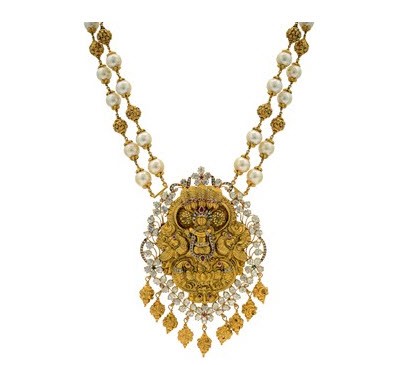 If you are looking for jewellery for your engagement day, this one is your go-to option. The pearl and gold beaded two long strings necklace with exquisitely crafted Krishna idol pendant will pop up on any attire. Diamonds and emeralds adorned throughout the Krishna pendant give it an ideal presentation. The golden beads with flower engravings increase its charm more.
4. An Opulent Ruby Neckpiece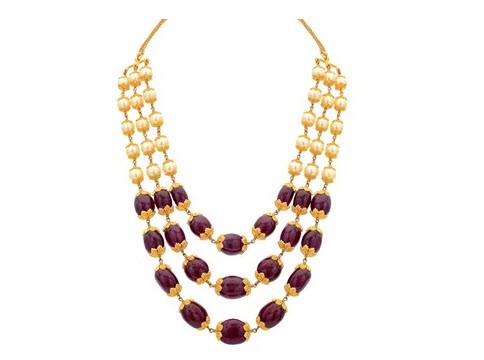 Are you a rubies lover? Then you won't be able to resist this beaded neckpiece. This three strings rani haar design features real ruby beads and south sea gold polished pearls. The antique design gold chain clasps the gems together and offers it a touch of regality. You can wear it for any small wedding event such as Sangeet party.
5. Glamorous Ruby Emerald Raani Haar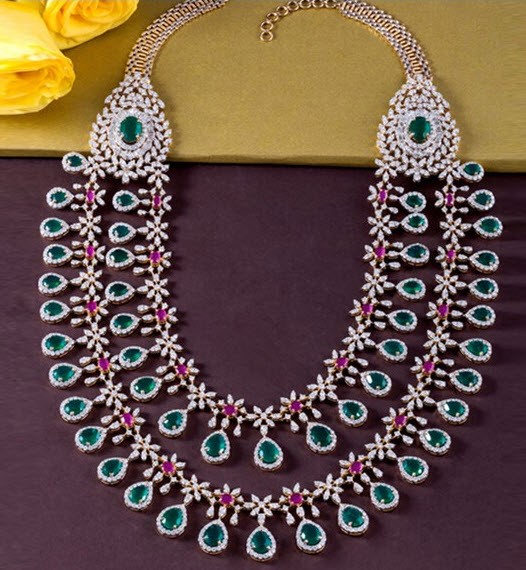 This raani haar design is an ideal match with designer bridal lehenga. Studded with 4C'S certified diamonds along with precious rubies and emeralds on a floral pattern. This necklace is a gem of a collection for brides!
For More Jewellery Designs Call (or) Whats App@ +91-7093324141
https://www.krishnajewellers.com
Vist Site For More Jewellery Collection at www.krishnajewellers.com (or) visit our store Krishna Jewellers Pearls & Gems at Jubilee Hills, Hyderabad and for more details Contact Us @ +91-7093324141.