Add Sparkle And Delight To Your Wardrobe With The Classic Kadiyalu
Kadiyalu or kadas are a staple in every women's jewellery vault. It is all you need to create a fashion statement. Kadiyalus are perfect for those occasions when you don't feel like wearing many bangles, but still want to accessorise your outfit to give it a regal look.
Many often confuse kadiyalu and bangle. Kadiyalu is wider than bangles and often has a screw mechanism for opening and closing. Think of kadiyalu as a combination of a bangle and a bracelet. It looks like a bangle when closed, but you wear it like a bracelet. Therefore, getting the correct size is never an issue.
Since it is a piece of one-size-fits-all jewellery, it is perfect as a family heirloom. Get the right designs, and they will continue to be fashionable through generations. Here are a few examples of classic kadiyalu designs that you must add to your jewellery vault.  
Lakshmi Yellow Gold Bangle Kadiyalu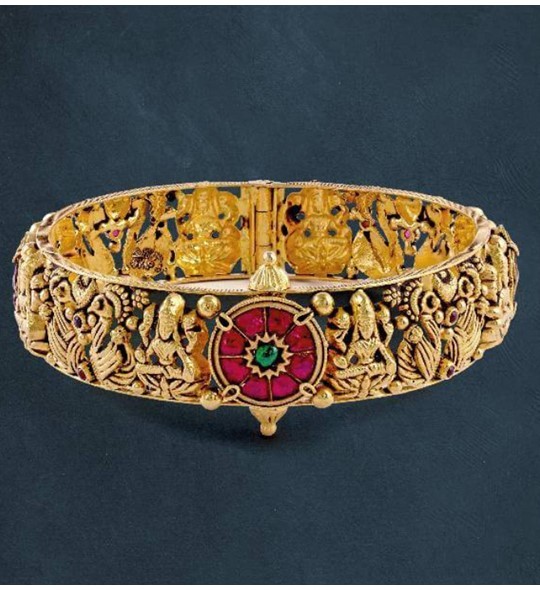 This Lakshmi yellow gold kadiyalu is the perfect example of a kadiyalu design that will never go out of style. The temple jewellery design features Lakshmi motifs with intricate detailing that are a testament to the outstanding workmanship on the product. The ruby detailing near the screws will perfectly complement a bottle-green silk saree or Anarkali.      
2. Yellow Gold Antique Kadiyalu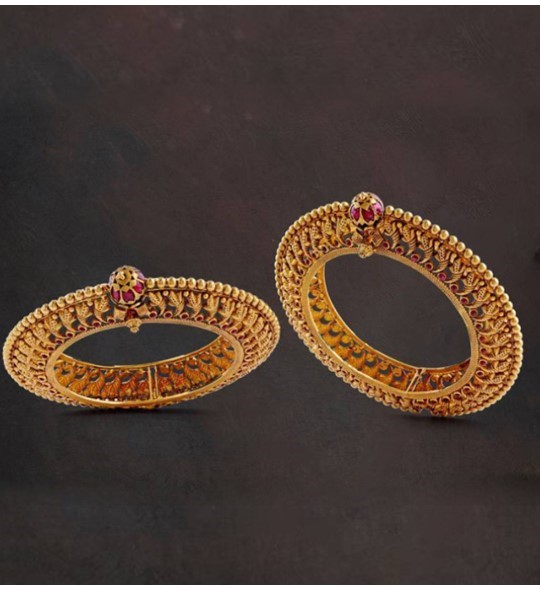 The charm of antique jewellery is exemplified in this yellow gold antique kadiyalu. The peacock-themed kadiyalu also has diamonds and rubies and would make a perfect addition to every bride's jewellery vault. You can wear these on either side of the traditional red bangles on your wedding day. Simple gold bangles are also a good choice for pairing with these kadiyalus.  
3. Gold Traditional Elephant Kadiyalu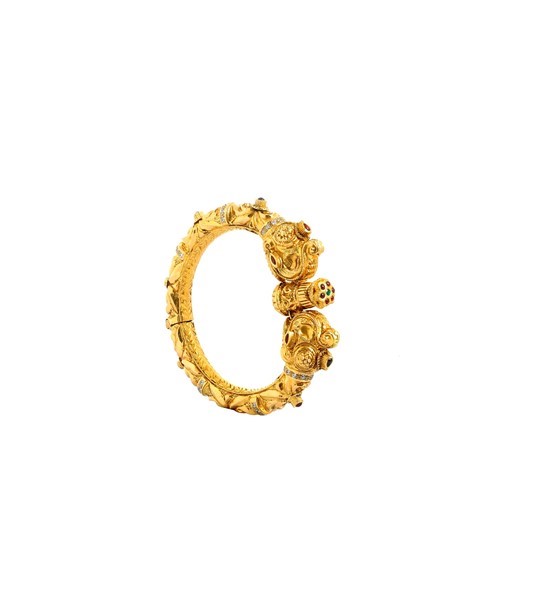 Elephants have always been associated with royalty. Add regality to your jewellery collection with this gold traditional elephant kadiyalu. The kadiyalu features rubies and emeralds and is the perfect accessory for a heavy Kancheepuram silk saree. The intricate design on the kadiyalu will go hand in hand with the ornate patterns on the saree.  
4. Nakshi Yellow Gold Uncut Diamonds Kadiyalu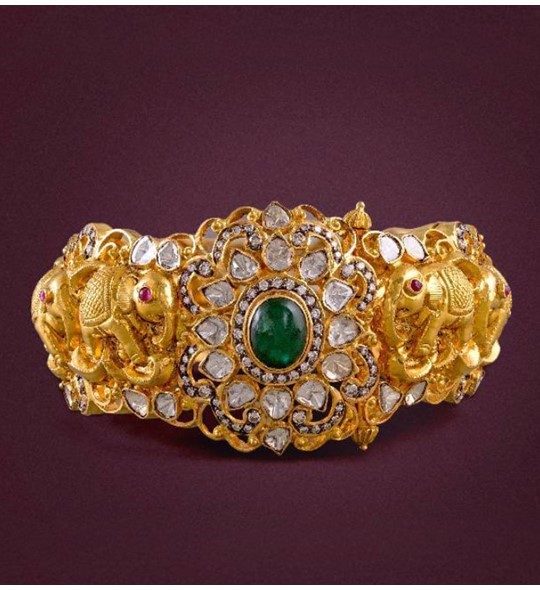 Looking for a kadiyalu that personifies both tradition and royalty? Your search ends with these nakshi yellow gold uncut diamonds kadiyalu. A classic example of nakshi work, the kadiyalu features elephants in all their glory surrounded by uncut diamonds. The single large emerald that forms the centre of the floral design is sure to catch your eye. You can wear this kadiyalu with a simple silk Anarkali for a day wedding look. Brides can make this kadiyalu the centre of attention on their wrists and surround it with simpler bangles. 
5. Uncuts Emerald Ruby Gold Kadiyalu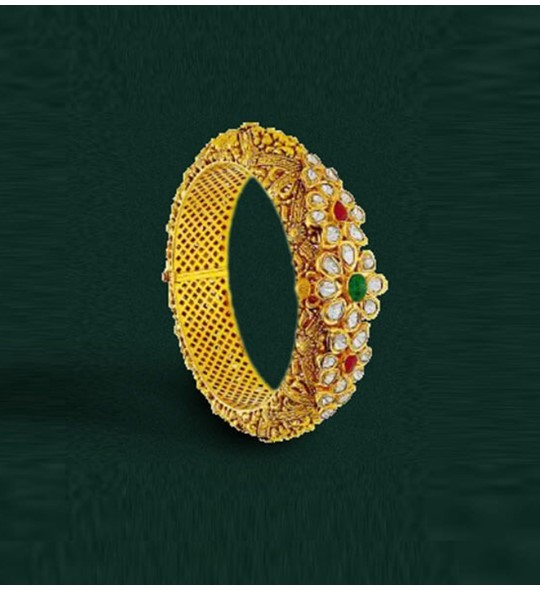 Want to feel like a queen? Try this kadiyalu with uncut diamonds, emeralds and rubies. The simple floral design made by the stones is surrounded by intricate and detailed gold filigree work. The grand kadiyalu can transform any outfit into a showstopper. Pair it with a saree, kurta, suit or lehenga and complement it with Kundan jewellery for a complete festive look.    
For More Jewellery Designs Call (or) Whats App@ +91-7093324141
https://www.krishnajewellers.com
Vist Site For More Jewellery Collection at www.krishnajewellers.com (or) visit our store Krishna Jewellers Pearls & Gems at Jubilee Hills, Hyderabad and for more details Contact Us @ +91-7093324141.