Women's jewellery matters at any festival or function in India. A woman understands that her jewellery describes her personality. Are you looking for such stunning and luxurious jewellery to define yourself? Check out our collection of magnificent jewellery this season to enhance your outfit game. Given below is a list of all the amazing jewellery you should definitely add to your collection:
1. Diamond Double Choker Necklace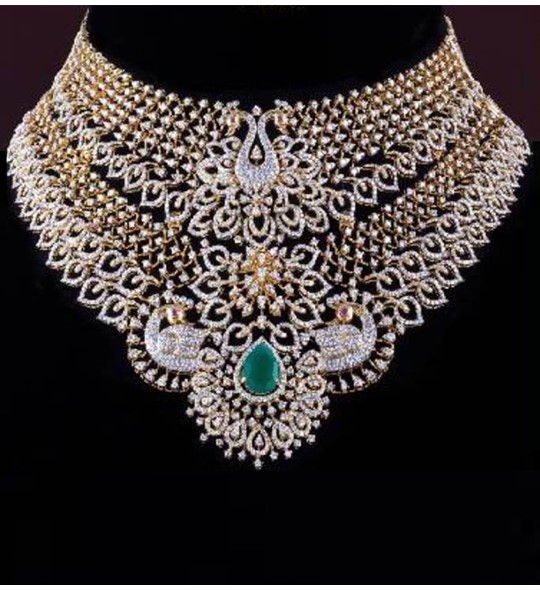 Wearing this antique double choker necklace piece designed with peacock motifs embedded with cut diamonds and a pear-shaped emerald in the centre grabs the attention and makes you feel special in every festive way possible. It is perfect to wear this neckpiece when attending a wedding or a family function.
2. Kasulaperu Long Haar Necklace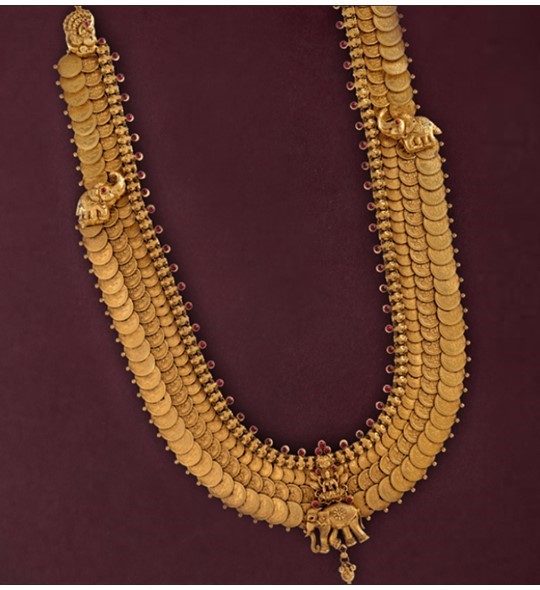 This incredible Kasulaperu necklace is a long chain crafted with Rubies on its inner edges. The Lakshmi gold coins layered in different strands gives a luxurious and sophisticated look to any woman. It is one of the grander and delicate pieces in women's jewellery.
3. Kundan Ruby Pearls Jhumka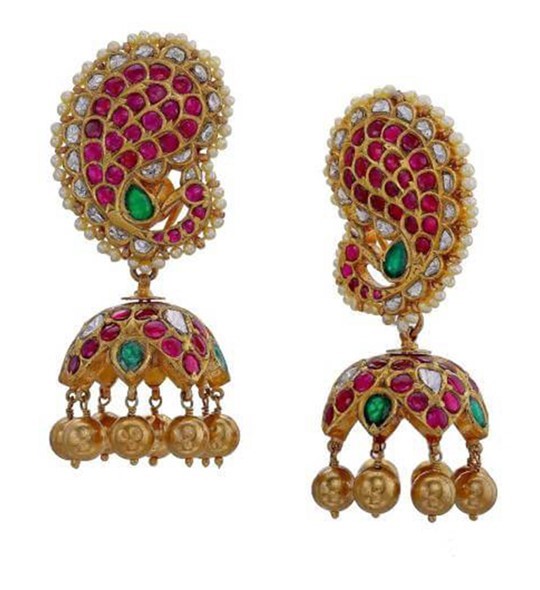 These elegantly designed jhumka earrings with rubies on the inside, the pearls as the decorations and mild details of emeralds here and there, wholly complete your look on any ethnic wear. This women's jewellery piece will give you a naturally uplifted appearance with no efforts.
4. Emerald Diamond Gold Bangles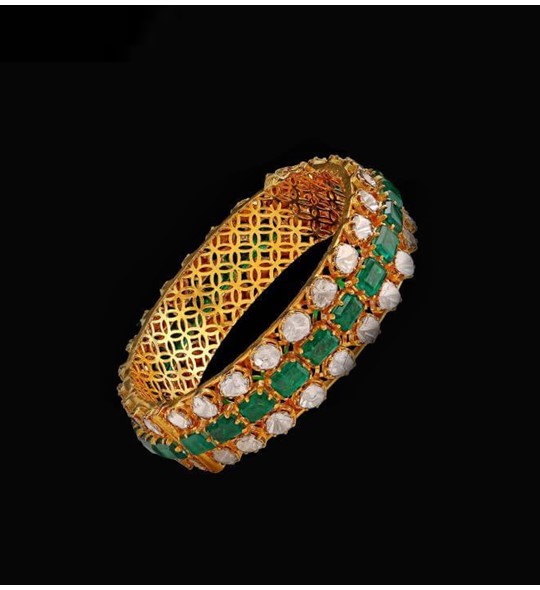 These bangles with the uncut diamonds bordering the rectangular emeralds fit you graciously and give you a feminine and ethnic enhancing to your outfit. These are must-have in any women's jewellery collection box.
5. Lakshmi Themed Gold Vaddiyanam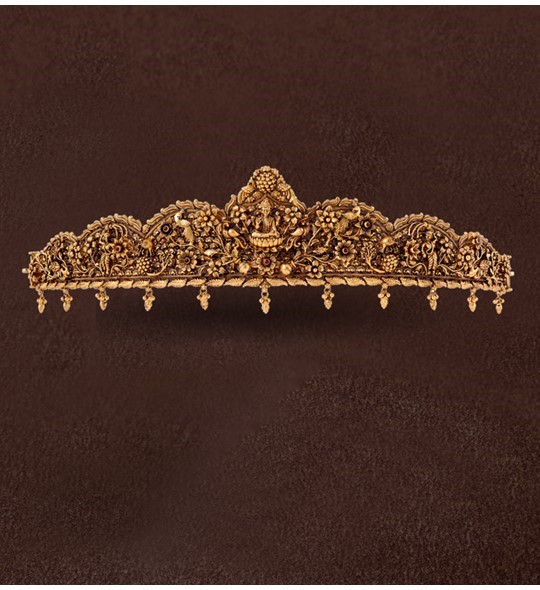 Presenting yourself with this priceless and gorgeous Lakshmi themed gold Vaddiyanam decorated with Rubies and leaf-shaped gold hangings around the waist would enhance your bridal look on your wedding day. This piece of women's jewellery is for those who cherish traditional looks.
6. Gold Kundan Haar Necklace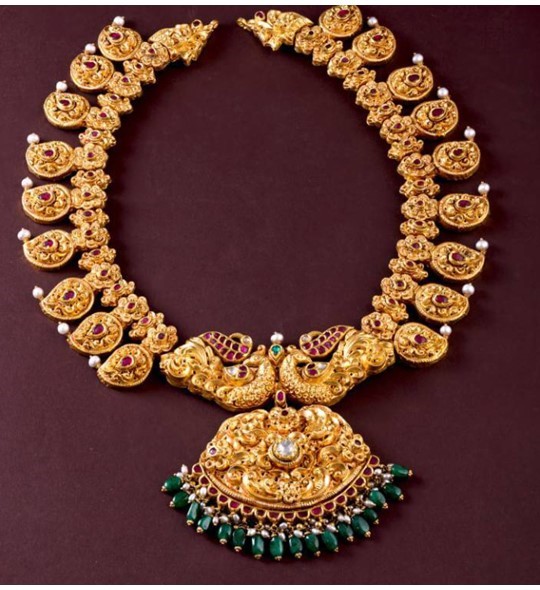 This wedding season, try wearing this fashionable yet traditional gold necklace with a peacock theme. It has mango shaped gold hangings, delicately fitted pearl, rubies, and few glimpses of emeralds. Be desi and sassy by checking out this unique neckpiece in women's jewellery.
7. Flat Diamonds Corals Gold Necklace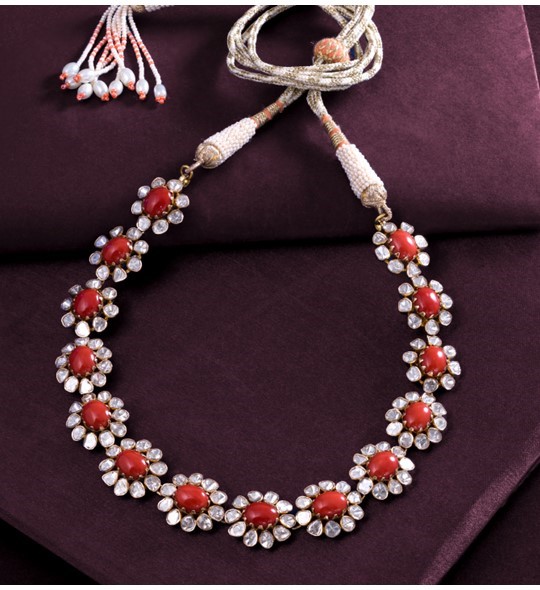 Wear this simple Ruby and uncut diamond neckpiece on any outfit to look stunning. This flower-themed necklace is a must in any women's jewellery collection. You can style it both as party wear and also for other occasions.
For More Jewellery Designs Call (or) Whats App@ +91-7093324141
https://www.krishnajewellers.com
Vist Site For More Jewellery Collection at www.krishnajewellers.com (or) visit our store Krishna Jewellers Pearls & Gems at Jubilee Hills, Hyderabad and for more details Contact Us @ +91-7093324141.