Indulge in The Latest Fashion Trend of Lightweight Gold Bracelets!
Lightweight jewellery has taken over the fashion world, and for all the right reasons! Women can flaunt this type of jewellery for any occasion, and that's the reason it's here to stay!
With the fashion industry changing regularly, it isn't easy to find a particular style staying in trend for a long time. However, when we talk about lightweight jewellery, this trend gained prominence a few years ago but has managed to remain popular even today. The idea behind lightweight jewellery such as gold bracelet for girls is to be able to wear jewellery that's fashionable and comfortable at the same time. It's something that a woman can wear to work, college, or even a function. So right from bangles to chains and gold bracelet for girls, lightweight jewellery is available in a variety of styles and designs.
Given below are some reasons why lightweight jewellery continues to stay in trend, along with some fabulous lightweight gold bracelet for girls that you could choose for any occasion.
1. Easy And Comfortable To Wear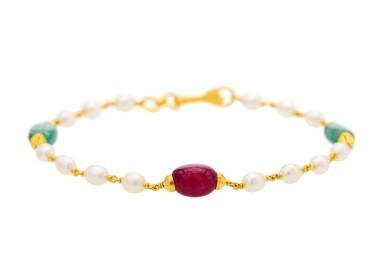 The first and most significant advantage of going in for lightweight gold bracelet for girls is the ease and comfort level that comes with it. One cannot deny the fact that most types of jewellery are quite heavy, making it difficult to wear for occasions that require a lot of movement. Hence, going in for gold bracelet for girls just like this pebble design is a fantastic idea. Made with rubies, emerald, and pearl, this bracelet is comfortable to wear with just about any outfit.
2. Affordable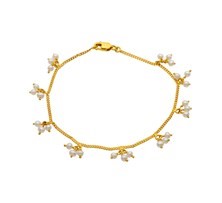 The second advantage of lightweight jewellery is that it is affordable without compromising on quality. You can find some exquisite designs that will make your entire look sophisticated. Take a look at this tri-pearl drop gold bracelet for girls that comes with three small pearls dropped as a bunch.
3. Trendy And Fashionable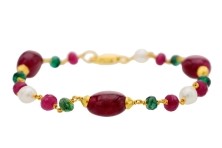 You can find trendy and fashionable lightweight jewellery everywhere these days. These designs come with pearls, rubies, and emeralds and are stylish to pair up with any attire. This gold bracelet for girls design with ruby and pearl pebbles is just stunning and classy.
4. The Perfect Mix Of Tradition And Modernity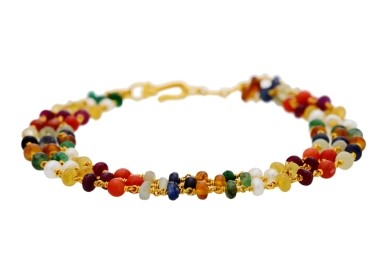 These days lightweight jewellery comes with a mix of tradition and modern touch. Gold bracelet for girls just like this Navratan bracelet is simply perfect and chic. You can club it with your western and Indian wear to look gorgeous.
5. Ideal For Any Generation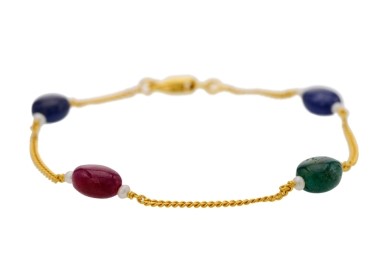 Since lightweight jewellery isn't too heavy and bulky, it can be worn by just about anybody. A gold bracelet for girls like this pebble bracelet is a perfect design for women of all generations.