The festival of Dhanteras is dedicated to the celebration of wealth. Across North and South Indian families, it is customary to buy gold jewellery on this auspicious day. While there is a host of jewellery shopping options available, purchasing kasulaperu gold jewellery is a traditional Dhanteras practice in many households. Let us look at some beautiful kasulaperu gold designs.
1. Kasulaperu Long Gold Necklace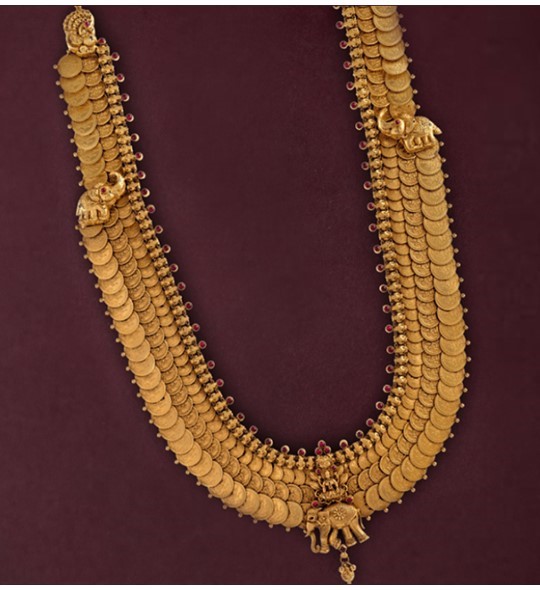 Fitted with rubies, this long gold haar style necklace is an ideal gift for women of all ages. Such traditional Lakshmi coins kasulaperu gold designs are suitable for wearing on any festive occasion. Also, this is something that can never go out of style. This is a worthy investment as you can easily pass this necklace to your daughter or your daughter-in-law. In many regions of the country, necklaces with kasulaperu gold designs are an essential part of bridal wear. This exquisite necklace will be an ideal Dhanteras gifting choice.
2. Gold Long Haar Necklace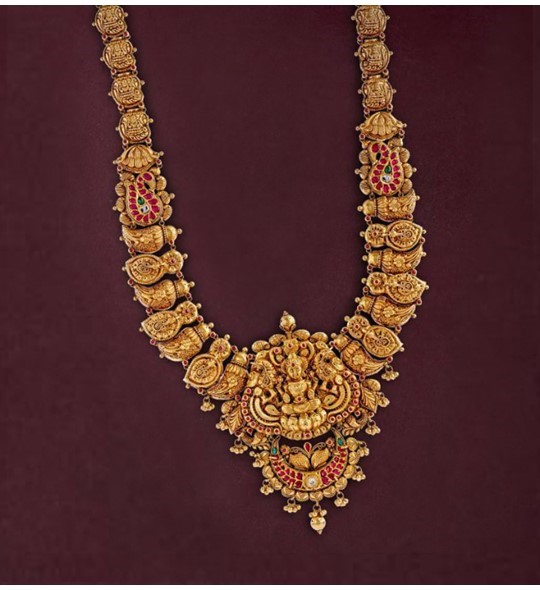 Every woman is a princess to her father and a queen to her husband. One of the most excellent ways of celebrating the regal beauty of a South Indian woman is by gifting her this elegant long necklace on Dhanteras. Although a part of the traditional kasulaperu gold designs, the multi-stone neckpiece is fitted with emeralds, ruby, polkis, and more.
3. Nakshi Yellow Gold Necklace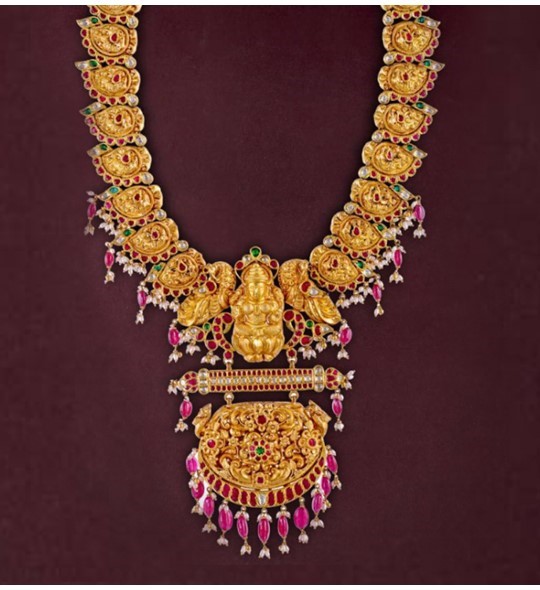 The elegance of a peacock has had artistic representations in several kasulaperu gold designs. From the use of this design in rangoli patterns to the zari work on silk sarees, peacock design has become synonymous with festivities. This Dhanteras bring home the elegant peacock in the form of this gorgeous Kundan haram necklace. Made with 22-carat gold, this 295-gram necklace is fitted with pink polki stones and gorgeous white pearls. Bringing home Goddes Lakshmi with this is an excellent idea.
4. Multistone gold haram necklace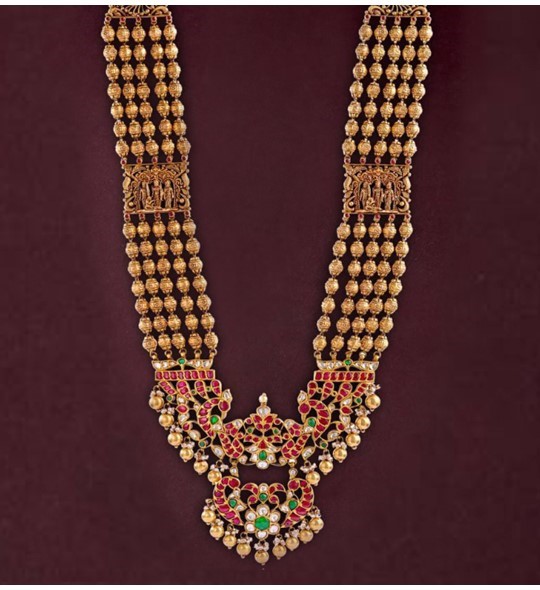 Some things can never go out of vogue; be it exquisite kasulaperu gold designs or an antique long necklace with delicate work on yellow gold. With detailed work on uncut diamonds, emerald and rubies, this makes a collector's item. Irrespective of the type of ethnic clothing you are wearing and the colour of your outfit, this is a necklace that will suit you well. The beauty of this piece complements any Indian woman irrespective of whether she is North Indian or South Indian. For days when you want to experiment kasulaperu gold designs, this is an ideal choice.
For More Jewellery Designs Call (or) Whats App@ +91-7093324141
Vist Site For More Jewellery Collection at www.krishnajewellers.com (or) visit our store Krishna Jewellers Pearls & Gems at Jubilee Hills, Hyderabad and for more details Contact Us @ +91-7093324141.