6 Layered Gold Necklaces That You Must Have This Festive Season!
Gold jewellery is one accessory that goes beyond just being an element of fashion – its elegance speaks of years-old traditions and culture of Indian society. From the youngest to the oldest- every generation of an Indian family owns a unique token of gold jewellery as a sign of good luck and fortune. While every type of jewellery made in gold, is irreplaceable, layered gold necklaces, stand out elegantly.
Why?
This is because layered gold necklaces not only add richness and grandeur to your outfit but also a sense of urbanity and poise. Such necklaces drip of magnificence and will glam up your outfit in no time!
So here are some of the best-layered gold necklaces that you can buy this festive season! 
1. Layered Pearl Necklace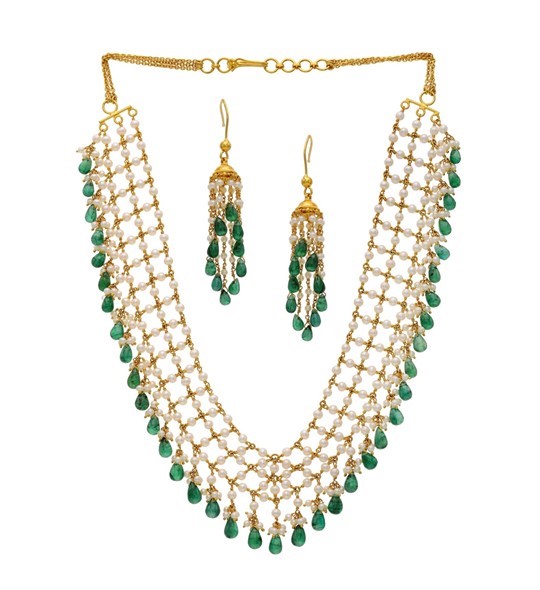 A beautiful gold necklace embellished with mesmerizing white pearls and gorgeous green emeralds, such layered gold necklaces are perfect for the occasion of weddings, cocktail parties, anniversary parties, or any festive gathering! You can style such gorgeous layered gold necklaces with a saree or any other ethnic wear. They are sure to add a regal charm to any outfit you choose to adorn.
2. Pearl And Emeralds Layered Necklace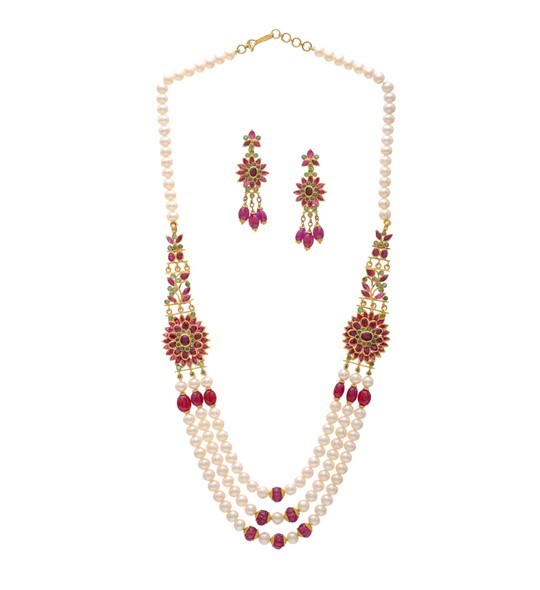 An amalgamation of simplicity and grandeur, this gold plated pearl and emeralds layered necklace is fit for any gathering when you want to keep your look subtle and classy. You can style such layered gold necklaces with a variety of outfits ranging from Indian traditional to Indo-western. Your simple and sophisticated lehengas and sarees are perfect for this type of jewellery.
3. Pearl Necklace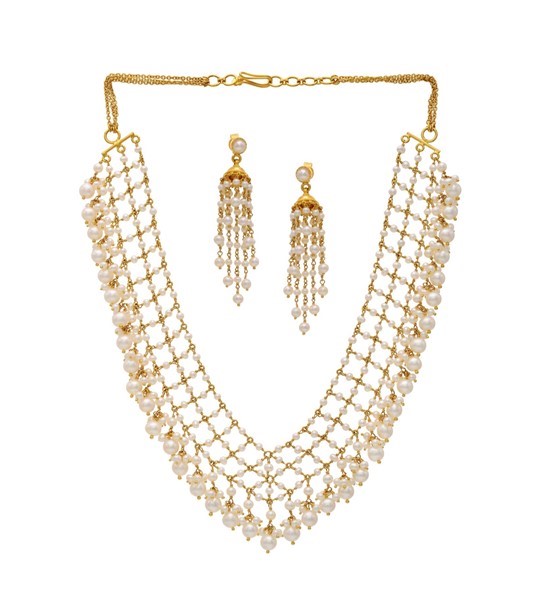 The perfect combination of gold and pearls never go out of style, and when talking about layered gold necklaces, we cannot miss out on this one! These kinds of layered gold necklaces with pearl jhumkas are perfect for a summer evening gathering where you can get styled with cotton sarees and sleeveless blouses. It will surely help you bring charm and elegance to every gathering.
4. Ruby Emerald Pearl Layered Necklace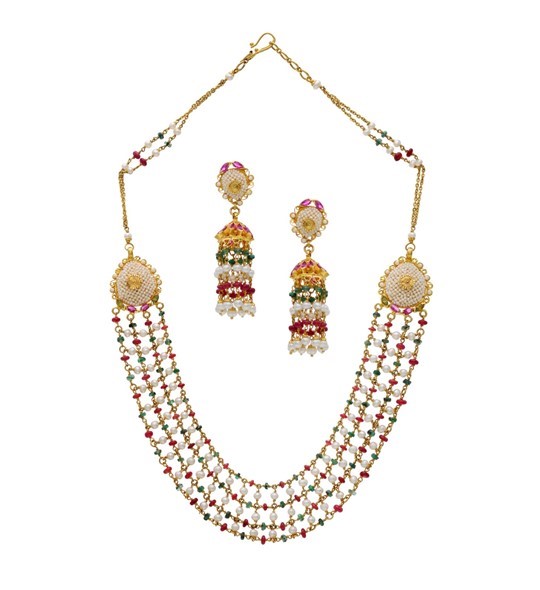 There is never a wrong time to show-off a ruby emerald and pearl necklace! Such layered gold necklaces shout sophistication as they are both simple and classy at the same time. As long as you maintain a confident demeanour, you can pull this necklace off with any outfit! 
5. Pearls String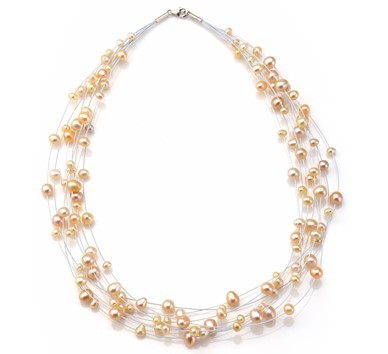 This exquisite pearls string made up of freshwater pearls is just what you need to glam up your look! Style it with a pastel-coloured western outfit or a boat neck cotton saree. Such beautiful layered gold necklaces add poise and elegance to any attire. 
6. Multicolour Pearls Necklace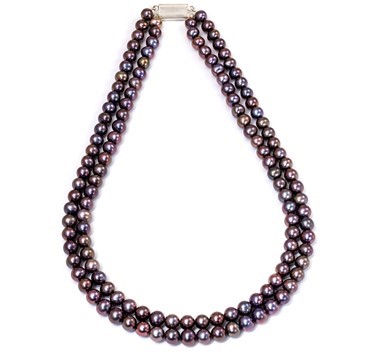 Layered gold necklaces such as these are fashionable and up-market. This multicolour pearls necklace exuberates class and will make your outfit stand out. You can style it with a boat neck western dress or ethnic kurta. This beautiful layered gold necklace can make even a dull outfit, statement-worthy!  
For More Jewellery Designs Call (or) Whats App@ +91-7093324141
https://www.krishnajewellers.com
Vist Site For More Jewellery Collection at www.krishnajewellers.com (or) visit our store Krishna Jewellers Pearls & Gems at Jubilee Hills, Hyderabad and for more details Contact Us @ +91-7093324141.