Are you crazy about diamond jewellery? If yes, then these ten diamond bangles designs are just for you!
1. Gold Diamond Lakshmi Kada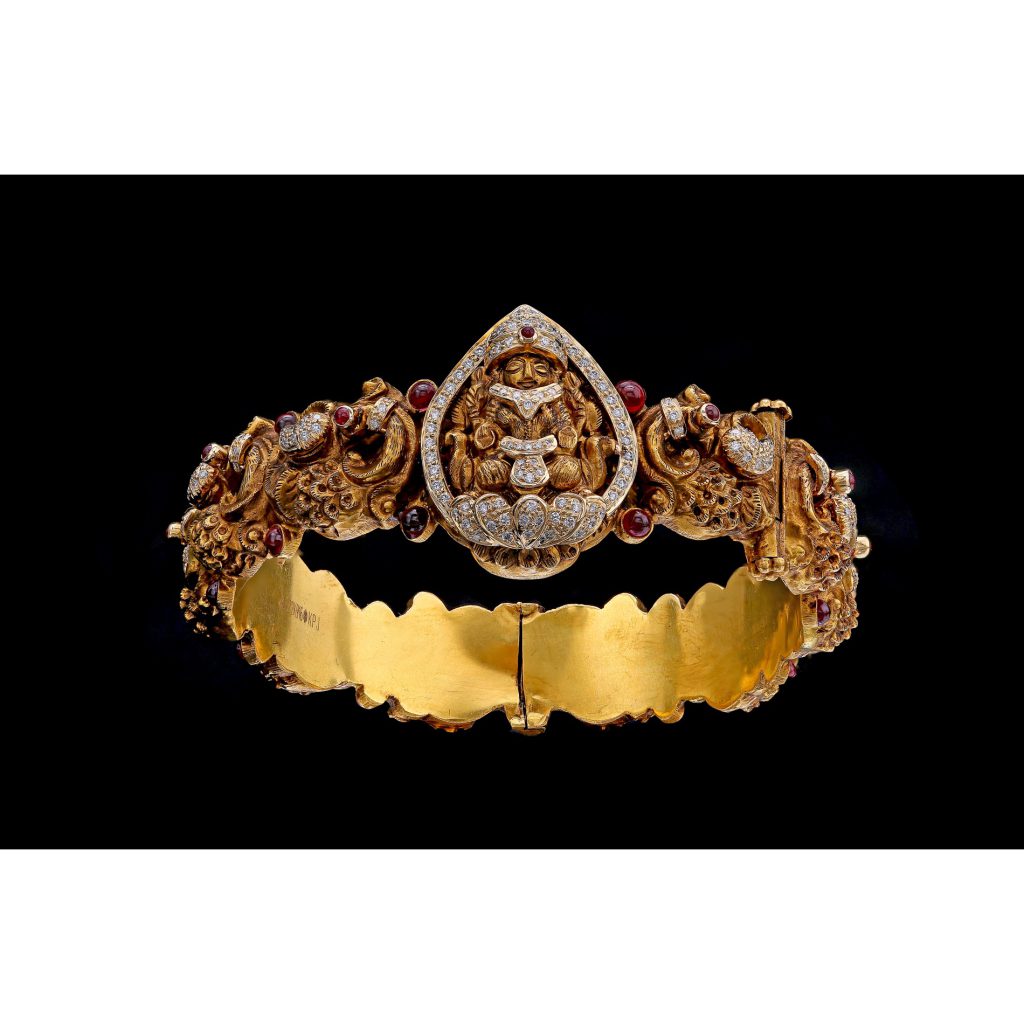 The first item on the list of diamond bangles designs is this Gold diamond Lakshmi Kada. It is a 22-kt gold bangle with beautiful diamonds and rubies. It will help to elevate your look especially when you are wearing an Indian attire.
2. Emerald and Polki Diamond Kada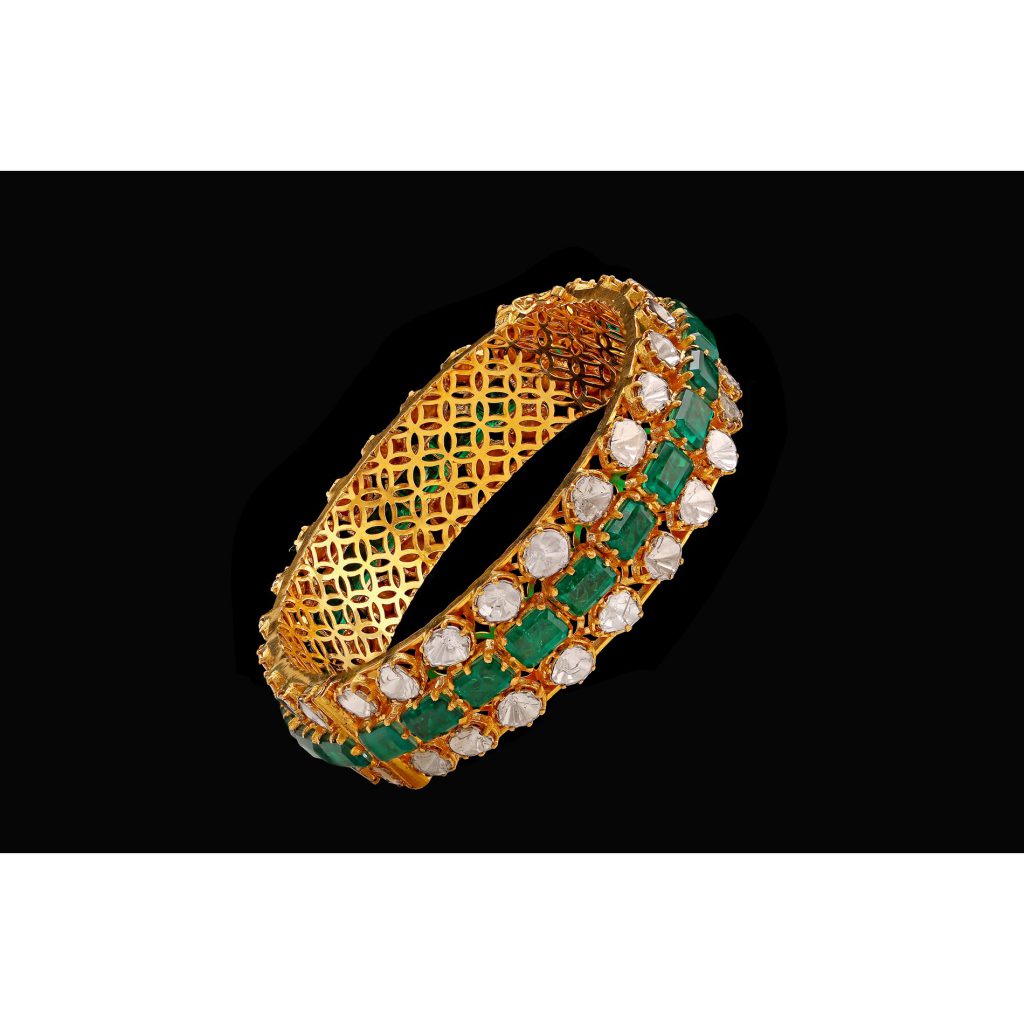 This diamond bangle design with elegant emerald and polki diamond set made using 22-kt gold is a beautiful piece. This bangle can be paired with a saree or a lehenga and can boost your entire look.
3. Nakshi Stone and Diamond Bangle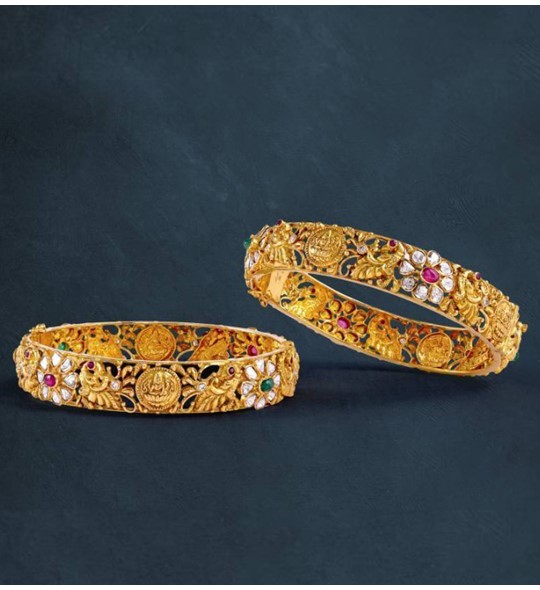 If you are looking for a diamond bangle design that is posh, then get your hands on this Nakshi stone and diamond bangle right away. Made with 22-kt gold and studded with uncut diamonds, emeralds and rubies, this bangle is a must have for your diamond collection.
4. Multi-Stone Polki Diamond Kada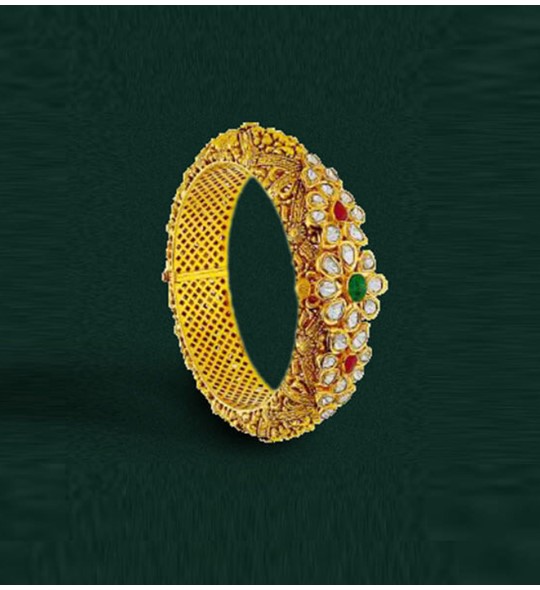 Go in for this multi-stone polki diamond kada if you're looking for a traditional diamond bangles design. This 22-kt gold kada is perfect for a variety of ethnic attires.
5. Polki Diamond and Emerald Bangle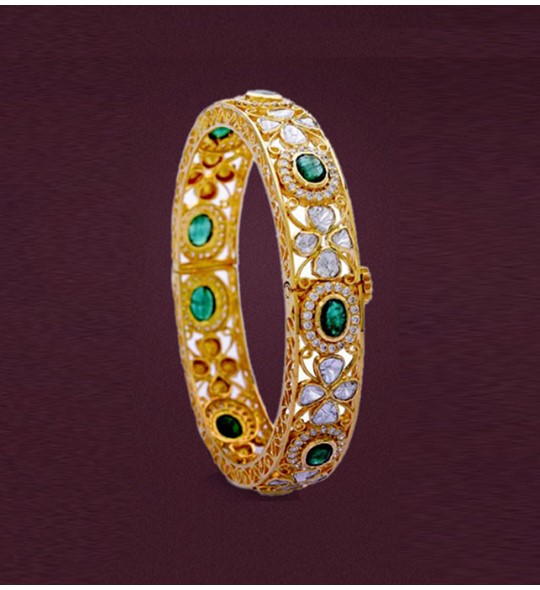 Get your hands on this gorgeous diamond bangles design if you're looking to accentuate your look. Made with 22-kt gold and studded with beautiful oval-shaped emeralds this diamond bangle is a must have for your collection.
6. Diamond Ruby Gold Link Bangle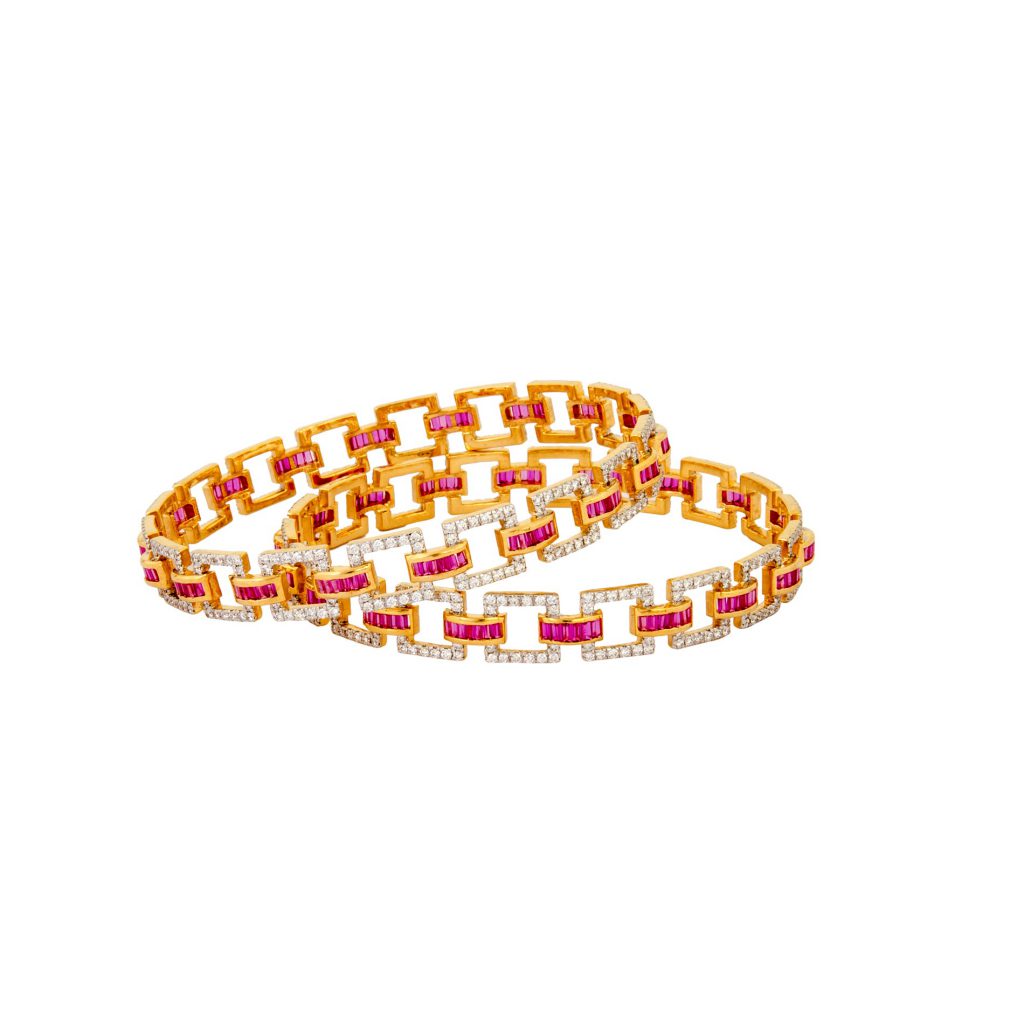 This stunning diamond bangles design adds a subtle panache to your jewellery. This diamond and ruby bangle has a interlinking design and is made of 18-kt gold. It is delicately studded with square-shaped diamond and ovular rubies.
7. Elegant Gold Diamond Bangles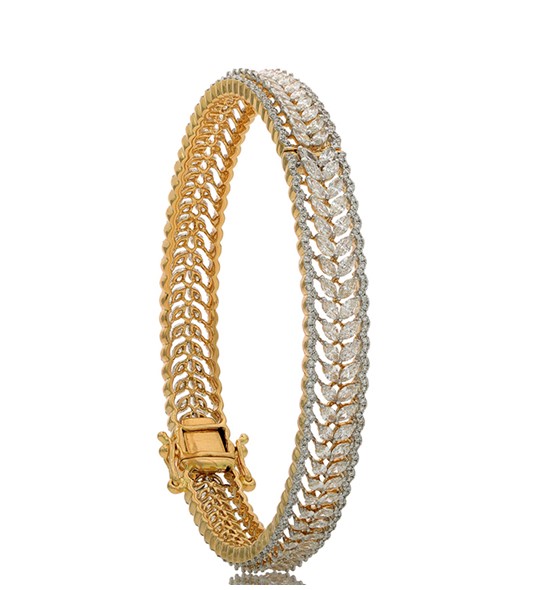 8. Single Line Diamond Bangles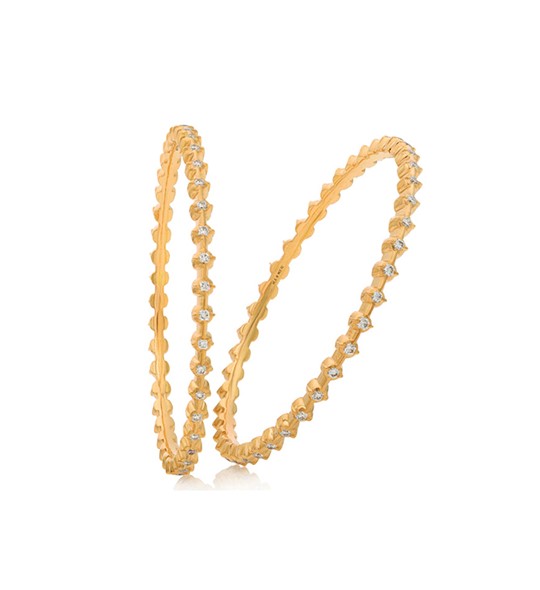 This diamond bangle design is perfect for casual as well as semi-formal looks. These bangles come with tiny diamonds placed uniformly to form a delicate design. It is also a perfect choice for everyday office wear.
9. Fancy Diamond Bangles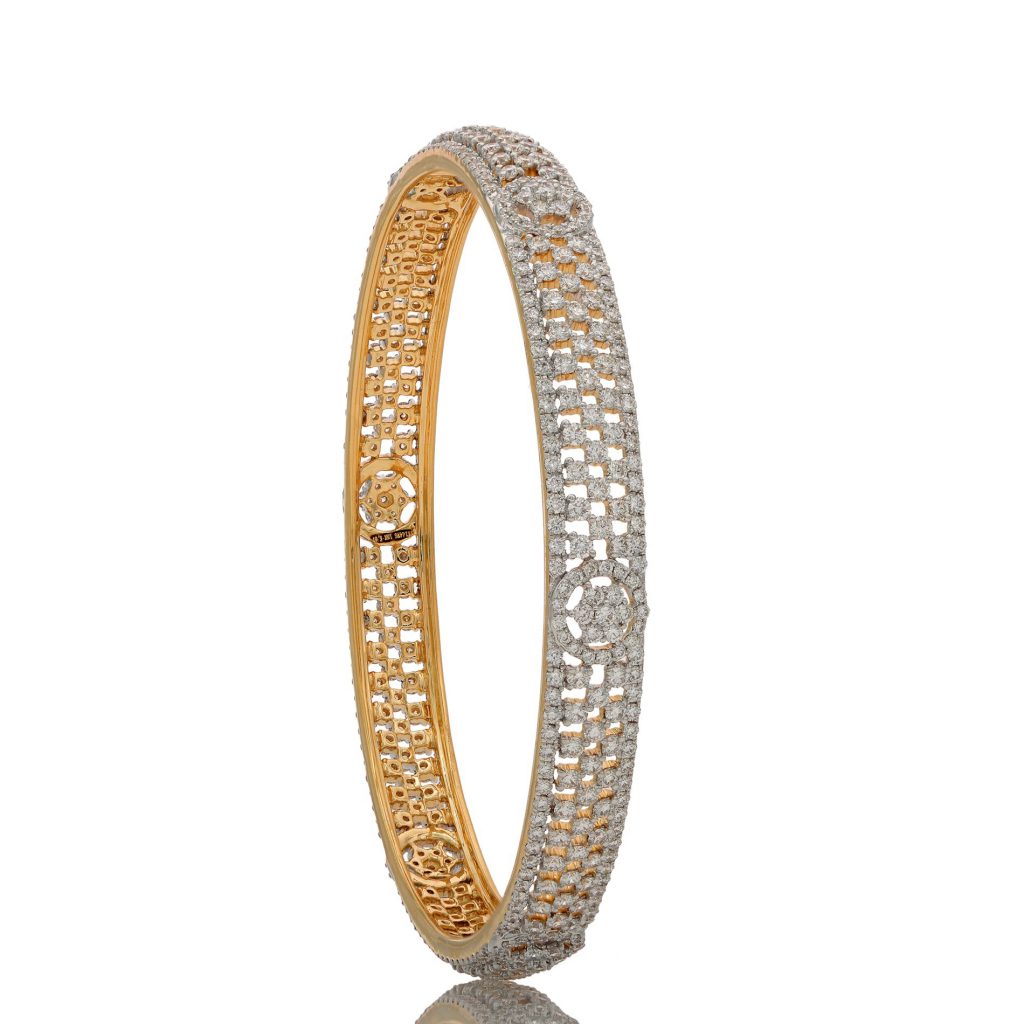 This diamond bangle design is perfect for party wear and festive occasions. It is made using small diamonds placed all along the bangle frame, making it a classy piece for any occasion. This bangle has an intricate design that adds to its appeal.
10. Fashionable Gold Diamond Bangles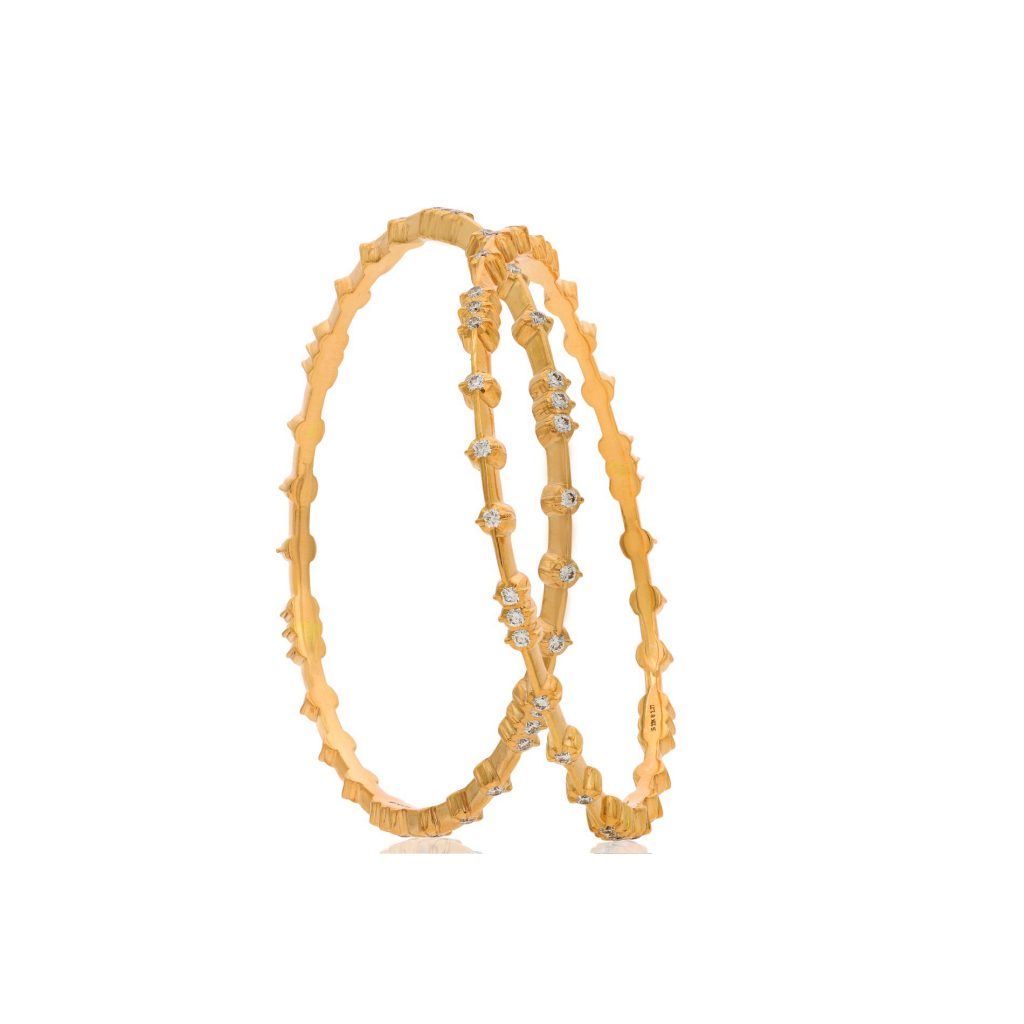 This pair of gold diamond bangles are perfect for office wear. Their light and sleek design make it extremely convenient for daily use. Go ahead and flaunt this diamond bangle design with your fashionable outfits.
For More Jewellery Designs Call (or) Whats App@ +91-7093324141
🌐 https://www.krishnajewellers.com
Vist Site For More Jewellery Collection at www.krishnajewellers.com (or) visit our store Krishna Jewellers Pearls & Gems at Jubilee Hills, Hyderabad and for more details Contact Us @ +91-7093324141.