Are you looking for jewellery for your wedding? Check out these beautiful and elegant wedding jewellery pieces mentioned below:
1. Diamond Double Choker Necklace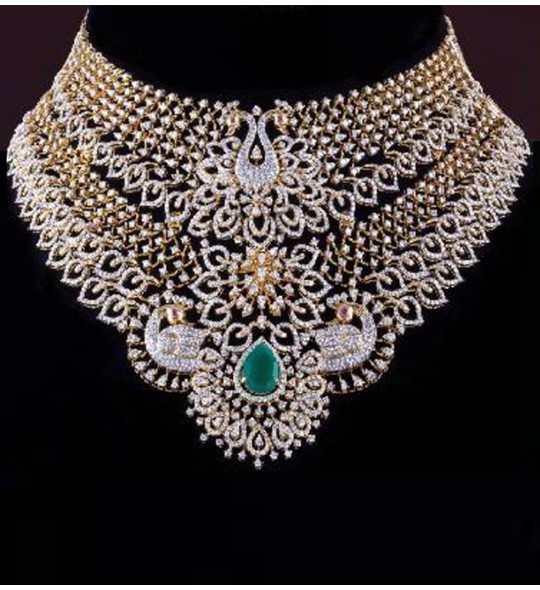 This diamond double choker necklace is an exquisite piece that will make many heads turn. It is crafted in yellow gold and embedded with high-quality diamonds and a pear-cut emerald stone in the centre.
2. Gemstones Choker Necklace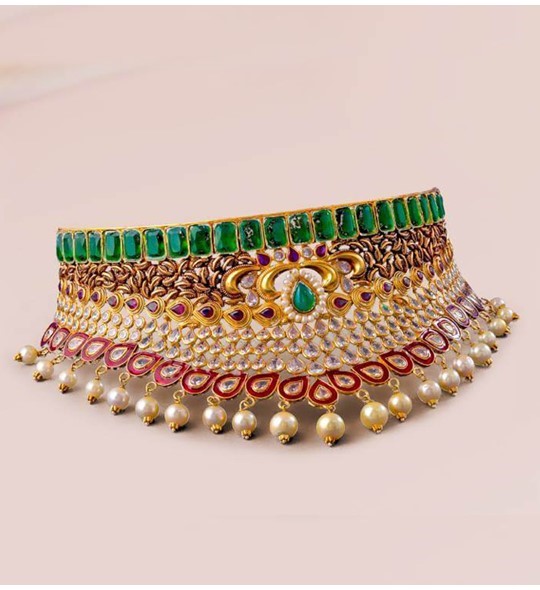 This gemstones and yellow gold choker necklace is a perfect wedding jewellery piece. The choker crafted with rubies, pearls, and emeralds will enhance your wedding look to make it sophisticated and chic.
3. Pearl Choker Necklace Set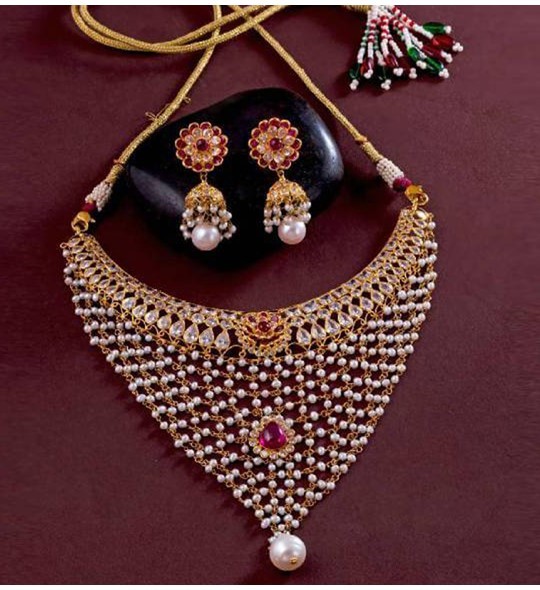 If you want lightweight jewellery for your wedding day, then this pearl choker necklace set is the right choice for you. It is a simple but elegantly designed set with rubies, kakamoti, and cubic zirconias. The kakamoti web gives the necklace an enthralling appearance and perfectly complements the ruby studded earrings.
4. Gold Ashta Lakshmi Vaddanam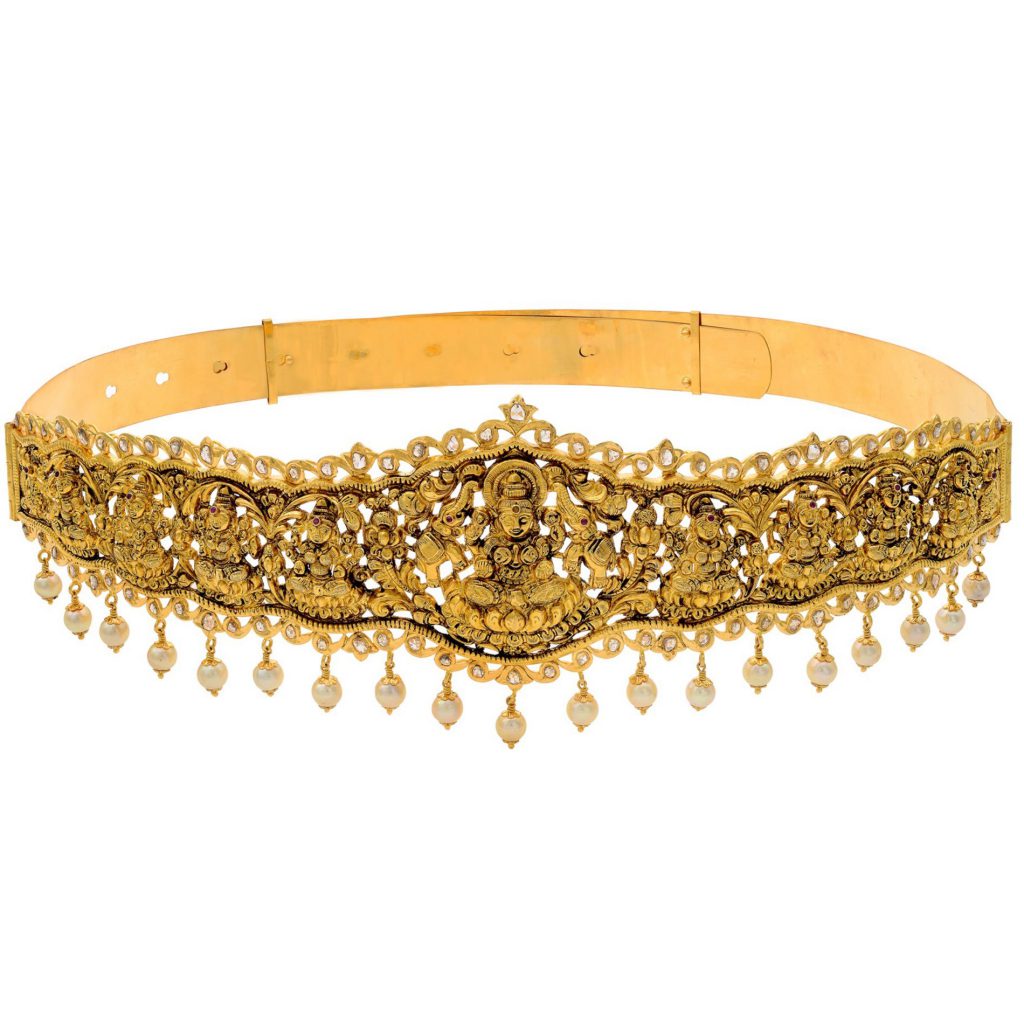 This gold Ashta Lakshmi Vaddanam is an antique wedding jewellery piece. It is crafted in yellow gold and is embedded with uncut diamonds to give it a traditional look. It is 39 inches in length with a gross weight of 280 grams.
5. Diamond Studded Gold Earrings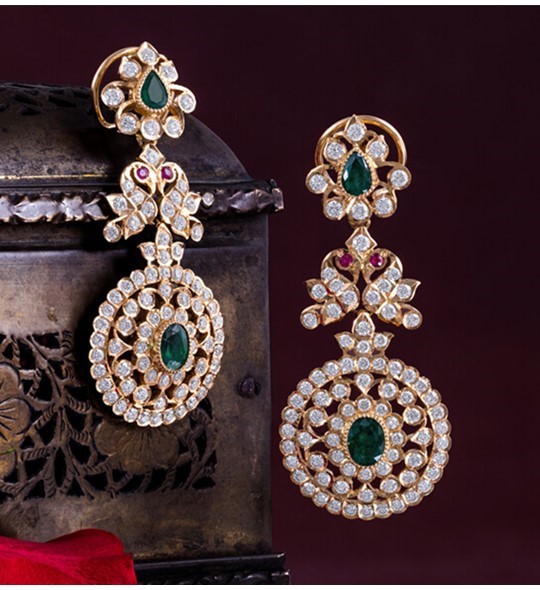 It is an elegantly designed diamond-studded gold earring which will be the right fit for your wedding day. The emeralds embedded in the middle of the earring makes it a graceful wedding jewellery piece.
6. Diamond Jhumka Style Earrings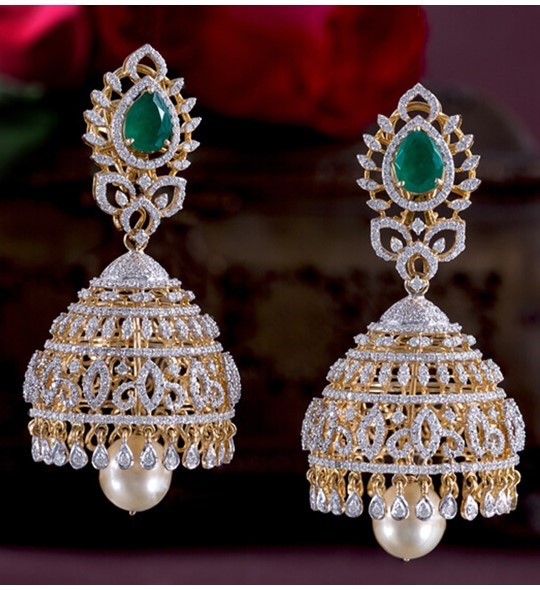 A traditional wedding jewellery piece like this diamond jhumka style earrings is the perfect choice for you. The south sea pearl hanging in the middle of the diamond-studded basket gives it an ethereal look.
7. Gold Peacock Necklace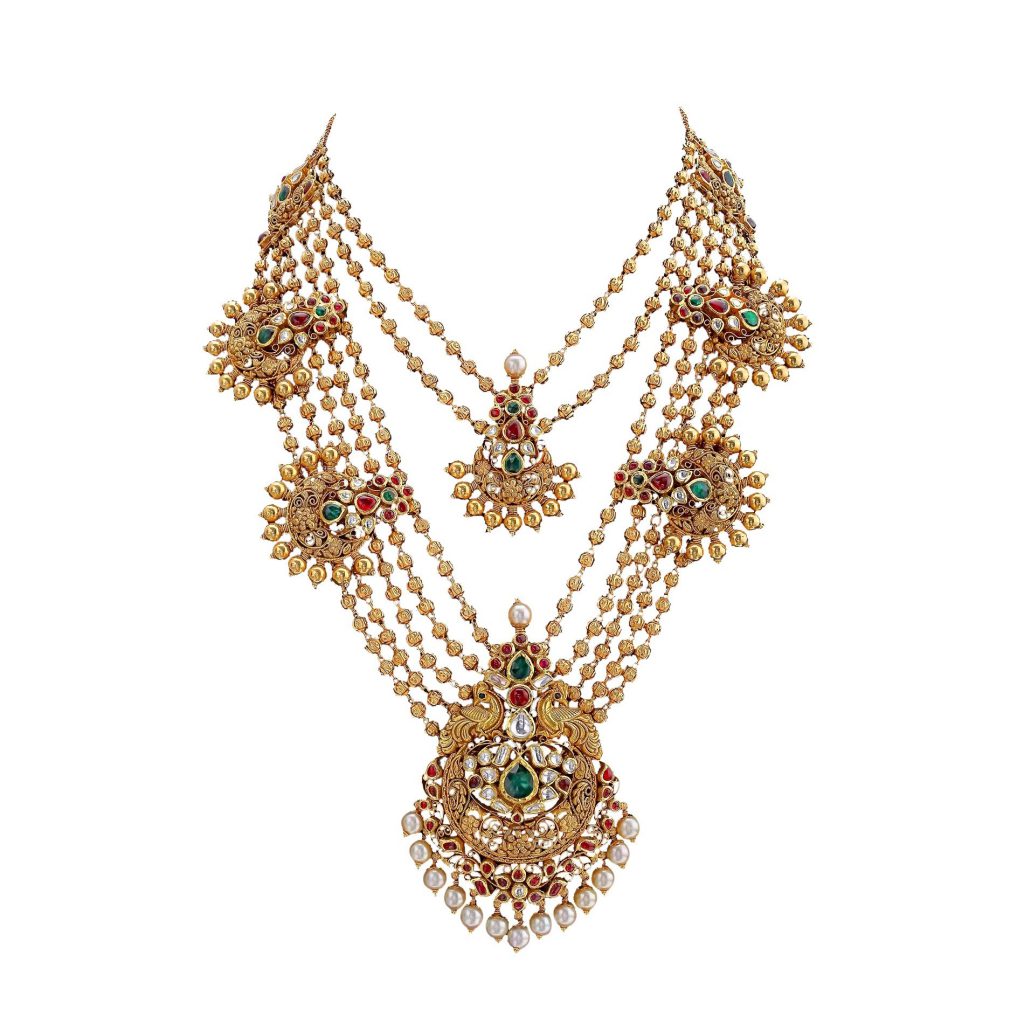 This gold peacock necklace is an antique and traditional wedding jewellery piece. It is a 22-carat gold piece studded with emeralds, pearls, and rubies. The two layers of the necklace will give your wedding outfit a regal touch.
8. Pearls Kakamoti Gold Bangle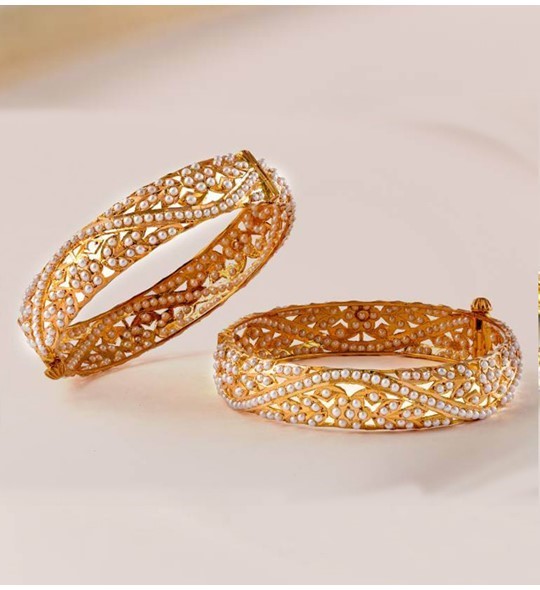 These bangles are crafted in yellow gold with a web-like structure. The kakamoti embedded inside the web will not only make you look elegant and feminine but also enhance the beauty of your wedding dress.
9. Tri-Petal Diamond Nose Pin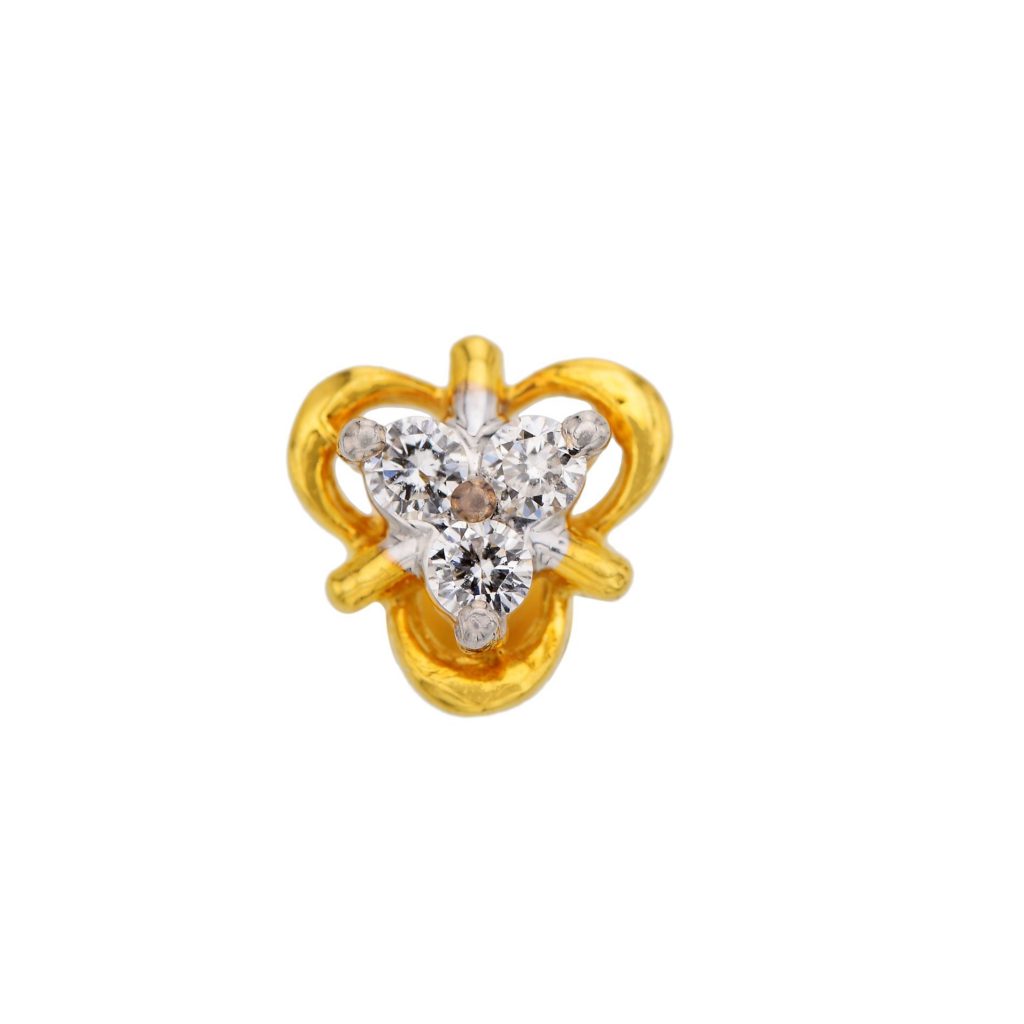 This tri-petal diamond nose pin perfectly combines traditional and modern styles. Three diamonds set between the petals gives it a delicate look, and it is versatile enough to match with a variety of wedding outfits.
10. Uncut Diamond Polki Ring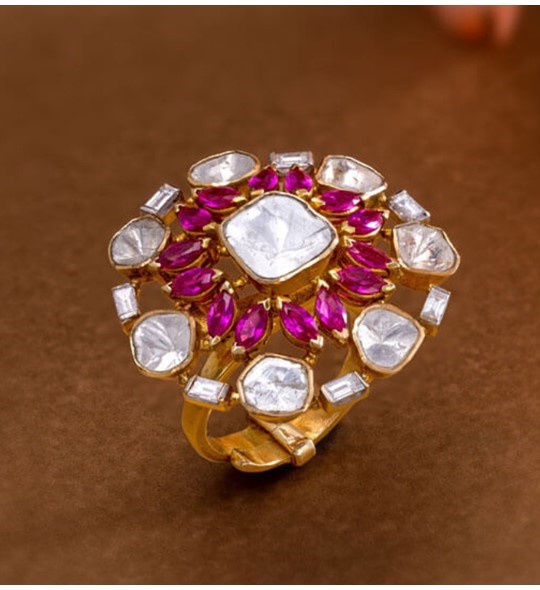 The uncut diamond and rose-cut polki ring is the perfect wedding jewellery piece. Flat diamonds and plush rubies in the ring give it a celebratory and chic look. It is ideal for any wedding function and can also be used as party wear.
For More Jewellery Designs Call (or) Whats App@ +91-7093324141
For More Jewellery Collection at www.krishnajewellers.com (or) visit our store Krishna Jewellers Pearls & Gems at Jubilee Hills, Hyderabad and for more details Contact Us @ +91-7093324141.