5 Gold Choker Designs to Make You Look Ultra-Glamorous
Chokers are one of the most versatile jewellery items to dominate the fashion scene. Trendy and traditional at the same time, these neckpieces can easily add oodles of charisma to your look. Chokers, particularly gold choker designs, can breathe life into your getup as nothing else can. They are the best means to highlight your feminine charm in a glamorous manner.
If you haven't gone for this look with a gold choker design, it's time to give it a try. Here are a few designs of choker necklaces in gold for you to consider.
Gold Choker Design Inlaid With Rubies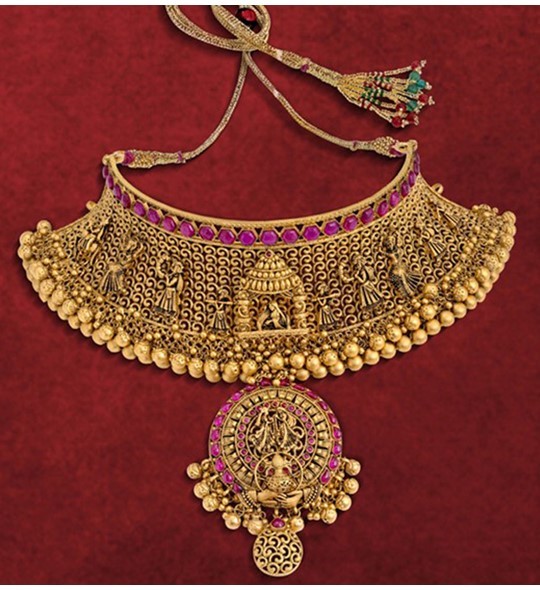 Intricate gold choker designs are once more back in trend this year. Why settle for a less glamorous design when you can celebrate this trend with this ruby inlaid exquisite gold choker? This neckpiece is inspired by the wedding theme. It features eye-catching motifs crafted in gold. Breaking the monotony of yellow gold are red rubies that add a breath of freshness to the design. Why not go for this design for the next festive occasion?
Nakshi Pattern Yellow Gold Choker Design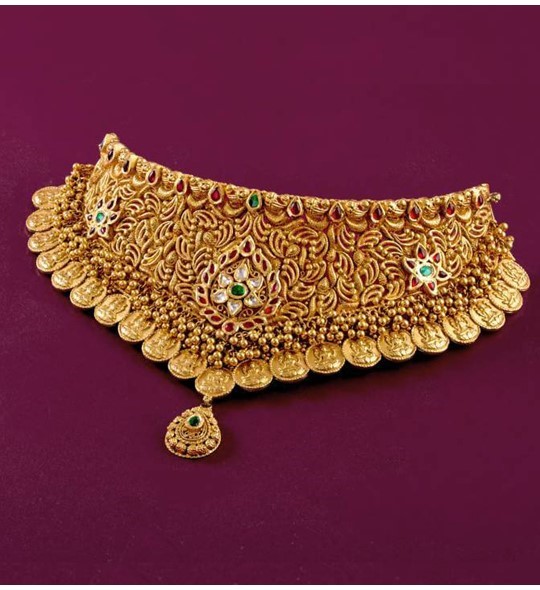 Nothing works so well for an effortlessly glamorous look as a gold choker design crafted to perfection. If you don't trust us, take a look at this splendid yellow gold choker. Crafted in the nakshi workmanship style, this choker showcases the floral theme. The playful inlay of red and green stones further heightens its beauty. This piece will work great when you want to boost up your festive look instantly.
Antique Yellow Gold Choker Design With Bridal Motifs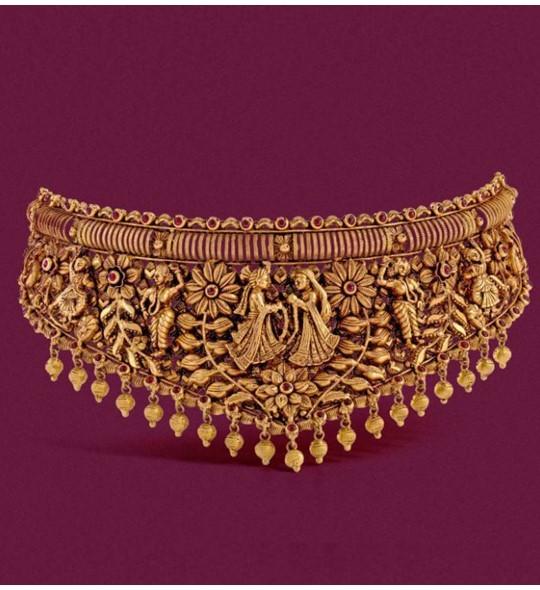 When you want to rock the traditional look without going high on long neckpieces, an antique gold choker design can be your best bet. An example of the same is this beautiful antique gold choker highlighting bridal motifs. A classic beauty, this handcrafted choker can make a great pair with your favourite kanjeevarams and other heavy silk sarees.
Yellow Gold Choker Design With Southsea Pearls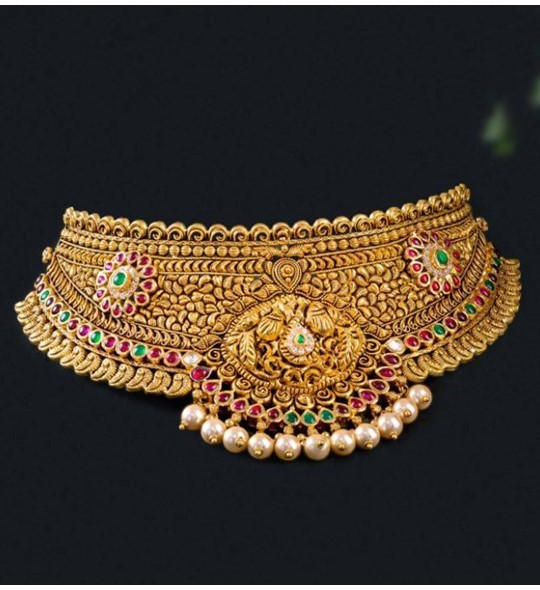 Flaunting a gold choker design at the next party or get-together may be a matter of preference. But there's one thing where you can't go wrong, and that's your choice of the choker. When you step out flaunting this yellow gold choker embellished with Southsea pearls, you are sure to stand out from the crowd. Stick to hanging gold earrings to amp up your look further.
Gemstone Embossed Gold Choker Design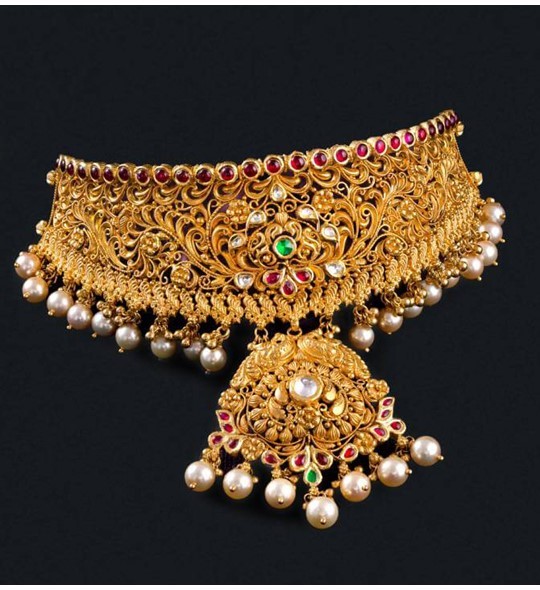 Few pieces of jewellery can express the classic yet contemporary look as seamlessly as a gold choker design does. And when it comes to flaunting that look, you can turn to this gemstone embossed gold choker with confidence. An elegant ornament, this gold-crafted choker has details of floral veins and peacock motifs. Adorned with diamonds, emeralds, rubies, and Southsea pearl drops, this choker is a statement piece in itself.
For More Latest Jewellery Designs Call (or) Whats App@ +91-7093324141
https://www.krishnajewellers.com
Vist Site For More Jewellery Collection at www.krishnajewellers.com (or) visit our store Krishna Jewellers Pearls & Gems at Jubilee Hills, Hyderabad and for more details Contact Us @ +91-7093324141.