Whether you wish to purchase a pearls polki necklace or a complete polki set with rose cut ring and diamond jhumkas, this is the ultimate guide for purchasing uncut polki jewellery designs.
Polki jewellery is a beautiful form of regal jewellery type, which has uncut stones and diamonds. The intricacy of aesthetic polki designs has the amazing capability of turning any outfit into a complete royal attire. This is why polki jewellery is now in demand. You will find it everywhere on Instagram and in wedding albums. Every platform that features royal wedding styles is talking about uncut polki jewellery. However, it may not be easy to choose the right type of polki jewellery according to your outfit. Hence, we have picked five best uncut polki jewellery designs that are worth investing in. Read on to explore the details of these uncut polki jewellery designs.
1. Ruby Polki Pearls Necklace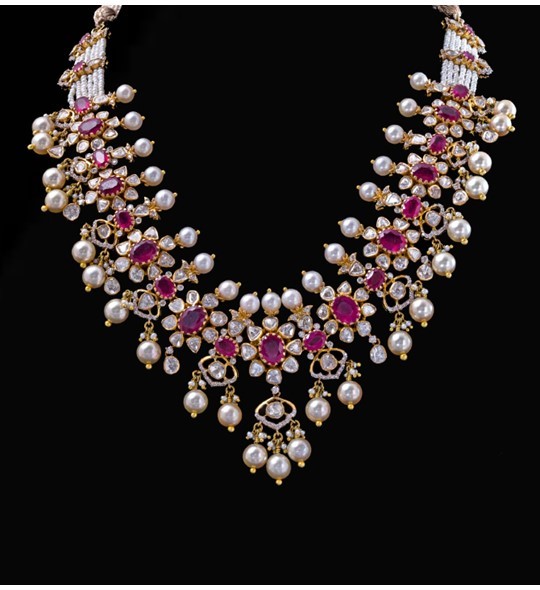 The ruby polki pearls necklace is designed keeping an authentic royal wedding look in mind. It is handcrafted in rubies, south sea pearls, and uncut diamond in yellow gold. A perfect blend of uncut diamond, the pure charm of ruby, and 22 carats yellow gold make this polki jewellery piece the right choice for every type of wedding outfit. The south sea pearls additionally offer an appealing touch to the polki necklace.
2. Ruby Polki Choker Necklace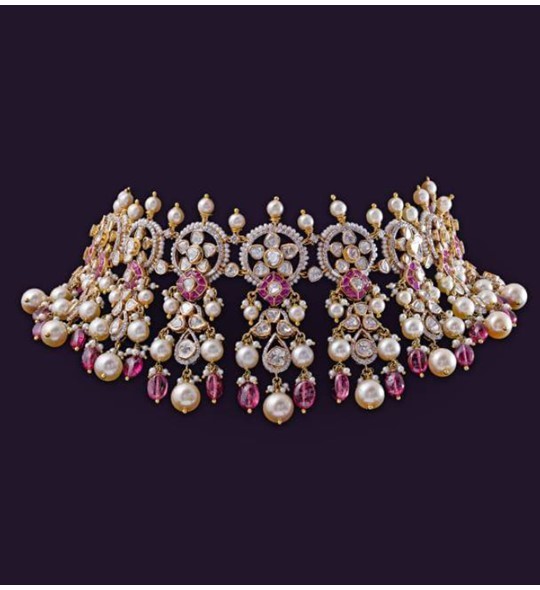 Don't you think this ruby polki choker necklace is simply flawless? The manner in which the polki choker is embellished with uncut diamond, rubies, and south sea pearls give this polki jewellery a contemporary yet traditional touch. The seamless use of 22-carat gold and rubies imparts a natural design to the choker, which is charming and attractive.
3. Rose Cut Polki Ring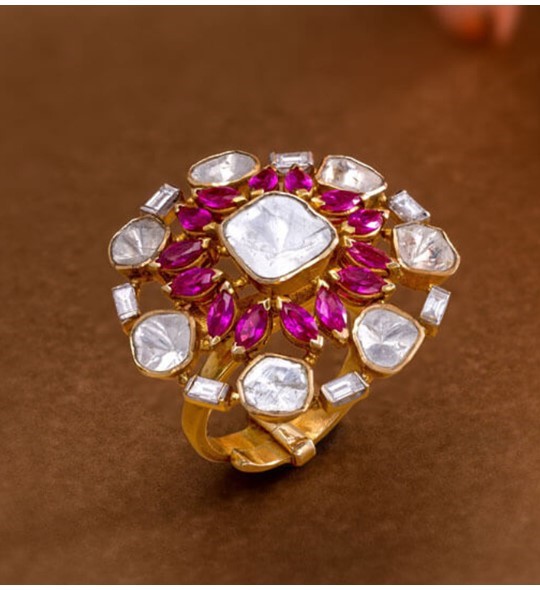 The rose cut polki ring is crafted with a fascinating floral artistic design. This polki jewellery is embellished with rubies and uncut flat diamond crafted in 22 carats yellow gold. The magnificent appearance of this ring is a result of a deep floral formation using rubies around an uncut flat diamond with another outer ring of polkis. It is a perfect choice for your traditional outfits.
4. Polki Emerald Choker Necklace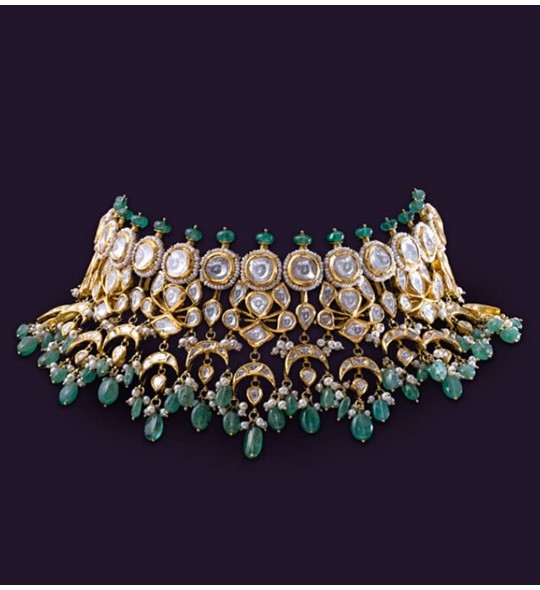 An iridescent polki emerald choker necklace, which is handmade with emerald and polkis in yellow gold. For every ethnic and indo-western outfit, this polki jewellery is a must-buy. The presence of uncut diamonds in between layers of emerald truly offers a regal touch to this choker necklace.
5. Polki Diamond Jhumka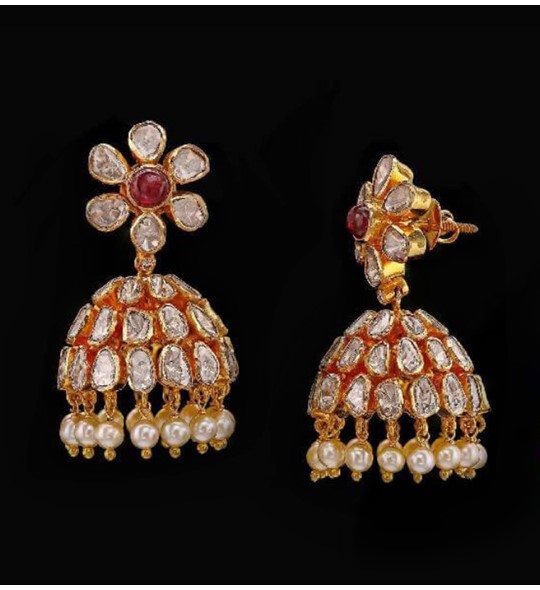 For a complete look, there's nothing more flawless and perfect than these polki diamond jhumkas. This delicate piece is crafted using south sea pearls, rubies, and uncut diamonds. The design is centred around the ruby and encircled with sea pearls for a purely ethnic appeal. 
For more Designs,
📲 Call / WhatsApp / Shop over Video Call : +91-8499011111
👉 WhatsApp Us: https://wa.link/pwk8y0
🌐 Website: https://www.krishnajewellers.com
🏬 Location: Plot No, 1222, Rd Number 36, Near Metro Station Check Post, Jubilee Hills, Hyderabad, Telangana, India.