This season, bring on the bling with an exclusive collection of the most stunning Indian jewellery designs. So, here's a list curated for all you gorgeous ladies out there to amp up that glamour and make heads turn:
1. Diamond Ruby Emerald Haar Necklace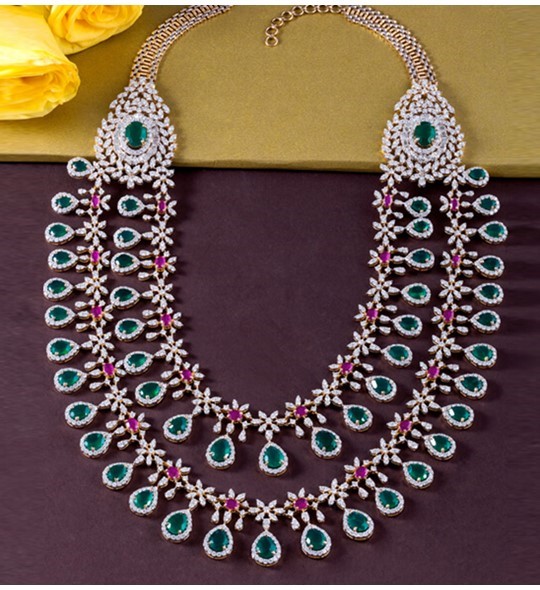 This beautiful floral themed haar necklace with the finely assorted precious rubies, emeralds and diamonds can never go wrong. Accessorising it with your attire will take your look up a notch. With its sleek design, pop of colours and jewel tones, this is something that never goes out of style.
2. Diamond Jhumka Style Earrings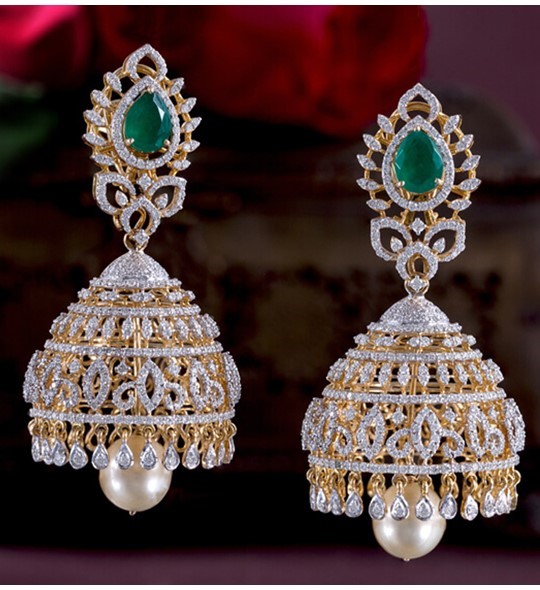 This 18-carat work of beauty is sure to make you glow in a shower of compliments. These emerald and south sea pearl earrings with diamonds are oh-so-gorgeous that you can't resist taking these home. Buy this beautiful Indian jewellery design piece and be the showstopper at every party!
3. Diamond Changeable Bangles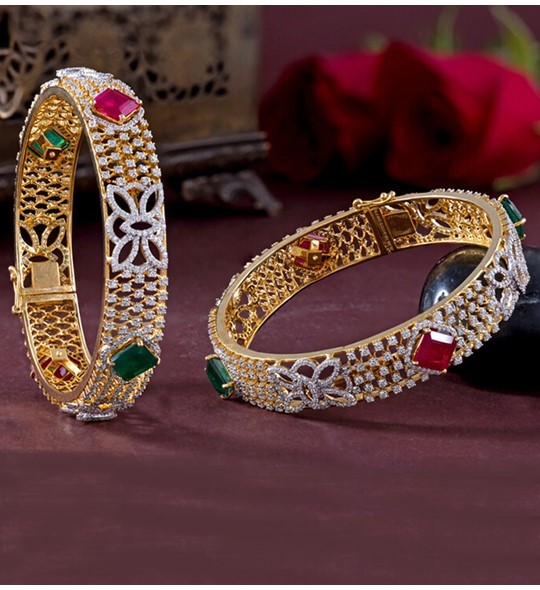 The diamond bangles in yellow gold adorned with rubies and emeralds are perfect for anyone who likes to keep things simple, yet elegant. The unique and authentic Indian jewellery design screams perfection and is a must add to the jewellery wardrobe.
4. Ruby Polki Diamonds Pearls Necklace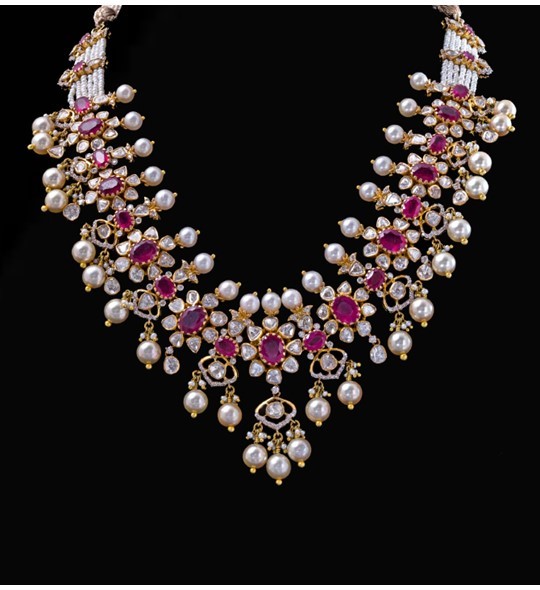 You don't need any other jewellery if you play this one right! When it comes to sophistication and grandeur, this polki necklace handcrafted in yellow gold, south sea pearls, rubies, and uncut diamonds takes the trophy home.
5. Nakshi Yellow Gold Antique Bangles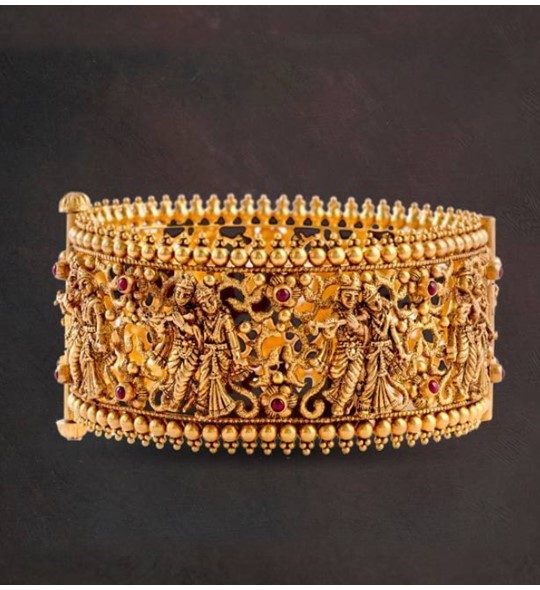 These kada bangles finely crafted in yellow gold and rubies have been everyone's favourite off late, and you definitely can't take your eyes off them. The sheer brilliance and extravagance of this Indian jewellery design will sure make everyone drool over it.
6. Yellow Gold Ring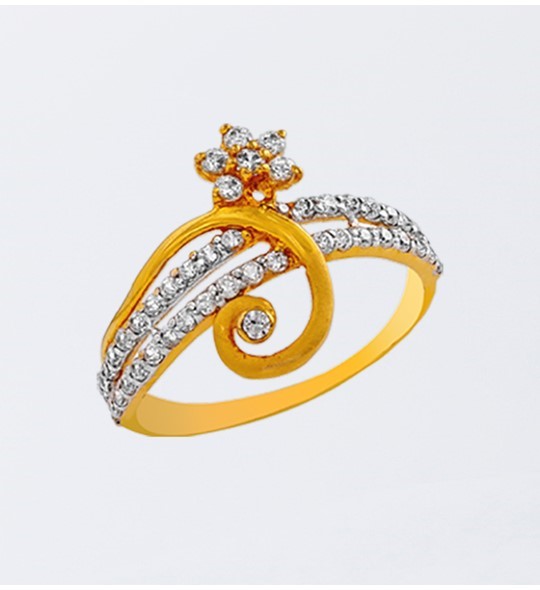 The floral vine themed 22-carat gold ring is a dream come true for all the gold lovers out there. The bold, majestic and artistic design hogs the limelight. When it comes to the more luxurious looking Indian jewellery designs, the golden piece of perfection tops the list.
7. Burmese Ruby Choker Gold Necklace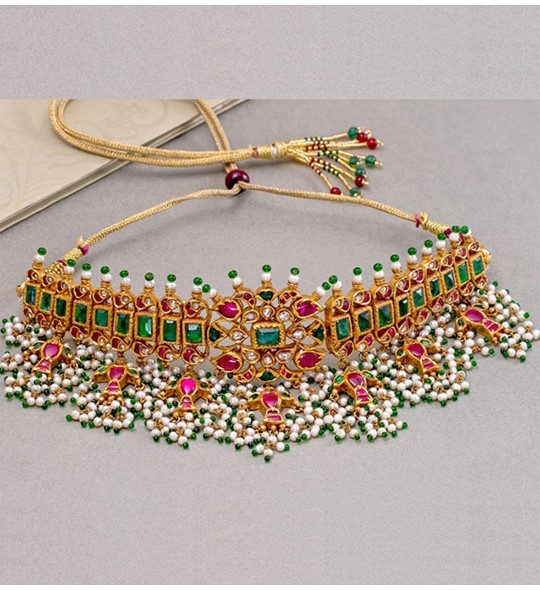 This Burmese ruby choker necklace, with studded emeralds and pearls gracefully embedded in yellow gold, is a steal. This beautiful Indian jewellery design deserves a spot on your fashion shelves.
8. Gemstones Yellow Gold Choker Necklace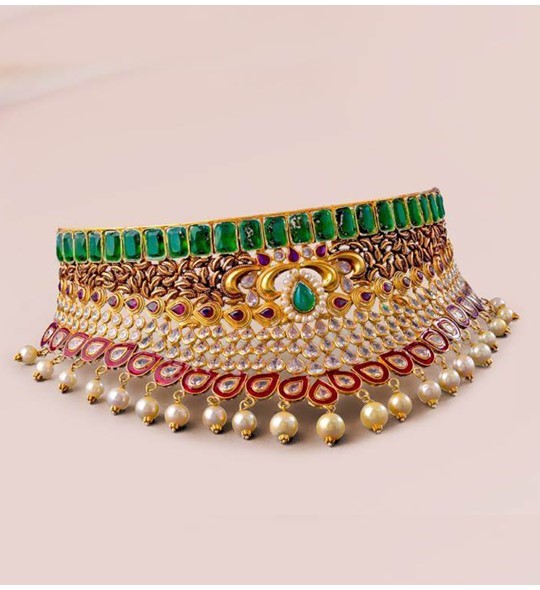 The yellow gold choker necklace crafted in rubies, emeralds and pearls has a design so perfect it would make you go all gaga over it. Sitting right at the top of favourite Indian jewellery designs, this is an ideal buy