The Latest Jhumka Designs For You To Flaunt!
Whether it is a party or a wedding event, every woman loves to adorn her best outfit to grace the occasion. To make the event unique and memorable, you can add a special jhumka to your attire. A new jhumka design in gold will be just perfect to pair with exclusive outfits such as these! It is an absolute must to have some new jhumka design in gold in your collection this season. 
Diamond Emerald Jhumkas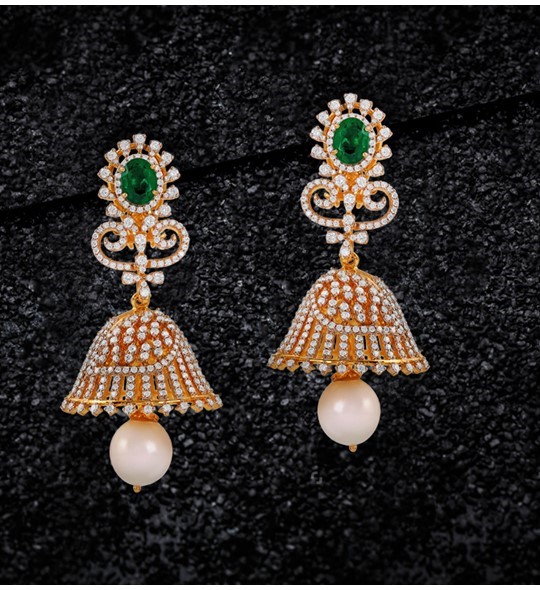 For the perfect choice of earrings, these diamond and emerald jhumkas crafted in yellow gold with emerald will be a splendid choice. The green tone of the emeralds in this piece will match smoothly with any ivory or pastel shade outfit. Also, this is a new jhumka design in gold which is guaranteed to turn heads in your direction. 
Gold Jhumka With Multi-Stone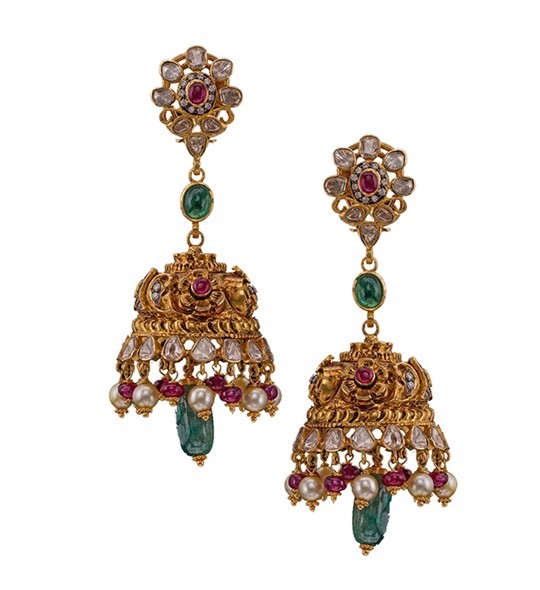 For some bling, you can try these gold jhumkas with multi-Stone which are built with exclusive uncut diamonds and ruby stones. These match and get along with every Indian outfit. The beautiful stones of these earrings leave a lasting impression since these are a new jhumka design in gold.
Gold with CZ Chandbali Style Jhumkas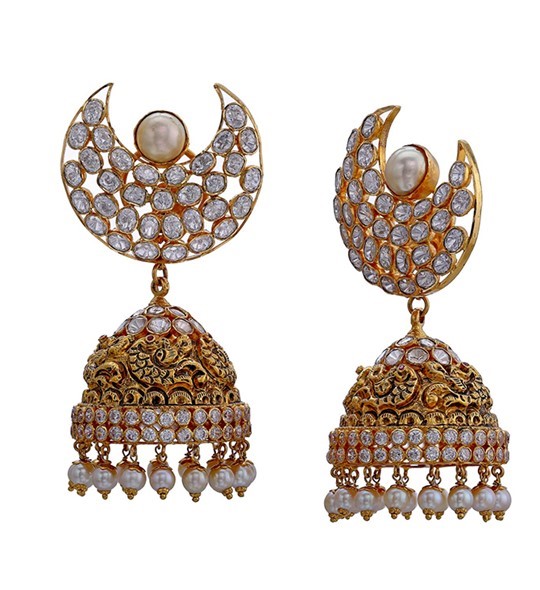 If you are looking for something sophisticated in Jhumka earrings, then here is a new jhumka design in gold which boasts of ethereal designing and exclusive pearls. Something like these gold with CZ chandbali style jhumkas will catch the eye and earn praises for your excellent choice in jewellery selection. 
Peacock Kundan yellow gold Jhumka/Bhutalu Earrings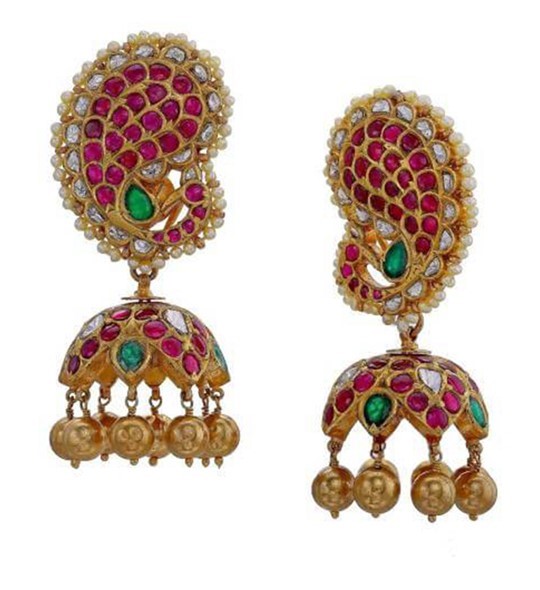 This peacock Kundan yellow gold earring is a new jhumka design in gold. They are finished with perfection, which will enchant and appeal to any woman. The unique polka design of these earrings and the multi stonework on this exclusive new jhumka design in gold will earn the appreciation of your admirers. The solid hues of this earring are just perfect to go along with most bright outfits and designs. 
Pearls Yellow Gold Jhumka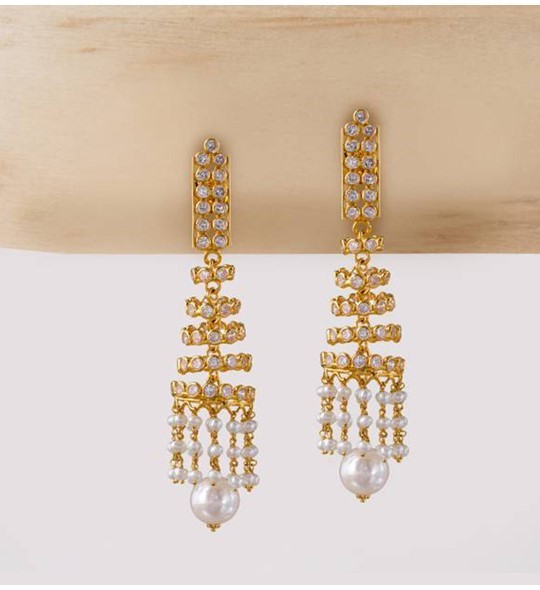 These jhumka earrings happen to be the latest in new jhumka design in gold. The pearl and yellow gold earrings will earn the attention of people instantly. The neutral hues of this earring are just perfect for adding the right degree of bling and glamour to any outfit. The spectacular zirconian stones on this earring add a perfect shape and design to this pair. 
For More Jewellery Designs Call (or) Whats App@ +91-7093324141
https://www.krishnajewellers.com
Vist Site For More Jewellery Collection at www.krishnajewellers.com (or) visit our store Krishna Jewellers Pearls & Gems at Jubilee Hills, Hyderabad and for more details Contact Us @ +91-7093324141.